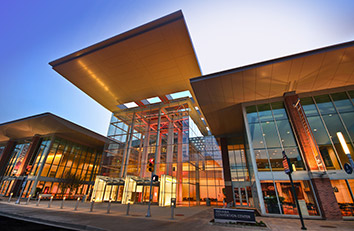 The Capital Improvement Board's revenue streams sunk further in May, as the quasi-governmental agency missed budget benchmarks by more than 60% for the month.
The CIB on Friday said May income—composed of operational funding from May and tax-based revenue from April—fell significantly short of both previous-year and budgeted totals because of the pandemic.
April marked the first full-month closure for the Indiana Convention Center, which the CIB operates.
The board brought in less than $3.4 million in tax revenue, about 60% (or $5.1 million) below budget and 61% less than than the prior year. Tax revenue accounts for about two-thirds of the CIB's annual budget.
Executive director Andy Mallon said figure is "the new baseline" for the CIB, at least through the end of the year.
"As we've opened up, and as restaurants and hotels are getting more business, presumably we'll see those revenues increase gradually," he said.
The CIB also generated about $239,000 in operating revenue—more than 92% off budget. Overall, the board missed its budgeted revenue by $7.7 million, or 68%.
The board paid about $10.7 million in debt service for various projects—an expense anticipated well before the pandemic began.
Mallon noted during the CIB's June meeting that the board has already brought in enough tax revenue for the year to meet its debt obligations, with plans to pull from a $140 million reserve account to cover operating expenses, as needed.
The CIB's overall net cashflow was negative $13 million—about $2 million, or nearly 19%—off budget.
"Hopefully some of the tax revenues will go up as we begin to realize tax revenue from increased economic activity following the stay-at-home orders," Mallon said. "But … it's not getting back to where it was, this year."
Please enable JavaScript to view this content.