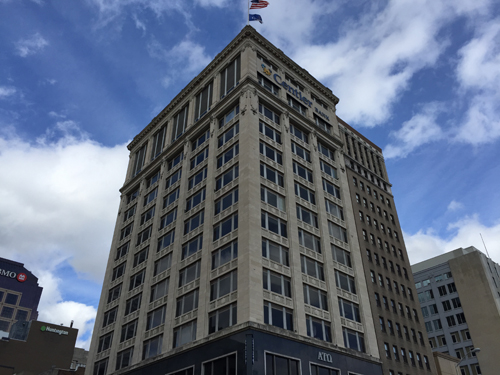 Plans for a new hotel at the northeast corner of Pennsylvania and Washington streets in downtown Indianapolis are set to move forward now that developers have secured a nod from a city commission to receive financing help with the project.
Loftus Robinson LLC last week received approval from the city's Metropolitan Development Commission for the creation of a single-site tax-increment-financing area for the Kimpton Hotel project at 1 N. Pennsylvania St. in the historic Odd Fellows building.
According to filings with the city, the $85 million hotel will feature as many as 164 rooms, a ground-floor restaurant, a rooftop bar and 4,500 square feet of ballroom and meeting space.
The single-site TIF, known as the Oddfellows Redevelopment Area, will allow the developer to capture tax revenue generated by property taxes at the site. That tax revenue would repay bonds financed by the city to cover a portion of the project costs. It's not yet clear how much the firm is expected to receive for the project, but Loftus Robinson would be on the hook to cover any shortfalls from the TIF.
The project has been in the works since late 2017 but has moved at a crawl since the pandemic began. Developers already secured approval from the Indianapolis Historic Preservation Commission for a glass-accented addition to the 16-story building's north side, along with a new rooftop lounge and some facade changes.
The delays in part have been due to challenges in securing federal approvals for a historic tax credit application that was submitted in late 2019 to the National Parks Service, which administers the program. It's not yet clear whether those funds have been secured.
Loftus said in November 2021 that additional financing for the downtown redevelopment project was secured through a financial partnership with Chicago-based T2 Capital Management. The loan with T2 replaced a previous loan the firm had with another Chicago financial partner.
Kimpton Hotels & Restaurants, a brand of IHG Hotels & Resorts, operates more than 60 hotels in the United States, Europe and the Caribbean, and touts itself as the "industry pioneer" of boutique hotels, opening its first property in 1981. Its properties are generally considered four-star, and are among the highest-end mainstream hotels.
Throughout 2018 and early 2019, the project was waylaid by a legal dispute between Loftus—operating as 1 North Penn LLC—and longtime tenant Centier Bank, in a matter that was ultimately settled out of court.
A representative for Loftus Robinson did not respond to calls or texts requesting comment for this story.
The Odd Fellows Building was designed by local architecture firm Rubush & Hunter and opened in 1908. It was one of Indianapolis' first high-rise buildings.
Please enable JavaScript to view this content.