Filmmaker Jake Huber jokes that he's amazed IndyGo has allowed him and Square Cat Vinyl record store co-owner Mike Angel to be daylong caretakers of a Red Line bus on four different occasions.
At least the bus stays put, which minimizes the chance for mishaps when Huber and his crew record musicians performing inside the vehicle for the "Music in Transit" series.
The fourth season of "Music in Transit" will arrive June 22 with a 15-minute performance by rapper Skypp posted at the Square Cat Vinyl YouTube profile.
Huber said he and co-creator Angel floated the idea of making episodes on a moving bus when the series launched in 2019 as a way to promote the Red Line's debut.
"The original idea was to have the bus moving," Huber said. "But with insurance liability and things like that, it was instantly shot down."
Huber is an Indiana University alum who works on the crew of the "Good Bones" television series and is known for directing music videos. He's a fan of "Tram Sessions," a music-on-public-transportation video series that debuted in Melbourne, Australia, in 2010. Those clips show musicians performing inside moving vehicles.
"That was a rough inspiration for 'Music in Transit,' " Huber said. "I loved that moving background. But for ours, I enjoy the bus being parked. In post production, I get to see people walking by and stopping and getting photos. I get to see small crowds gather."
Creating a buzz is the goal of "Music in Transit," both for IndyGo's under-construction Purple Line and for Indiana musicians.
"The talent here is so underrated," Huber said. "That's why I get such joy out of doing this."
Not every artist features a pro-shot video online, he said. Thanks to the expertise of Huber's crew, "Music in Transit" performers can showcase their work in something more attractive than a nightclub video captured on a phone.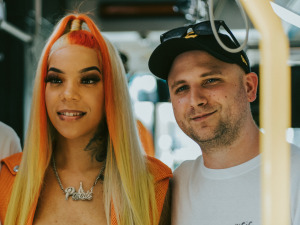 "These artists deserve high-quality video and audio to help them in the future," Huber said. "And people need to understand that Indianapolis has a lot of slept-on talent."
In addition to the Skypp episode, the fourth season of "Music in Transit" includes performances by Cloakroom, J. Elliott, Native Sun, Parris LaDame, the Palace, Pat & the Pissers and Wife Patrol. The episodes were made during two days in May, when a bus was parked on Woodlawn Avenue near Bovaconti Coffee in Fountain Square.
Two of the bands, Native Sun and Wife Patrol, were participants in this year's Next Up artistic development fellowship founded by cultural development firm GangGang. That's no coincidence, because GangGang is a new partner supporting "Music in Transit.
"I really enjoy what they do and what they're about," Huber said of GangGang's mission to promote culture and equity.
The first three seasons of "Music in Transit" collected multiple Regional Emmy nominations, and the series won in the category of outstanding audio in 2019.
On June 25, the Lucas Estate in Carmel will host the 53rd Great Lakes Emmy Awards gala, where Huber is in the running for additional trophies. The third season of "Music in Transit" is a nominee in the categories of arts & entertainment and audio.
The arts & entertainment category includes a second project Huber worked on: a music video to accompany Vess Ruhtenberg song "Communist Beach."
Matt Mays directed "Communist Beach," with Freddie Murphy as the director of photography and Huber in the role of producer. Mays, Murphy and Huber tackled the same tasks in a video titled "Epiphany," which is nominated in the youth/teen category.
Looking ahead, Huber said he would sign on for a fifth season of "Music in Transit" with a new roster of emerging performers.
"I feel like the job's not done yet," he said.
Please enable JavaScript to view this content.