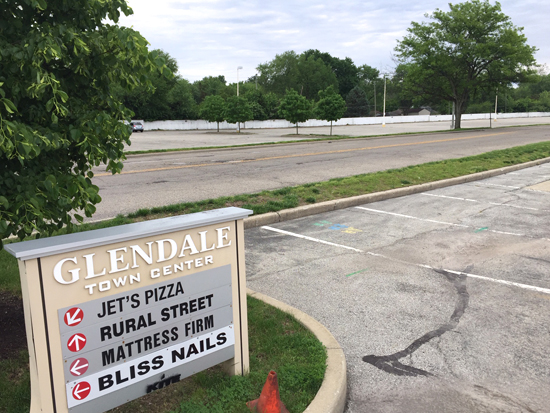 Two growing national retail brands plan to open new stores at Glendale Town Center as the shopping center looks to revamp following the departure of Macy's in 2019.
Ross Stores and Five Below have filed permits with the state for construction on spaces at Glendale.
Ross, a discount clothing store, plans to occupy 24,385 square feet, according to a filing from MCG Architecture. The California-based retailer has 11 stores in central Indiana, including in Greenwood, Speedway, Castleton and the far-east side of Indianapolis.
Ross is generally outperforming its peers in the industry, including TJ Maxx and Burlington Stores, and is on an expansion kick. The company recently opened a store in Plainfield, one of more than 60 that opened in 2020.
Despite the pandemic, Ross reported a $131 million profit in the third quarter on $3.8 billion in revenue.
Five Below, another discount brand, expects to take about 9,570 square feet, per a filing from APD Engineering & Architecture.
The company has 26 stores in Indiana, including nine in the Indianapolis area. The most recent to open was in Noblesville, as part of a new strip mall near Hamilton Town Center.
Five Below reported a profit of $20.4 million in the third quarter on sales of $476.6 million, up from $10.2 million in profit and $377.4 million in revenue in the same period of 2019. The company has opened 108 stores in 2020.
Kite has been looking for new uses for a large portion of the Glendale center after Macy's left in spring 2o19. That company occupied 237,456 square feet across three levels—about 45% of the mall's square footage.
Kite announced in 2019 it planned to spend about $15 million to split at least 50,000 square feet from the former department store into four storefronts, in hopes of attracting new users. It's not clear whether these two stores will occupy part of that new configuration.
The firm will also have to backfill the Glendale branch of the Indianapolis Public Library in the coming years, as the branch moves to a new home. The library occupies about 25,000 square feet.
The renovation to the Macy's space comes as Kite and partner Milhaus move forward on a $40 million apartment project at Glendale. Construction began in May, with first tenants expected to move in fall 2021.
The two projects fetched about $7.1 million in tax-increment financing from the city of Indianapolis, which will supplement the overall development.
The local real estate investment trust purchased Glendale in 1999 for an estimated $20 million and spent about $45 million on a major renovation completed in 2000. Further renovations over the following eight years converted the mall back into an open-air "lifestyle center."
A representative for Kite did not immediately return messages seeking comment Wednesday.
Please enable JavaScript to view this content.