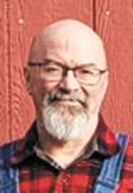 Age: 57
Hometown: Darlington
Residence: Fishers
Family: wife, Laura; 15-year-old son
Education: bachelor's in chemistry from Indiana University
Political experience: unsuccessfully ran for the 7th District in 1996
Career: doughmaker at Noble Roman's Craft Pizza and Pub
Why he's running: "We cannot continue to elect the same type of representative and expect different results."
Top priority: term limits
What he's streaming: no answer
Q&A
What do you think needs to be done to improve access to and the affordability of health care?
The more that government is involved in health care, the worse it will get.
What should be done to address the massive amount of student debt in this  country and make college more affordable?
Fewer students should be going to college. If someone is thinking of majoring in something that there is no demand for now or in the foreseeable future, it's not worth the money. College athletics have run their course, so we should get rid of all college sports. Doing this will lower the cost of a college education. As for student debt, the interest rates on some student loans are insane. That needs to be taken care of quickly. But as to forgiving the debt or otherwise pawning it off on everybody else, forget it.
What is your position on trade and tariffs?
Tariffs are generally a bad idea. I consider free trade a good thing, but it requires something to be genuinely good. That being said, the consumer must make knowledgeable, responsible choices.
What should be done to address climate change?
Our climate is changing. Businesses all over the world are retreating from coal and oil, with or without the government being involved. Congress is completely irresponsible. I'll be one of the few members that isn't. Does that mean we will have a carbon tax? No. Do I have the answer? No, but I am listening and thinking.
Please enable JavaScript to view this content.