Dating web sites are notorious for being clogged with questionable characters exhibiting bad online behavior.
Aeyai Saengkeo is launching a business to address that problem.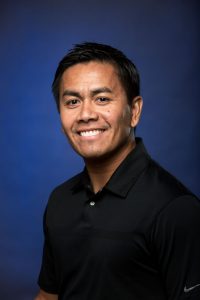 The 38-year-old Wabash native and Indiana University graduate is officially launching Good Apples Dating web site Nov. 11 in conjunction with World Singles Day.
"One of the biggest problems with online dating is harassment," said Saengkeo, who works full-time as a financial analyst in the local Salesforce office and operates Good Apples on the side. "With this dating web site, we're fighting harassment."
The presence of bad apples involved in the online dating scene has led to another problem, Saengkeo said.
"It's the perception that these bad apples run amuck because people believe most aren't doing anything about it," he said. "Well. we are. We go beyond a zero-tolerance policy."
Through Good Apples business strategies, Saengkeo said: "We believe we'll be able to win the hearts and minds of many people looking to start fresh."
Good Apples is an entirely self-funded project that resulted from the online dating experiences of Saengkeo's friends. Saengkeo estimates he's sunk $110,000 into the company so far, and at this point said he's not seeking outside investors.
There's certainly a market for online dating. Once seen as a quasi-desperate way to find a date, online dating has become much more mainstream. It's now a $3 billion annual business, according to global research firm IBISWorld, with some experts predicting it will grow another 25% in 2020. An estimated 50 million Americans have used an online dating site.
Gaining traction in a crowded field will be a challenge for Good Apples. According to IBISWorld, there are more than 1,000 sites and apps worldwide that offer matchmaking services.
Many dating site users, however, share the same complaint: People they've met through online sites seem great at first but end up slinging insults and sharing intimate photos their would-be romantic partners didn't ask for and don't want.
Good Apples takes on "those bad actors, clearly warning them off in plain-spoken … terms and conditions," Saengkeo explained.
The Good Apples Dating site uses short videos featuring fictional characters Richard and Christian, who are meant to serve as updated versions of Goofus and Gallant from Highlights for Children magazine, Saengkeo said.
"Our videos chronicle the journey of Richard and Christian," Saengkeo said. "We won't tolerate Richard behavior. In fact, Richards run the risk of being banned from the app and being labeled on social media as bad apples.
"The goal is to build a safe place where well-meaning people have a chance to meet other well-meaning people and where the [bad apples] of the world aren't welcome," he added.
Saengkeo is hopeful the site's Richard and Christian characters go viral as Good Apples' users share them on social media. That's one important form of marketing for the site, he said.
"We're going to be letting people who have been harassed know when a bad apple—or a Richard—has been removed from our site," Saengkeo explained. "We're using humor, but we're addressing a serious issue."
Good Apples is also placing Facebook ads to help market the site, first targeting Indianapolis, Chicago, Louisville, Cincinnati and Columbus, Ohio, before marketing the site nationally.
There are other differentiating features to the Good Apples Dating site beyond the two characters, Saengkeo said.
"We have some good and unique algorithms that lead to good matches," he said.
Good Apples subscriptions are $18 for one month, $45 for three months or $60 for six months. Saengkeo said his site needs 3 million to 5 million users to be sustainable. Tinder, one of the more popular dating sites, reported having 1.8 million premium users and 50 million people using the app, and Bumble, a much newer web site, reported this spring that it eclipsed 50 million active users.
Searching for a side hustle that could grow into his own business, Saengkeo said he conducted months of market research before starting to work on Good Apples with developers in 2016. His first iterations were called Pear Up and Pair Up, both spiked after other online dating sites launched ahead of his, using those words.
Saengkeo sees no reason Good Apples Dating can't become as commonly used as some of the more well-known and established dating sites.
"It's the bad apples that make online dating a nightmare," he said. "By focusing on building a community where bad apples aren't spoiling the fun for everyone, I figure we'll be able to prove ourselves in no time."
Please enable JavaScript to view this content.