Indianapolis-based executive and leadership coach Peter Fuller wants to reach more people. But there's only so much time in a day for him to do so personally.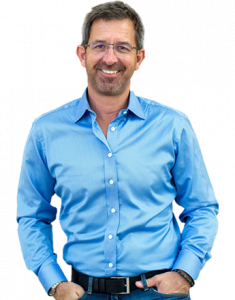 So the 49-year-old serial entrepreneur who was a co-founder of Indianapolis-based Scale Computing Inc., developed an artificial intelligence-driven platform that lets business leaders know how effectively they're leading their firm and whether their company is headed in the right direction.
Fuller's startup, Catipult.AI, was founded last year and rolled out its software in March.
"We're heading into a $30 billion market with clear open space in front of us," Fuller told IBJ. "So we think this has enormous potential."
While Fuller's firm also offers personal leadership services, he said Catipult's software "is designed to be self-service."
The startup already has "several dozen" customers, Fuller said, "with a lot in the pipeline."
The company is expecting to grow quickly.
"The feedback we're receiving from early adopters is that Catipult.AI is much more efficient and easier to use than other solutions on the market, aligns teams more quickly and that the development roadmap is compelling," he said. "We also have several coaches and consultants signing on to bring the product to their own customer base."
Fuller projects Catipult will have $1 million in recurring annual revenue within 18 months. Catipult customers pay $99 a month for up to 10 users, so Fuller will need 1,000 user groups to meet that goal.
Fuller said the software-as-a-service company, which has five employees, is already cash flow positive and so far has taken on no capital.
"We're bootstrapping, so we have no choice but to be cash-flow positive," said Fuller, the firm's sole founder and majority owner.
The plan, he said, is to raise about $700,000 in seed funding later this year to ramp up marketing and begin work on additional features for the Catipult platform.
The Catipult dashboard provides feedback in the same way a car dashboard does. But instead of telling you how much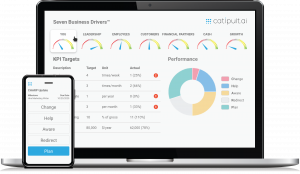 gasoline is in the tank and how hot your engine is, it gives color-coded feedback on seven key factors: you (as in the CEO or user and the user's personal goals), leadership, employees, customers, financial partners, cash and growth.
To get started, customers fill out a lengthy and detailed questionnaire about the goals and objectives for the company and its employees. The program then measures the company's actions and results against the stated goals and objectives. And the AI-based program learns about the company—what works and what doesn't—as it assesses performance and makes suggestions to maximize growth and efficiency.
"We've created a dashboard that contextualizes your business," Fuller said. "But it's more than just giving you analytics. Executives have analytics, but no guidance. This [platform] helps business leaders guide their company. It shows clearly what's working and what needs to be focused on."
And the platform looks at the company on a granular as well as big-picture level.
"One of the leading indicators is what's going on with individuals," Fuller explained. "It shows if people are doing what they're supposed to be doing."
Catipult is not meant to be an employee spy or micromanagement tool, Fuller said.
"It lets people know what they're doing is adding to the growth of the company," he said. "That changes people's mindsets."
The platform can be used by companies in various sectors. "We have customers in construction, finance, commercial real estate and logistics, to name a few," Fuller said. "We can work with big or small companies, but our sweet spot is companies with 200 or fewer employees."
"Catipult.AI's framework and seven business drivers really help simplify strategic planning, [key performance indicator] creation and milestone achievement," Sam Smith, CEO of Indianapolis-based Resource Commercial Real Estate, told IBJ. "I think the current product and the way it will eventually learn my business and begin recommending areas of focus are going to save a ton of time."
Fuller said his company's software will save a company CEO "at least eight hours a week."
While it appears that Catipult launched its first product at the worst possible time—as the coronavirus pandemic erupted and many companies are financially hurting—Fuller disagrees.
"The pandemic and drive for strategic rethinking and alignment in a distributed workforce reality is fueling product interest," he said. "We're releasing a pandemic version of the system to help businesses to rethink themselves as they come out of the pandemic."
Catipult is looking at integrating health data into the platform, Fuller said.
The pandemic version is being rolled out this month, and Catipult is offering a free 60-day trial.
Fuller started his career in the tech sector in California after graduating from Pensacola Christian College in 1993 with a degree in marketing, advertising and broadcasting. He later migrated to Indiana and helped found Scale Computing, a fast-growing local firm with edge computing expertise.
Fuller met Scale Computing co-founder Jeff Ready in Indianapolis in 1998, and Ready brought Fuller in to head up marketing for his company, Radiate Marketing. They both moved to California where capital was more plentiful and started several companies together.
Fuller, who still owns stock in Scale, left the company in 2014 to pursue a career as an executive coach. In 2018, he became an adjunct professor of entrepreneurship at Purdue University.
Please enable JavaScript to view this content.