Nearly 12,000 companies, not-for-profits, private colleges and other organizations in Indiana received loans of at least $150,000 from the federal Paycheck Protection Program in an effort to keep nearly 600,000 Hoosiers working, according to data released Monday.
More than 90% of those loans—which were designed to be forgiven if organizations essentially maintained their staffs over about eight weeks—went to companies, according to the Treasury Department data.
Click here to search the full list, which includes big firms like Telamon in Carmel, which received a loan of between $5 million and $10 million, and much smaller firms, such as Star Heating and Cooling in Fishers, which received between $150,000 and $300,000.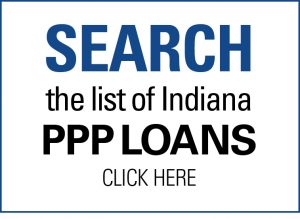 At least 19 private colleges and universities and 775 not-for-profit groups also were on the list, which categorized the loans in ranges instead of providing specific amounts.
For example, The Children's Museum of Indianapolis, the Indianapolis Zoo and Indianapolis Museum of Art each received loans between $2 million and $5 million, while Conner Prairie received between $1 million and $2 million and the Eiteljorg Museum of American Indians and Western Art received between $350,000 and $1 million.
Franklin College in Johnson County received a loan of between $2 million and $5 million, while Martin University received between $350,000 and $1 million.
A number of religious institutions also received loans, including the Roman Catholic Diocese of Indianapolis, which received a loan of between $2 million and $5 million, and Connection Pointe Christian Church in Brownsburg, which received between $350,000 and $1 million.
The Indiana loans were among 650,000 loans topping $150,000 nationally that the Treasury Department made public Monday. However, that's just a small percentage of the companies and not-for-profits that received loans.
In all, the federal government had handed out more than $521 billion by June 30, with 85% going to borrowers in increments of less than $150,000.
The government did not release the names of the 67,295 Indiana firms and organizations that borrowed less than $150,000.
Of the organizations that borrowed at least $150,000:
— Corporations make up about 37%, with limited liability corporations receiving about 24% of the loans and subchapter S companies (a way of organizing smaller firms for tax advantages) receiving 29%. About 6% of loan recipients were not-for-profits and 4% were in other, much smaller categories.
— Only about 1% of the loans to Indiana organizations fell into the largest category of $5 million to $10 million, with only 4% in the $2 million to $5 million category and 8% in the $1 million to $2 million category. About 31% of loans were for $350,000 to $1 million and 55% fell into the $150,000 to $300,000 category.
— Overall, the Indiana organizations said the money would help them retain 598,595 jobs. The companies that borrowed the most money said they would, on average, save the most jobs per loan. But overall, the companies that borrowed less than $1 million made up the largest total number of jobs to be retained, at 57% of the total.
— About one in five of the Indiana loans—or about 2,500—went to Indianapolis companies and organizations. The Treasury Department did not break down the list by county, but 728 loans went to organizations in Carmel, Fishers, Noblesville and Westfield in Hamilton County. In Johnson County, 181 loans went to organizations in Greenwood and Franklin; in Hendricks County, 157 loans went to companies in Brownsburg, Plainfield and Avon; and in Boone County, 141 loans went to organizations in Zionsville, Lebanon and Whitestown.
Please enable JavaScript to view this content.