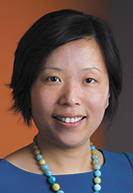 Indianapolis-based TechPoint has named Ting Gootee—a well-known name in Indiana's startup, venture capital and technology communities—as its next president and CEO.
Gootee, 43, will join TechPoint on May 2, the organization announced Thursday morning. She replaces Mike Langellier, who announced in January that he would be stepping down as TechPoint's top executive after nearly a decade in the job.
Gootee currently is chief investment officer at Indianapolis-based Elevate Ventures. She joined the organization in 2011 and has been in her current position since 2014. Elevate Ventures is a not-for-profit organization that serves as a venture capital firm for the Indiana Economic Development Corp., the state's public-private job-creation agency.
"This is such a tremendous opportunity," Gootee told IBJ. "I can't wait to leverage the excellent work they've been doing [at TechPoint]."
TechPoint, a not-for-profit organization associated with the Central Indiana Corporate Partnership, exists to promote and support the state's technology industry. TechPoint was formed in 2003 through the merger of two industry organizations: the Indiana Software Association and the Indiana Information Technology Association. In 2006, TechPoint became affiliated with CICP.
During her time at Elevate Ventures, Gootee has led investments on more than 500 Indiana startups. About 60% of Elevate Venture's investments are in technology companies.
A native of China, Gootee earned an undergraduate degree in English language and literature from Peking University in Beijing. She came to the U.S. in 2001 for graduate studies at Purdue University, where she earned a master's degree in American studies. She later went on to receive an MBA from Indiana University's Kelley School of Business.
Gootee also was honored as one of IBJ's 2021 Women of Influence.
David Johnson, president and CEO of CICP and a member of TechPoint's executive committee, said Gootee's background and experience in the areas of entrepreneurship, venture capital and tech startups are a perfect fit for TechPoint.
"Ting's background is just extraordinary," Johnson said. "She has a wealth of experience that I don't think anybody else has."
As the incoming leader of TechPoint, Gootee will be tasked with helping grow Indiana's tech industry—including how to address a critical talent shortage, encourage new startups and help both startups and larger companies attract funding.
"Those are areas in which I think Ting will bring enormous field experience," Johnson said. "She's very committed to the mission of the organization and very eager to push things as far and as fast and in as many directions as possible."
Gootee declined to give specifics about how TechPoint might work towards these goals. She said she has some ideas—but before sharing them publicly she wants to hear from TechPoint's employees, investors, members, and others.
"It will be very important for me to spend the first few weeks in active listening," Gootee said. "I will be anxious to share once I get a lot more input from stakeholders."
Please enable JavaScript to view this content.