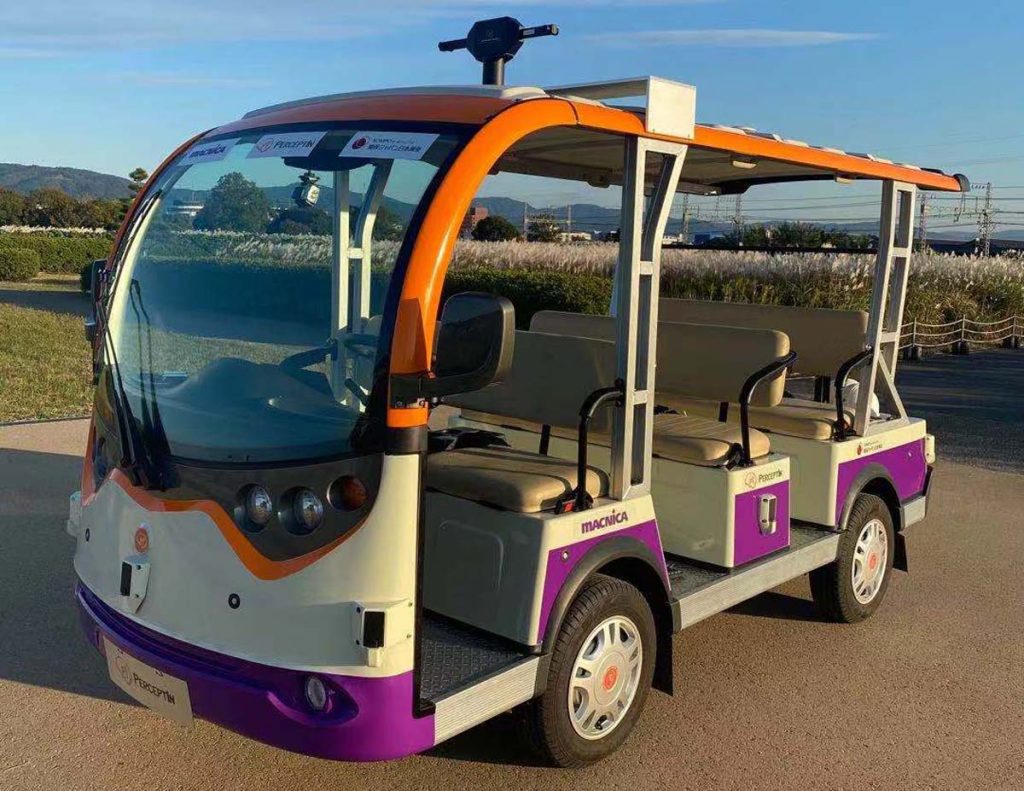 A Santa Clara, California-based company that specializes in autonomous driving technologies, plans to move its global headquarters to Fishers and hire 160 high-paid employees, the company announced Thursday morning.
PerceptIn, which makes a self-driving vehicle called the Dragonfly Pod, said it plans to spend more than $6 million to establish its base at the Indiana IoT Lab. The firm initially plans to lease 450 square feet of office space and use the facility's 25,000-square-foot laboratory before growing its footprint.
As part of the move, the company and the city are considering an agreement that will set up a short-distance transportation system using self-driving vehicles in Fishers.
The company said it expects to be fully moved into the new space in 2020 and hire the 160 workers by the end of 2022. It plans to use the lab for data collection and testing for its autonomous low-speed electric vehicles.
Employees hired in Fishers will include engineers, analysts and technicians.
CEO Shaoshan Liu, who founded PerceptIn in 2016, has more than 150 U.S. and international patents on robotics and autonomous driving.
The company, which has more about 40 employees in the United States, Japan and China, plans to maintain its offices in Santa Clara.
Liu said the company plans to establish an autonomous micro-transit service in Fishers using its vehicles.
The company will work with the city of Fishers and Energy Systems Network, an energy and transportation technology initiative of the Central Indiana Corporate Partnership, to develop a pilot program designed to tackle the suburb's short-distance transportation needs. Under the program, passengers will be transported daily from the Indiana IoT Lab in the Fishers Certified Tech Park to downtown Fishers.
Fishers said the fixed route is slated to transport passengers from 10:30 a.m. to 2:30 p.m. daily to support short trips to restaurants and meetings in the downtown area. Routes will expand pending results of the pilot program.
Perceptin's six-to-eight seat vehicles are monitored by technology "ambassadors" during typical pilot projects to ensure safety. The low-speed electric vehicles, or LSEVs, feature three layers of sensor protection other technologies developed by Perceptin. The vehicles do not travel faster than 20 MPH.
"We're extremely excited to relocate our headquarters to Indiana," Liu said in written remarks. "Indiana's commitment to growing and enhancing its technology sector, along with its business-friendly environment and collaborative industry partnerships, is why we chose to locate here."
The Indiana Economic Development Corp. offered PerceptIn up to $46,500 in headquarters relocation tax credits. It also offered up to $3.55 million in conditional tax credits based on the job-creation plans. The incentives hinge on the company's ability to meet hiring goals.
The Fishers Redevelopment Commission is set to consider approval of an agreement between the Indiana IoT Lab and PerceptIn on Nov. 25.
"When we launched the Indiana IoT Lab in 2017, a company like PerceptIn is exactly who we had in mind to propel our city even further as a leading city for tech," said Fishers Mayor Scott Fadness in written comments. "Fishers is a city made for entrepreneurs, and today we are happy to support the future of transportation technology through this pilot program and in support of our newest Fishers company, PerceptIn."
Please enable JavaScript to view this content.