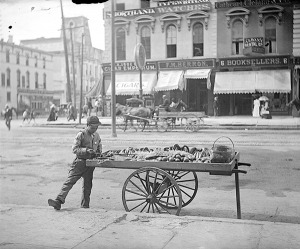 The corner of Washington and Meridian streets has, of course, changed substantially over the years. But even in this photo, believed to have been taken in 1893, the intersection was a vibrant commercial corridor. The boy with the fruit cart is standing on the south side of Washington Street, with Meridian Street behind him. A cigar shop and F.M. Herron Jewelers in the background are where the King Cole building (itself 105 years old) now sits. The bookshop sits where a Chipotle franchise is now located.
Source: Indiana Historical Society
The photo is courtesy of the Indiana Historical Society. More images are available at images.indianahistory.org.
Please enable JavaScript to view this content.