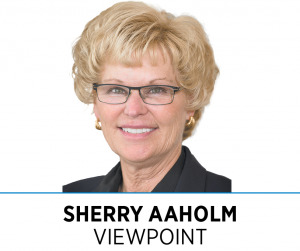 Hoosiers with enormous potential are facing increasingly limited opportunities due to outdated hiring practices. My own career journey is a testament to the struggle.
While I prefer to keep parts of my personal life private, I have agreed to share my story.
My plans to attend college were derailed when our family's dairy farm was imperiled by my father's health. My mother took over, and my siblings and I needed to help.
I attended night courses when I entered the workforce, and it was several years before I earned my degree. At the time, my family obligations made it difficult. Still, I worked hard, learned and rose to an executive vice president position at FedEx. Some might argue that I should have been satisfied with that position. But I wanted more and believed I had more to offer.
I was turned away repeatedly, though. Hiring managers and recruiters lauded my accomplishments but said that, without a degree, the C-suite was closed to me. As soon as I indicated I was planning to finish my degree, those doors opened. I did, in fact, earn my degree and others after I joined the C-suite.
I know how hard it was for me to climb the ladder, and I am working with my Cummins co-workers to make it easier and more equitable for others.
Our RePower program focuses on bringing individuals to the workforce who have been out of work for two or more years. These professionals left their jobs for a variety of reasons and are ready to return to their careers, with 83% of participants converting to full-time employees.
Another example is our Cummins Powers Women program, which is focused on accelerating gender equality. In four years, more than 12,000 women received training resulting in new businesses, new jobs and increased income.
We have also removed college degrees in select job descriptions that do not require them. This policy change allowed us to look directly at the people whose life experiences, and in some cases self-taught skills, enable them to succeed—and help us grow as a company.
TechPoint is encouraging the Indiana tech sector to take on this "skills-based hiring" approach and will be holding an event in September to help put a process into place.
I believe there are thousands of Hoosiers whose life experience is like mine. They are hard-working, smart and capable people who, for myriad reasons, were not able to follow a textbook career path.
My inspiration to persevere in the face of career obstacles is my mother. When she took over the family business, she did so with an eighth-grade education. She was successful, too, until a fire destroyed our barn and many of our dairy cows.
Despite having run that business, raising us and caring for my disabled father, she could not get a loan to carry her through the insurance claim process. She later earned her high school diploma and a college degree. My mom set a great example for me and all who know her.
Indiana will be better off economically if we open our outdated hiring practices that keep people out of the hiring process by direct or indirect bias. Perhaps more important, by believing in our people and leveling the career field, we will have a workforce of people who want to live, work and raise families here—because, in Indiana, anyone willing to work for advancement can achieve it.•
__________
Aaholm is vice president and chief digital officer for Cummins Inc. and chair of the TechPoint board
Please enable JavaScript to view this content.