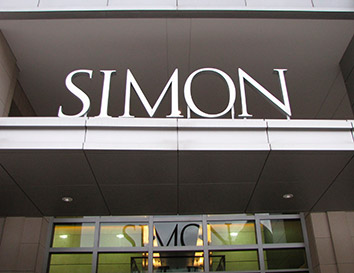 Simon Property Group Inc. on Monday raised its outlook for the year after topping analyst expectations with its financial performance in the third quarter.
The Indianapolis-based shopping mall giant benefitted from a return of foot traffic to shopping centers after pandemic restrictions eased across the country.
"We produced impressive third quarter results," said Simon Chairman, CEO and President David Simon in written remarks. "Demand for our space from a broad spectrum of tenants is growing. Occupancy gains continued, retailer sales accelerated, including our owned brands, and cash flow increased. Based upon results to date and expectations for the remainder of 2021, we are once again increasing full-year 2021 guidance and raising our quarterly dividend."
The real estate investment reported earnings in the period of $679.9 million, or $2.07 per share, up from $145.9 million, or 48 cents per share, in the year-ago period.
Funds from operations, a key measure of profitability for REITs, were $1.18 billion, or $3.13 per share, in the quarter, compared to $723.2 million, or $2.05 per share, in the prior-year period, a 52.7% increase.
The FFO results topped the average estimate of eight analysts surveyed by Zacks Investment Research of $2.47 per share.
Simon reported revenue of $1.3 billion in the period compared with $1.1 billion a year ago. That beat analyst revenue expectations of $1.23 billion.
Rent collections were on the rise. The company reported $1.2 billion in lease income in the quarter, up from $993 million in the same period of 2020.
Simon raised its full-year earnings guidance a range of $6.61 to $6.71 a share, up from $5.47 to $5.57 a share in its previous forecast.
Simon said mall occupancy was 92.8% as of Sept. 30, with base minimum rent per square foot at an average of $53.91.
Please enable JavaScript to view this content.