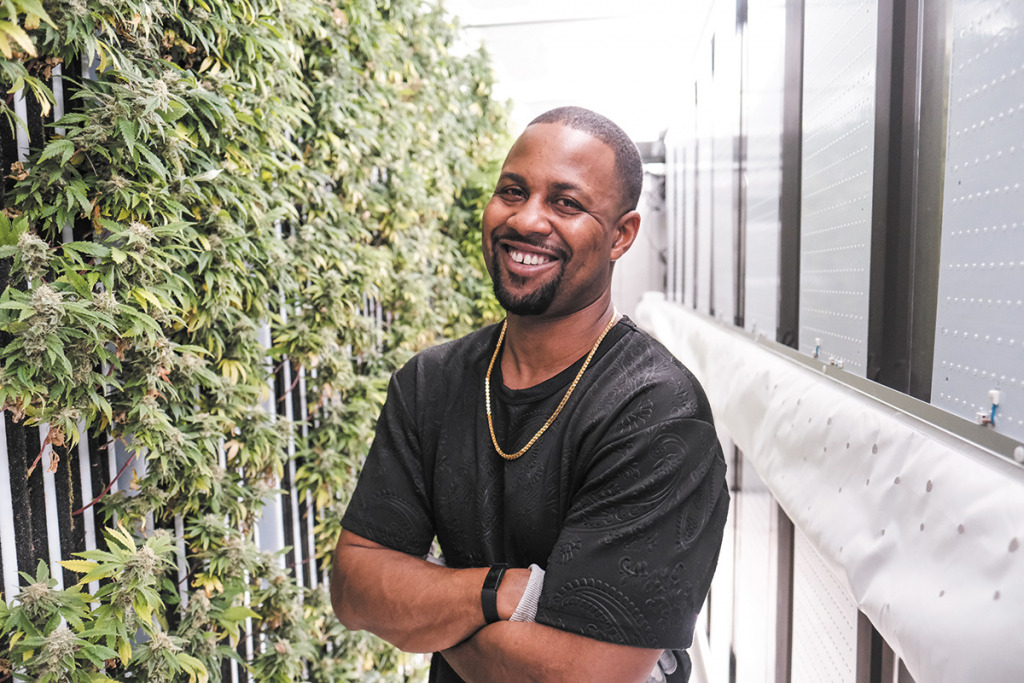 DeMario Vitalis sits in a 40-foot-by-10-foot container reflecting on his family's past and his future—and the roots that tie them together.
The windowless container the size of a semitrailer sits on a former used-car lot on the distinctly urban near-east side.
It's an odd place to find a farmer. But that's exactly what Vitalis is, and he's sitting in his new-age field of dreams.
The quarter-acre lot is one of a small handful Vitalis owns. The others have houses and serve as Airbnb rentals. As he pondered what to do with this vacant lot, his thoughts drifted back to his family's distant past working Mississippi fields. Perhaps this empty lot could be a new kind of farm, and he could be a new kind of high-tech farmer.
In 2018, Vitalis started his long road to launching New Age Provisions Farms, an indoor hydroponics farm that grows leafy greens, herbs and hemp with nutrient-enriched water only—no soil.
After more than two years of planning and wrestling with the U.S. Department of Agriculture over a loan, Vitalis got his first container operational last August. He started his second container in February and has room for two more on the East Washington Street lot surrounded by a brewery, a diner and a Dairy Queen.
Vitalis, a descendant of cotton-plantation slaves and sharecroppers, can't help but smile at the notion of owning a farm.
"My ancestors have been working the land for a very long time," said Vitalis, a 42-year-old father of two daughters. "Owning my own farm is like a dream."
But getting here wasn't always dream-like. Vitalis initially applied for a $50,000 loan through the USDA. But the agency questioned his projections and his lack of farming experience.
"They were used to looking at projections for horizontal farming, and I was presenting plans and projections for vertical farming," he said.
The USDA denied that application.
But his grandfather told him it was time for Black people to not just work the land but own it. So Vitalis took another shot.
"I'm not the only person who has struggled to get funding through the USDA. I'm certainly not the only Black person with this story," he said. "It's just a story of perseverance, having faith, having God on your side and getting through those challenges. You have to have a stronger will to proceed. And I do."
Vitalis, a Purdue University graduate who earned an MBA from Wayne State University, said he went into the appeal hearing "like Johnnie Cochran."
"I came with 26 pages of documents and drawings. I had my suit on … and laid out my evidence," Vitalis said.
Vitalis won his appeal, but he declined the original $50,000 loan and instead opted to submit the same proof for a $250,000 USDA loan. He got it.
Ever determined
David Bosley isn't surprised at Vitalis' persistence or that he went into business for himself. Bosley hired Vitalis in 2008 to be an account manager at Columbus-based Cummins Inc., where Vitalis led heavy-duty and mid-range engine sales for the company's power systems business units. Previously, Vitalis was a technical support engineer for NORMA Group and a product supervisor for the Ford Motor Co., both in Michigan.
"DeMario was very professional and very driven," said Bosley, who retired from Cummins in 2018. "He constantly came to meetings prepared and willing to offer ideas and suggestions for improvements with his team and others.
"I definitely saw that he was driven to make matters better and he was a good, independent worker."
Bosley is one of a growing number of New Age Provisions Farms customers.
"I made my first sizable purchase from him for Thanksgiving," Bosley said. "The produce he provided was absolutely great—and well packaged. He sought feedback and left the door open if I had any questions. The price was very reasonable, a real good value."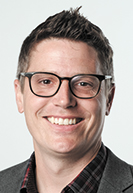 Bosley is far from NAP Farms' only happy customer, said Nick Carter, CEO of online farmers market Market Wagon.
NAP Farms began selling its products—basil, mint, dill, oregano, kale, arugula, lettuce, pak choi and other greens—through Carmel-based Market Wagon last year.
"Seasonality can be a real problem for people like our customers who want to eat as much locally grown food as possible," Carter said. "New Age Provisions has created a solution that provides herbs and green leafy vegetables all year-round, and they're delicious."
Two other factors set the farm apart, Carter said.
First, its product variety. "A lot of hydroponic growers can grow herbs, mint, cilantro and those types of things," he said. "New Age Provisions provides plants beyond just herbs … things like lettuce, kale and spinach."
The second differentiator is Vitalis himself.
"The desire for locally sourced food is really on the rise nationally," Carter said. "There's an eroding trust in label claims. The one thing people know they can trust is, if they have an actual relationship with the grower. Through our platform, buyers can chat with growers like Mario. … And Mario is very approachable and articulate. He's really great at explaining what his company does and how they're different."
Bosley isn't surprised.
"DeMario was a good representative globally for Cummins," he said. "He traveled in his job there, and had good success leading business initiatives with other cultures. He relates really well to people from various backgrounds and cultures."
Old technique, new tech
Hydroponics has been around for centuries, but in the last decade high-tech methodology precisely controls lighting, air temperature, oxygen and carbon dioxide levels, humidity, and the acidity of water and nutrients. Vitalis worked with Boston-based Freight Farms to set up his system. His engineering and operations background keeps it humming.
Containers cost $100,000 to $120,000 each. By growing year-round—usually three crops annually—Vitalis can grow as many plants in a single container as could be grown on nearly four acres using traditional farming methods.
Vitalis is confident he can generate a low-six-figure annual revenue stream with two containers and a mid- to high-six-figure revenue stream when his farm grows to four containers.
Krishna Nemali, an assistant professor of controlled environmental agriculture at Purdue University, said the future could be bright for NAP Farms.
"There are many scenarios where hydroponic farmers can make more than a traditional farmer," Nemali said. "Many hydroponic farms specialize in organic food and that brings a premium price. There's a huge and growing demand not only with individual consumers, but with restaurants and health care facilities, for this type of produce."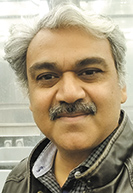 The global hydroponics market is expanding at a nearly 23% annual clip and is approaching $2 billion. That growth rate is projected through at least 2025, according to San Francisco-based market research firm Grand View Research.
Moreover, Nemali said, hundreds of millions of dollars' worth of the types of crops operations like NAP Farms grow are sold each year in the United States. About 90% currently come from California and Arizona. Hoosiers consume more than $15 million worth of lettuce alone each year, he added.
"If a local operator can capture just a slice of that, it could be a very lucrative operation," he said.
As counterintuitive as it seems to have a farm in a city, it makes sense, Nemali said.
"These operations have the ability to be compact, and being in an urban area puts them closer to the consumer," he said. "Freshness of the food is key to this industry, so proximity to a sizable potential market is critical."
In an urban setting, operations like NAP Farms have a "huge social impact," Nemali added. "The farms may be smaller-scale, but the impact is quite large. Many of these hydroponics farms are bringing food where it is needed most."
Learning to knit
That doesn't mean success will be easy.
"Remember, these are high-tech businesses and they require higher investments," Nemali said. "A local producer has to stay on top of production to maintain freshness in addition to handling marketing and market development as well as distribution, which is critical."
Nemali said it's imperative for entrepreneurs to undergo hydroponics training—which Vitalis has. The size of Purdue's monthly hydroponics workshops have tripled in recent years.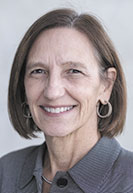 Despite the challenges, Allison Melangton, senior vice president for Penske Entertainment, which runs the Indianapolis Motor Speedway, has little doubt in Vitalis' ability to make his company take root.
Melangton, CEO of Indianapolis' 2012 Super Bowl Host Committee, discovered Vitalis when looking for someone to run an initiative to make 8,000 Super Bowl-themed scarves for the local volunteers and Super Bowl host committee. It turned out to be a brilliant marketing campaign garnering national media attention.
Cummins executives suggested Vitalis.
"When I saw his resume and then met him, I knew he was perfect for the job," Melangton said. "I'm sure heading a scarf-making operation was the last thing he expected me to ask him when we met. It wasn't exactly a sexy assignment."
But Melangton said chairing the Super Scarves Committee was more complicated than it appeared.
"It was not just a knitting project," she said. "We needed a manufacturing plan, a marketing and publicity plan, along with warehousing, cataloging and distribution. When I saw he had earned a Six Sigma Green Belt—those aren't easy to get—I knew he would be perfect for this."
Six Sigma is a set of techniques and tools for process improvement. It was introduced by American engineer Bill Smith while working at Motorola in 1986. Jack Welch made it central to the business strategy at General Electric in 1995.
As Super Scarves Committee co-chair, Vitalis insisted on learning how to knit. "He told me, 'I don't want to ask anyone to do something I'm not willing to do myself,'" Melangton said. "That told me a lot about him. He was absolutely amazing from the start."
Vitalis helped mobilize hundreds of volunteers and led an initiative that beat its goal, producing 11,000 scarves.
"He pulled together and worked with groups from the men's and women's prisons, senior centers and other organizations. He embraced every facet of the job," Melangton said. "He's a great thinker and problem-solver. … He has great personal skills, and he's a team player. I loved every minute I was able to work with him."
'I've always known struggle'
He'll need all those skills to make his new venture flourish, said Market Wagon's Carter.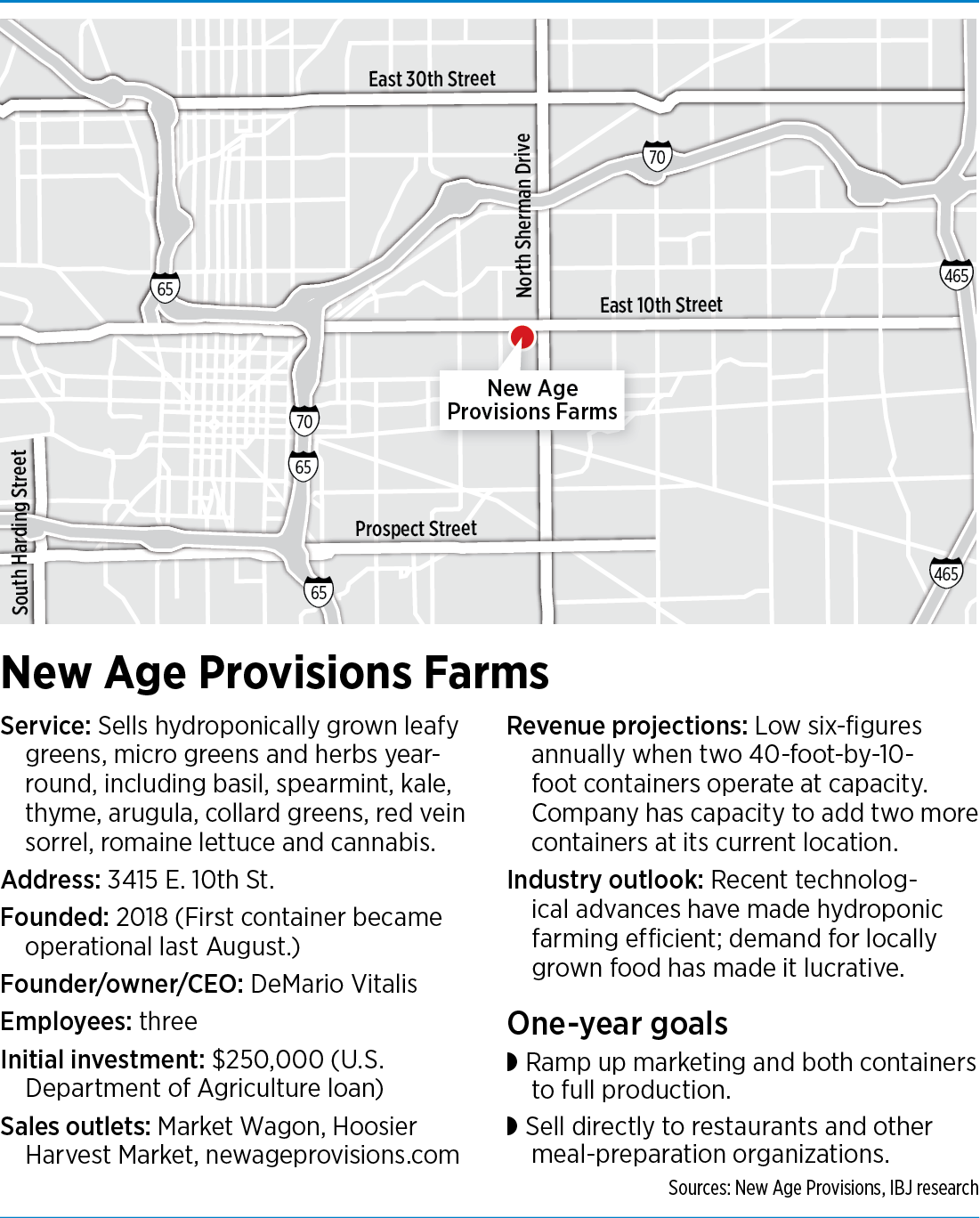 "Hydroponics is not brand-new, but it's still evolving," Carter said. "We've seen a lot of hydroponics operations come and go because one small error and you can lose the entire crop. New Age Provisions faces a big challenge, but we have high hopes for them. Mario seems to have his system perfected to produce a good group of desired crops year-round."
The concept of using shipping containers to house hydroponic farms has cropped up in the last five years, industry experts said. Plants grow vertically, in pods, along movable walls that maximize density. A widening array of plants can be grown hydroponically, but it still has its limitations. Due to space and other constraints, it's not conducive for crops such as corn and beans.
Vitalis is no stranger to challenges. His mother was 15 when he was born. He didn't have much of a relationship with his father—who died in 2019, at age 56—for much of his life.
"I've always known struggle throughout my life," Vitalis said. "But my mom was a great example of what hard work and perseverance can accomplish. And my grandparents, who were from Canton, Mississippi, were great advocates of not only perseverance but education, too."
Vitalis' mom, Barbara Johnson, works at the local Veterans Affairs medical center as a claims processor.
After graduating from Arlington High School, Vitalis earned a scholarship to Purdue and took out loans—which he has since repaid—to cover the rest.
"I'm not going to let a little—or a lot—of hard work get in the way of my dreams," Vitalis said. "I've come too far. My whole family has come too far to let it wither now."•
Please enable JavaScript to view this content.