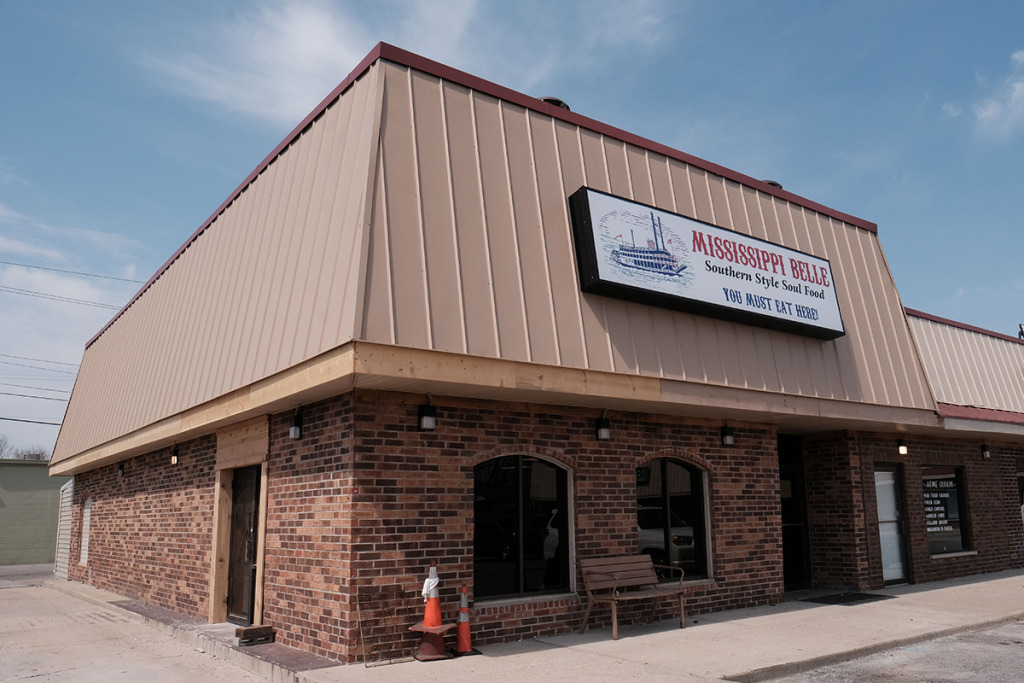 After an 18-month hiatus to recover from a devastating fire, the soul-food restaurant Mississippi Belle is preparing to reopen April 14.
The restaurant, at 2170 E. 54th St. just west of Keystone Avenue, has been closed since October 2019, when an overnight electrical fire caused smoke damage to Mississippi Belle and several neighboring tenants at the 54th Place shopping center. Damage was most severe at Mississippi Belle, which has operated at that spot since its opening in the 1990s.
"It was a complete loss," owner Jay Wilson said of his restaurant. "The smoke damage was so much, it was a complete loss of everything."
Wilson said the restaurant's kitchen equipment and furnishings were ruined and had to be replaced, along with roofing, drywall, and the electrical and plumbing systems. He declined to discuss the cost of reopening.
Wilson said the extended closure was not related at all to the pandemic. Rather, he said, the extensive renovations, plus the need to coordinate with both his insurer and his landlord, were the reasons the restaurant has remained closed for so long.
Wilson said Mississippi Belle will reopen with new décor for the nearly 3,000-square-foot restaurant, with a color scheme in shades of gray and jazz-themed art on the walls.
But the menu, which Wilson described as "kind of like Thanksgiving every day," won't change much. The restaurant is known for its family-style service, with dishes that include roast beef, ribs, roasted pork, candied sweet potatoes and fried cabbage.
Another thing that won't change is Mississippi Belle's kitchen staff.
All of the restaurant's kitchen staff moved on to jobs at other restaurants after the fire, Wilson said, but all of them have agreed to quit their current jobs and come back to Mississippi Belle when it reopens.
"It chokes me up when I think about it," Wilson said with emotion in his voice. "To think they'd do that for me is amazing."
That continuity gives Wilson confidence that Mississippi Belle will be able to pick up where it left off, even after such an extended hiatus. "To have the core that I know can do the job—oh my God, it takes so much stress off of my mind."
About half of the restaurant's front-of-house employees—servers and the like—are also coming back, Wilson said. Between the kitchen and the dining room, that means the restaurant will open with 11 to 14 returning employees, plus a handful of newcomers.
Another thing that gives Wilson confidence: Mississippi Belle hasn't lost its loyal fan base, even though it's served no meals for 18 months.
On March 25, when the restaurant announced its reopening date on its Facebook page, the post drew 87 responses, with comments such as "Finally!!!!! So excited!!!" and "Can't wait!!!"
Ever since the fire, Wilson said, "a steady flow of customers" has continued to visit the building to see whether it's reopened yet.
To Wilson, this is confirmation that fans will return when Mississippi Belle reopens next week. "It makes me feel real good."
The restaurant will resume its previous operating hours of 11 a.m. to 9 p.m. Monday through Saturday, 11 a.m. to 7 p.m. Sunday.
Please enable JavaScript to view this content.