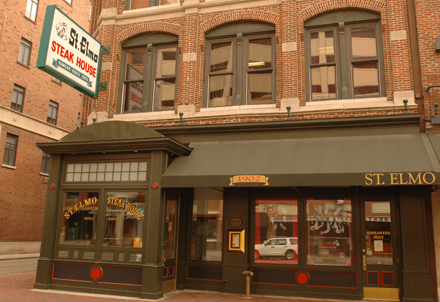 The operator of St. Elmo Steak House said he is working to launch a fundraiser in memory of a longtime employee who died Saturday after contracting COVID-19.
The famous downtown Indianapolis restaurant shut down Saturday night for deep cleaning after nine of its employees tested positive for COVID-19. On Monday, St. Elmo reported a COVID-related employee death to the Indiana Occupational Safety and Health Administration. The restaurant reopened Monday night.
Craig Huse of Huse Culinary, which operates St. Elmo, issued a statement on social media Wednesday night in which he said the restaurant was "mourning the loss of a longtime, valued employee and genuinely great person, who had a huge heart and a glowing smile." Craig Huse also is a co-owner of St. Elmo.
"I am collaborating with our employee's family to create a fundraiser on this person's behalf," Huse wrote on St. Elmo's Facebook page. "Their family is our family."
Huse did not name the employee, nor has the restaurant identified any of the nine employees who tested positive for COVID-19.
But several people who work or formerly worked at St. Elmo have posted online tributes in recent days for a bartender who died. According to an obituary posted by O'Riley Funeral Home, Michael Gaines, 45, of Indianapolis, died suddenly at his home on Saturday. Gaines had worked at St. Elmo for the past 16 years, the obituary says. His funeral is set for April 15.
Huse told IBJ on Thursday morning that he and the employee's family are still working out details of the fundraiser, including where the money will go.
Huse said the employee's father suggested the money be used for a gift card that he could use to entertain family and friends at St. Elmo in socially-distanced fashion around the date of his son's funeral.
"I feel we'll raise a lot more money than that," Huse wrote in a text message.
St. Elmo also plans to contribute 16% of its bar sales from Monday's reopening through the date of the employee's funeral, Huse said. That percentage references the 16 years that the employee worked at the restaurant.
A GoFundMe page also has been set up to receive donations, Huse said.
In his public statement, Huse also said that, prior to the recent outbreak, St. Elmo had gone for two consecutive months without any of its employees contracting COVID-19.
Huse Culinary has not received any reports of customers with COVID-19 cases that were traced back to one of its restaurants since the beginning of the pandemic, he said.
The company has served more than 494,700 customers at its restaurants since the start of the pandemic, including more than 96,700 at St. Elmo alone, Huse said. Huse Culinary operates seven restaurants under a variety of brands including St. Elmo, 1933 Lounge, Harry & Izzy's and The HC Tavern + Kitchen.
"While we understand the importance of media coverage regarding the devastating effects of the pandemic, no one has gotten to this point unaffected either personally or professionally," Huse wrote. "Hospitality traits of kindness, empathy, professionalism and grace will allow our community and state to heal and move us all forward."
IOSHA spokeswoman Stephanie McFarland said the agency is following up with St. Elmo to gather more information about the reported employee death. IOSHA has not yet determined whether it will follow up with a safety compliance inspection, she said.
IOSHA's safety compliance inspections can be triggered by a workplace death or a complaint that comes from an employee, customer or outside observer. To date, IOSHA has not received any COVID-19-related safety complaints about St. Elmo or other Huse Culinary restaurants, McFarland said.
Please enable JavaScript to view this content.