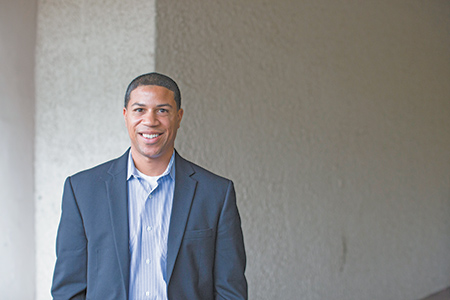 After 15 years working in the information technology department for the state of Indiana—the last four as chief information officer—Dewand Neely is departing to take a job as chief operating officer for Eleven Fifty Academy, the not-for-profit coding academy with facilities in downtown Indianapolis and Fishers.
The 41-year-old Purdue University graduate departs his state job Nov. 22 and says he'll be starting at the academy founded by tech scion Scott Jones—best known for his break-through contributions to voice mail technology—shortly thereafter.
Neely has been at the Indiana Office of Technology since its inception in 2005 (agencies previously had their own IT teams and resources), and he assumed the helm in October 2015 after Paul Baltzell stepped down. Neely is one of only a few African-American state government CIOs in the country.
While Neely had crossed paths with Jones before, he didn't have a relationship with him until Neely called Jones about a training opportunity for state IT employees. That conversation, Neely said, led to a deeper discussion about the IT industry and Eleven Fifty Academy, culminating with Jones offering Neely a job he said was difficult to pass up.
Neely recently spoke with IBJ about his achievements at the state and his goals at Eleven Fifty.
What did you accomplish at the state?
We improved relationship management within the agency, making sure [the IT department] was a solution enabler for [state employees], and not just a back-office type of thing. We spent a lot of time building trust so as we make big changes, state employees feel they're in good hands. We changed the culture in terms of being more attentive to the cyber threats that are out there. This new threat just gets worse and worse by the minute.
What were the biggest challenges in leading the state's IT department?
The challenges come with trying to create a shared service that works for 90-plus state agencies. It's difficult to shove 90 agencies all in one box because they all have their different needs and demands. That's an everyday challenge for all IT operations; it's just a little larger scale here. Another challenge is branding. There's this idea that there's no cool tech within state government. We don't do a great job of touting the cool things we're doing.
How does Indiana stack up with other states in terms of its IT department and infrastructure?
I'm a member of the National Association of State CIOS, and we have a saying in that circle: 'If you've seen one state, you've seen one state.' No one state is alike and it's hard to compare apples to apples. But this is my home state, and I would put us up against the top tier of states. We're treading down the right path with emerging technologies where it makes sense. We push to stay as current and on the edge as possible.
Why did you decide to leave state government for the private sector?
It's a growth opportunity for me. I got an MBA (from Indiana Wesleyan) in 2008, and I knew I eventually wanted to be more of a business guy who did more than just IT. I wanted to have influence and authority over more than just IT. Secondly, I told my team … I have fallen in love with and have a passion for public service. It is difficult to find something else that speaks to that, but with Eleven Fifty being a non-profit with a focus on making people's lives better … it's not the same as the state, but it's definitely a mission I can get behind. It's a matter of timing too, and these opportunities don't come up every day.
How big a part of your decision was the opportunity to work for Scott Jones?
How can you say 'no' to someone like Scott Jones and maybe not get another chance to work for someone like that. This is a great learning opportunity for me to work alongside one of the great tech innovators.
How do your skills fit your job at Eleven Fifty Academy?
You think the state CIO role involves working with IT, and it does, but there are also a lot of people—about 400—to manage. I keep everyone on task to deliver services. The last few years I've been focused on changing the culture around customer service and being able to address the increasing demand on IT. I spend a ton of time getting people aligned on a common mission. I think that translates to my new job.
Are you a hardware guy or a software guy?
I started out in hardware and infrastructure, but being here at the state, with a number of projects we've done, I've become quite adept at large software implementation projects. I've learned a lot more on the software side. My passion has always been hardware, I've never been a coder, although I can code.
What do you hope to accomplish at Eleven Fifty Academy?
I want to create a framework for the current sites here—in Fishers and downtown Indianapolis—where the processes and structure can be repeatable so the academy can scale more efficiently and more affectively.
What would you like to see in terms of growth for Eleven Fifty?
Our president [Scott Jones] has a good vision to at least try to tackle two more sites [expanding to four] in early 2020. We're seeing the demand; it's just a matter of making it easier for the people within the communities to access [Eleven Fifty] by making this closer to people.
Please enable JavaScript to view this content.