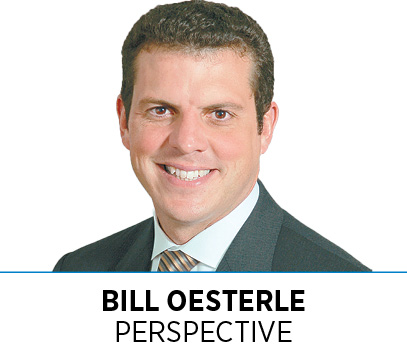 Estimates are that Indiana is about to receive a $3 billion windfall from the COVID relief bill. Unlike many other states, Indiana has its fiscal house in order so this money is a rare opportunity for thoughtful new investment.
Much of the current discussion around these dollars is devoted to physical infrastructure like roads, water systems and green energy facilities. Physical infrastructure is important and necessary, but the state should also consider meaningful investment in its human infrastructure.
As I have written before, Indiana has a people problem. Nearly half of our 92 counties are suffering population decline, and the state's overall supply of available workers is declining for the first time in more than 100 years. Without more people, and specifically working people, Indiana faces severe limits on economic growth. In light of these facts, programs that directly address population and workforce issues deserve attention and investment.
While Indiana has outpaced other states at creating an attractive environment for conducting business, other places are out front on direct talent attraction programs. Among many creative strategies, I've come across two that Indiana could easily adopt. Both offer simple and scalable ways to increase our population and grow our supply of talented workers. For lack of better names, I will call them the Talent TIF and Plant Your Roots programs.
The Talent TIF puts a spin on our existing TIF (Tax Increment Financing) programs. Today, these programs allow the state and local communities to create TIF districts that enable communities to fund infrastructure improvements. In theory, these improvements help attract business investment. The amount of money available for investment is based on the projected increase in property taxes that these businesses will pay. Simply put, they are loans to communities for investment that are paid back by the marginal property tax revenue that they attract.
A Talent TIF applies the same logic to recruit net new people to Indiana. Local communities, in cooperation with the state, would create talent districts where communities could fund talent attraction programs.
The amount of money available for the programs would be based on the amount of incremental income, sales and property taxes that new people in the district create.
If structured properly, Talent TIFs should be self-funding. They just need the initial seed dollars to get local communities started.
Talent TIFs could employ a variety of interesting attraction "hooks."
For example, dollars could be specifically targeted to areas that are suffering population declines, making dollars available to revitalize both rural and inner-city districts. Programs could be structured as housing credits for the newly recruited people. These cash credits would be backed by home mortgages and forgiven over five years.
This type of program is particularly powerful for recruiting remote workers who carry their jobs with them (see Tulsa Remote, Move to Michigan, Choose Topeka and many others). With an average credit of $30,000 dollars per new recruit, an initial $100 million would produce over 3,000 new income-producing Hoosiers. Using rough average tax projections, the program would pay for itself in about three years.
The Plant Your Roots program would allow out-of-state undergraduate students who attend an Indiana public university to apply for a tuition credit if they agree to stay in the state for five years after graduation.
In effect, these new Hoosiers receive retroactive in-state tuition. These credits would average around $80,000 and could be paid proportionately at the end of each year of residence. With tens of thousands of out-of-state students graduating each year, this credit would be a powerful incentive for them to take jobs or pursue remote work in Indiana.
Regardless of the ultimate practicality of these ideas, Indiana must be bold and creative with its COVID windfall. Indiana businesses require a talent pool that can keep pace with our ambitions, and so the state and local communities must directly address the growing problems of population growth and workforce availability. This is no time for incrementalism.•
__________
Oesterle is CEO of TMap LLC.
For more perspectives, click here.
Please enable JavaScript to view this content.