Two of the state senators who asked the attorney general for a legal opinion about whether Gov. Eric Holcomb has the authority to enforce a statewide mask mandate say they do not plan to file a lawsuit to challenge the measure.
Late Wednesday, Attorney General Curtis Hill, a  Republican, said in an opinion—issued at the request of five Republican senators—that state law doesn't give the governor specific authority to require face coverings or to create penalties for failing to wear a mask. Hill also said that Holcomb should call a special session if he wants to implement a mask requirement and impose a penalty.
That would seem to open the door to a lawsuit, although Hill—who will leave office at the end of this year after failing to earn the GOP nomination for a second term—can only issue advisory opinions. And Sen. Jim Buck of Kokomo, one of the lawmakers who sought the opinion, said he doesn't want to get into a "legal squabble" with the governor.
"I think that's a bridge too far, quite honestly," Buck said.
Holcomb, also a Republican, announced on Wednesday afternoon that he would issue an executive order—effective Monday—requiring masks for anyone who is 8 years and older in indoor public places, commercial entities, transportation services, or in outside public spaces when social distancing isn't possible. But exceptions will be made for medical purposes, strenuous physical activity, eating and drinking.
Holcomb said there won't be any "mask police," but violations will be considered a Class B misdemeanor, which can result in up to 180 days in jail and a fine of up to $1,000.
Sens. Buck, Blake Doriot of Syracuse, Aaron Freeman of Indianapolis, Mark Messmer of Jasper and Jim Tomes of Evansville had asked Hill to weigh in with an "official opinion" regarding Holcomb's authority to order a mask mandate and make it a criminal offense not to wear a mask.
"Without properly delegated authority from the General Assembly, the proposed order would not have the force and effect of law," Hill wrote. "The General Assembly would need to specifically and clearly allow for a mask mandate by law."
The opinion also says that the Indiana Constitution limits the legislative branch's ability to transfer its lawmaking powers to administrative agencies in the executive branch.
Buck said his issue is not with the mandate itself but with the criminal penalties.
"There was no animosity or resentment for what the governor was doing on masks," Buck said. "I'm not going to second guess him."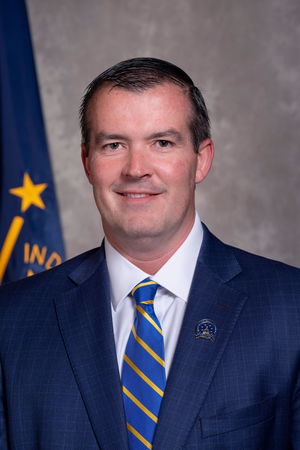 Freeman said he never thought a lawsuit was in play when the senators requested the opinion.
"That's not something I'm interested in," Freeman said. "But I don't speak for everybody."
Freeman said Hill's opinion confirmed what he believed—that the Legislature is responsible for creating new criminal law and punishment for violating those laws.
Buck said he doesn't want Holcomb to call lawmakers back for a special session, but Freeman said he would support that to address the mask issue and also how the state is spending its $2.4 billion allocation from the federal CARES Act.
"My only point in all of this there needs to be dialogue and more folks in the room making decisions," Freeman said. "Are the citizens of Indiana OK with one person deciding all this? I don't know."
Holcomb's office has not responded to IBJ's request for comment about Hill's opinion.
Hill's opinion is labeled an "official opinion," however it is considered only advisory and does not carry the weight of a court ruling. The attorney general said in the opinion that he encourages the use of masks but said "individual rights secured by the Constitution do not disappear during a public health crisis."
Holcomb has issued a series of executive orders under the state's Emergency Management and Disaster Law in response to the pandemic, including one that declared a public health emergency in Indiana. He has renewed that order four times, with the most recent order set to expire on Aug. 3.
The Emergency Management and Disaster Law gives the governor broad powers once he has declared an emergency. Among the provisions, the governor is permitted to "use all available resources of the state government and of each political subdivision of the state reasonably necessary to cope with the disaster emergency." In addition, the law says the governor can "take any action and give any direction to state and local law enforcement officers and agencies as may be reasonable and necessary for securing compliance" with the emergency law.
The governor said Wednesday that an escalation in the number of COVID-19 cases in Indiana led to his decision to require masks.
But Hill said in his opinion that as Indiana has moved out of the early stages of the pandemic and there is "less of a sense of immediate emergency," the governor should be acting with support of the General Assembly.
"As the representatives of the people, the General Assembly should have a say in the regulation of behavior and whether there is a criminal element to violating an order issued by the governor," the opinion said.
Hill wrote that Holcomb has left lawmakers "on the sidelines" during what he said is "perhaps the most significant event of the century."
Please enable JavaScript to view this content.