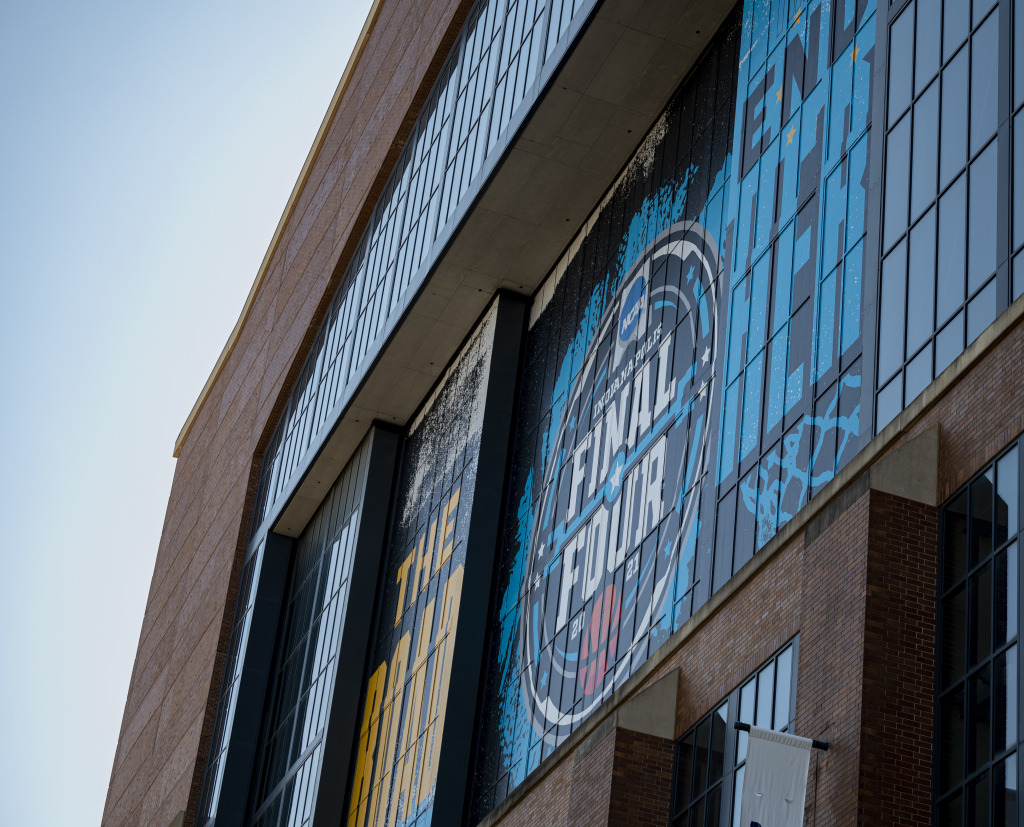 Indiana is bracing for a slew of basketball action over the next month, with plans to host 138 college games across the state.
The state is expected to benefit from more than $140 million in economic impact and national exposure from the NCAA Division I men's basketball tournament alone, which will bring 67 games to Indianapolis, Bloomington and West Lafayette starting March 18.
In addition, the Horizon League will host six games—its men's and women's semifinals and finals—starting Monday at Indiana Farmers Coliseum. Indianapolis also is hosting the Big Ten men's and women's basketball tournaments, which will feature 13 and 12 games, respectively.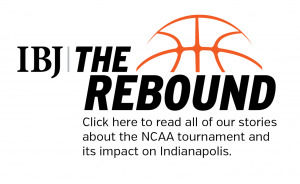 "It's an unprecedented moment, at least in my lifetime, where the entire nation and parts of the world will be focused exclusively on the city of Indianapolis for weeks on end," Ryan Vaughn, president of the Indiana Sports Corp. told IBJ.
"It's just extraordinary. The branding opportunity—getting people back to work, and then sending the message to the rest of the country that we can do these events well and safe, and it's really time to come back."
Vaughn and other local tourism and sports officials expect the tournaments could pay big dividends, including at least $100 million in local economic impact.
During this year's NCAA tournament alone, the state is expected to receive up to $43.3 million in exposure, according to Michigan-based Apex Marketing Group Inc. The company calculated the figure based on ad rates during most tournament-game telecasts.
The value of TV, radio, print and digital exposure for Lucas Oil Products Inc.—naming-rights sponsor of Lucas Oil Stadium—during the tournament could hit up to $45.1 million. Bankers Life, which sponsors the Pacers' arena, will get $15.3.
IBJ has previously reported more than 2,000 media members are expected to come to Indianapolis for the tournament, which Visit Indy officials have said will go a long way in helping the city showcase its brand beyond basketball.
But Central Indiana isn't alone in getting tournament action.
Evansville will host 27 games throughout March. Over the weekend, it hosted the Ohio Valley Conference tournament, which brought 14 games to its downtown Ford Center. The venue will also host a six-game Division II regional round and the Division II Elite Eight, which features seven games, including the national championship on March 27. 
"It's awesome to have so much focus from the state, and really the nation as a whole," said Eric Marvin, president of the Evansville Sports Corp. "I think the spotlight is shined on what we're doing as a whole in Indiana. We're able to show that we are very experienced with championship events here in Indiana and have a great deal of comfort operating—no matter what the circumstances."
Fort Wayne had been scheduled to host the Division III championship, before it was called off Feb. 3 due to schools withdrawing from consideration because of the pandemic.
And seven Indiana schools were chosen to compete in the National Association of Intercollegiate Athletics tournament. Some of those games could be played in Indiana, but plans have not yet been made public.
IBJ's Anthony Schoettle contributed to this story.
Please enable JavaScript to view this content.