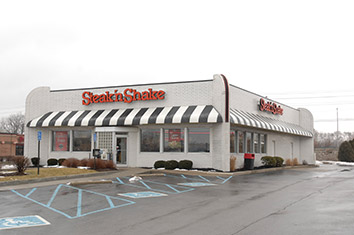 Steak n Shake has closed 106—or more than one-quarter—of its company-owned restaurants since the beginning of the year, including 67 in the second quarter, parent company Biglari Holdings Inc. disclosed Friday in its quarterly earnings report.
Meanwhile, customer traffic continued to sink at the Indianapolis-based burger chain's remaining 307 company-owned stores, falling 9.2 percent in the second quarter.
Steak n Shake classified 103 of this year's closures as "temporary," and said it plans to reopen the stores under its new "franchise partnership" program.
Steak n Shake did not say how many openings occurred under that program, through which it offers would-be entrepreneurs the opportunity to operate a single unit for $10,000. That's far less than a traditional franchisee would pay, but the single-unit operators have to split profits with Steak n Shake. Trade publication Nation's Restaurant News said only one previously closed restaurant, in St. Louis, has reopened as a franchise partnership.
The company last August announced the franchise partnership strategy, saying it wanted to convert all of its company-owned stores to that model over three years while continuing to expand under its traditional franchising model.
Under the traditional model, a franchisee pays a franchise fee ranging from $25,000 to $40,000 as part of an initial investment that varies from about $672,000 to more than $1.8 million per unit, depending on the size and location of the restaurant.
"Steak n Shake is actively working to identify franchise partners for these closed stores," it said in the latest quarterly report. "However, no assurances can be given that Steak n Shake will be able to secure suitable franchise partners or that its strategy will restore profitability."
The company said five franchised locations opened overall in the quarter while five closed, leaving it with a total of 203 franchised restaurants. That's the same number of franchised locations it had at the beginning of the year. Ten franchised locations opened and 10 closed in the first quarter.
San Antonio-based Biglari Holdings saw a significant drop in revenue in the second quarter because of the restaurant closures but managed to turn a profit overall because of investment gains.
In addition to owning Steak n Shake, Biglari Holdings holds a 10% stake in Cracker Barrel Old Country Store Inc. and owns the steakhouse-franchising firm Western Sizzlin, an insurance company and Maxim men's magazine.
Revenue fell 19.4 percent, from $208.7 million in the second quarter of 2018 to $168.3 million last quarter. Revenue from restaurant operations sank more than 20 percent, to $160 million.
Earnings were nearly $22 million, or $63.50 per share, compared with a loss of $7.5 million, or $21.73 per share, a year ago.
Steak n Shake's same-store sales decreased 5.9% in the second quarter as customer traffic waned. For the first half of the year, same-store sales fell 6.5% and customer traffic decreased 8.1%. Same-store sales represent company–owned restaurants open for at least 18 months.
Same-store sales at the chain have fallen for 12 of the past 13 quarters.
Steak n Shake owes $183 million under a loan that parent company Biglari Holdings does not guarantee.
Credit ratings agency Standard & Poor's last month cut Steak n Shake's credit rating from CCC to CCC-, a rating that falls under "junk" status, or non-investment grade.
The rating "reflects our belief that the company may be unable to meet its financial obligations because of its weakened liquidity and thus could pursue a restructuring or a distressed exchange in the next six months," S&P said.
Please enable JavaScript to view this content.