Passenger traffic at Indianapolis International Airport is expected to be 45% lower in 2020 than last year, but airport leaders say they are confident they can keep the organization's finances stable.
Through September, just 1.5 million passengers had boarded airplanes at the airport, down from 3.5 million during the same period in 2019. The pandemic all but halted air travel in late March and April, and passenger numbers are still sluggish.
Through August, financial records show airport operating revenue is nearly $32 million short of expectations, with more than $27 million of that due to parking and retail shortfalls. Among non-operating revenue sources, passenger-facility charges—fees customers pay when they purchase a flight—are $6.7 million below budget, while customer-facility charges (money generated by rental car users) are down $3.3 million. It's also important to note that some operating expenses have come in lower than budgeted.
Yet, the airport has experienced no furloughs or layoffs, has continued to pay down debt and is completing a large number of construction projects planned for this year, its leaders say.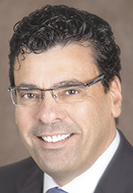 Mario Rodriguez, executive director of the Indianapolis Airport Authority, said that's because the airport had strong cash reserves going into the pandemic and received $52.5 million of federal Coronavirus Aid, Relief and Economic Security funds.
Still, the next few years will be tough.
While the airport is slowly becoming busier, passenger counts likely won't return to pre-pandemic levels until sometime from 2024 to mid-2026, Rodriguez said.
His predictions align with those of sector analysts. Moody's Investor Services, for example, has repeatedly stated that a full return to normal is unlikely in the next three to five years. Even then, air traffic might never be the same, Moody's has said.
"While a vaccine and treatment for the coronavirus would increase demand across travel- and tourism-dependent sectors, lingering health concerns could result in permanent behavioral changes," Moody's said in an August report.
Rodriguez remains confident the airport budget can withstand a downturn that lasts several years.
"We are very optimistic that, between those two funds, we'll be able to weather the storm and come out on the other side," he said. "We planned. Not for this—I don't think anyone planned for this—but we planned for some reduction in the economy."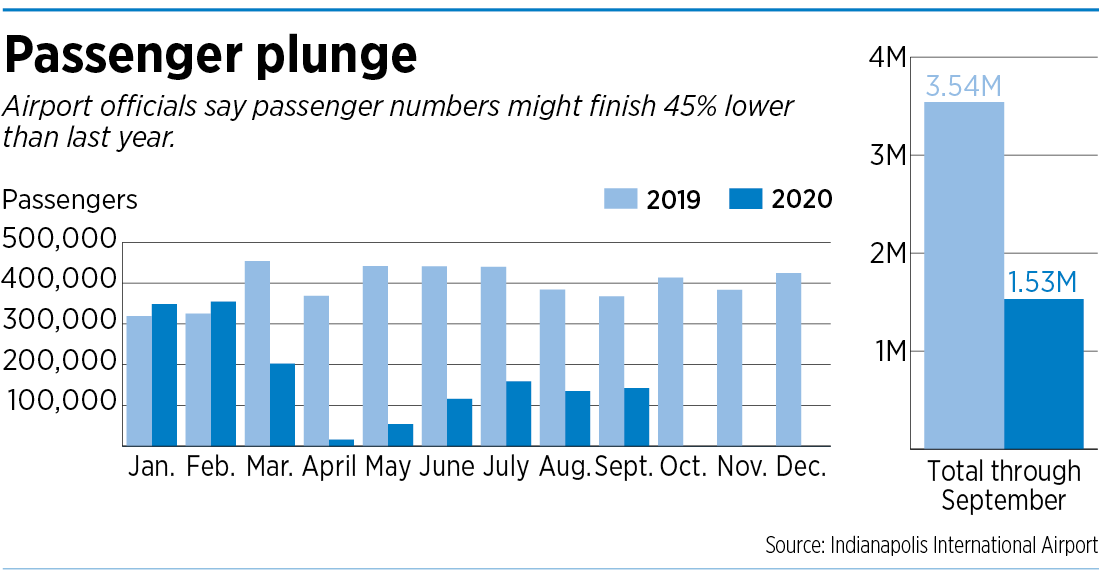 'It's raining'
The year started strong for the airport, following a record number of what are called enplanements—passengers who board in Indianapolis—in 2019.
In both January and February, enplanements were up from the year before.
But those numbers started to fall in March, as the pandemic took hold in Indiana, before plummeting in April, when just 16,000 passengers boarded in Indianapolis. May was slightly better, at 54,000 enplanements.
As pandemic-related restrictions began to lift across the country, numbers improved. In July, the airport recorded nearly 159,000 enplanements.
But 2020 passenger numbers aren't expected to rally. Rodriguez estimates they'll be 45% (or roughly 2.1 million) lower than 2019, when the airport recorded 4.7 million enplanements.
To understand why that's so significant, it's important to understand how the airport is funded. A large portion of the airport's revenue is passenger-dependent, meaning low passenger numbers will significantly crimp finances.

Non-airline revenue, which includes parking and retail, funds about 60% of the airport's total budget. Parking is $21.7 million short of budget this year and retail is $5.5 million short. Passenger-facility and customer-facility charges fund about 10% of the budget.
But because the airport had cash reserves equal to about 400 operating days (or $94 million), it's been able to remain solvent, Rodriguez said.
About five years ago, the Indianapolis Airport Authority began building its cash reserves in anticipation of the next economic recession, he said.
"Every single airport on the planet has had drastic revenue dips," he said. "Now, where we differ from some is that we had reserves, a rainy day fund. And guess what? It's raining."
The airport also received $52.5 million in CARES Act funding. And unlike the city of Indianapolis, the state and other government entities, the airport doesn't have to spend that money by the end of the year. It can hold onto it into 2021 and beyond.
To date, the airport has used $38.4 million of its CARES Act grant to fund a portion of the airport authority's two largest fixed costs, payroll and debt service, leaving roughly $14.1 million.
Henry Harteveldt, a travel industry analyst and president of San Francisco-based Atmosphere Research Group, told IBJ that, because the airline industry had been performing so strongly over the past decade, most airports were in decent financial shape before the pandemic.
But it's "very good," he said, that the Indianapolis International Airport had cash reserves.
That, coupled with the CARES Act funding and the ability to adjust spending and control expenses, will serve the airport well as the industry awaits recovery, Harteveldt said.
Recovery coming
For now, passenger numbers at Indianapolis are bobbling.
In July, the airport logged its highest number of passengers (about 159,000) since March. Enplanements then dropped slightly in August before rising slightly (to roughly 142,000) in September, the latest month for which data is available.
Because of the steep drop in passengers, the number of daily flights out of the airport has also fallen.
In October, the Indianapolis airport averaged 86 daily flights to 32 nonstop markets versus 150 daily flights to 41 nonstop markets last year. International travel has been pretty much non-existent.
In March, Delta Air Lines suspended Indiana's first nonstop trans-Atlantic flight from Indianapolis to Paris. A restart date has yet to be announced.
But it's not all bad news.
To date, no airport authority employees have been furloughed or laid off, although some of their roles have changed and a hiring freeze is in place.
And most of the airport's capital construction projects are ongoing. That's at least in part because many of the projects are funded largely by federal grants, with the airport authority contributing about 20%.
The airport also recently announced two new nonstop flights. In August, it said Delta would begin offering a daily, nonstop flight to Memphis in October.
A few days later, the airport announced that, beginning in December, American Airlines will offer a seasonal, nonstop flight to Cancun. The route will be one of the first international flights out of Indianapolis in months, the airport said.
New nonstop flights are a positive sign, Harteveldt said. Other factors that put the airport in a good place for recovery is that it is not a hub (where one airline accounts for most of its flights) nor close to another major airport.
Atmosphere Research Group predicts that, if a COVID-19 vaccine becomes available by mid-2021, a return to 2019 passenger numbers will follow roughly three years later.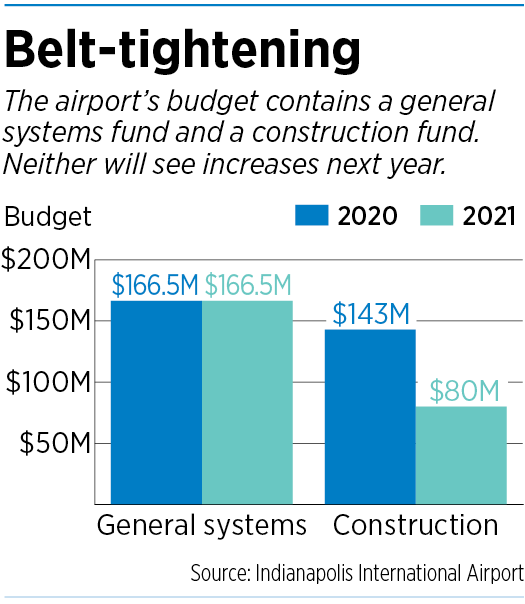 But, Harteveldt cautioned, "There are a number of factors that could affect that timeline," including some unrelated to COVID-19, such as the price of jet fuel, the state of the economy and overall demand.
"There [are] unfortunately far more unknowns than we would like, and that clouds the ability to have a concrete forecast for recovery," he said.
In a September report, Moody's said that, despite a recovery that could take four years and is dependent on a widely available vaccine, the overall credit quality of U.S. airports will remain strong after the downturn-and-recovery cycle.
That's because the credit quality was "incredibly strong" before the pandemic.
Indianapolis International, for example, is rated A1 stable, meaning the airport has ample cash reserves and stable financial backing.
Rodriguez said that, to play it safe, the airport has projected that passenger counts won't recover until past 2024. And he believes the cash reserves and CARES Act funding, plus a flat-lined budget for 2021, will get the airport to that point.
"We don't do things haphazardly. We never did," he said. "We believe we're in good shape. … If we watch everything we do, we get to the other side of this."•
Please enable JavaScript to view this content.