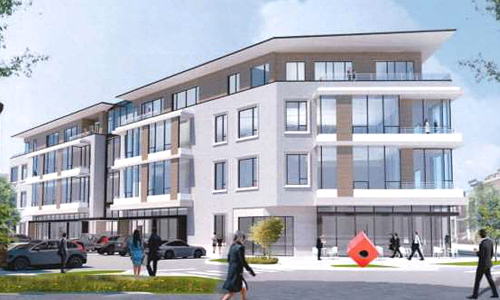 A local developer has delayed plans for a four-story condominium project along Massachusetts Avenue downtown, nearly two years after the development was first announced.
Stenz Construction Corp. is working through parking-related challenges for the project at 656 Massachusetts Ave. The development is expected to feature up to nine condos, 4,500 square feet of first-floor retail space, and a 17-space underground parking garage.
"We're not moving forward right now," CEO Leo Stenz told IBJ earlier this month. "We're trying to figure out how to deal with parking, so we have not made a decision."
Stenz declined to offer details about the firm's parking issues—including whether it is considering modifying or moving forward without the underground garage—but he said the downtown parking market would play a role in whatever decision is made.
The mixed-use development would be located about two blocks southwest of the 12-acre, $300 million Bottleworks District project at 850 Massachusetts Ave.
Designs for the project were approved by the Indianapolis Historic Preservation Commission in June 2018, after the company presented an updated design from the month prior. The redesign replaced white stucco facade materials with a darker brick and limestone, while also reducing the height of the building from 59 feet to 54 feet and moving parking underground.
"We've had drawings done and met [with designers], we're holding off just a little bit to see what what kind of things are happening as far as parking in downtown," Stenz told IBJ in recent weeks.
But construction permits have not yet been pulled. A certificate of appropriateness for the project has also expired, meaning the group will need reauthorization from the IHPC before starting work.
Stenz Construction paid $1.4 million to purchase the existing two-story office building on the site in December 2017. The company plans to tear down the now-vacant structure, which is considered non-historic by the IHPC (although it is located in a historic neighborhood).
The building had been owned by 646 Mass Ave. Partners Inc.
Advertising executives Bruce Dean and Scott Johnson constructed the 5,826-square-foot building in 1996 to house an art gallery on the first floor and their graphic design and advertising firm above. Their agency, AxiomPort, later moved to the Circle City Industrial Complex at 1125 E. Brookside Ave.
Stenz said his firm had considered reusing the building for the project but quickly decided it should start from scratch.
"We feel that new construction would be the best way to go," Stenz said earlier this month. "It wasn't extremely well done when it was built … so it'll have a new new design to it. We're just kind of working through some things right now before we really get back into it."
The Kurt Vonnegut Museum and Library sued the previous owner in April 2017 after the structure suffered water-intrusion issues so severe that at least one wall was in danger of collapsing. The museum had moved into the space in late 2016, only to move out in February 2017 as a result of the issue.
The museum's suit, filed in April 2017, claimed fraud and breach of contract, after the owner declined to rescind its lease. A water leak was discovered during the buildout for the Vonnegut museum, when crews cut drywall to expose rotted wood studs.
The lawsuit was dismissed a few months later without explanation, according to Marion County court records.
Stenz said the firm remains committed to the project, but isn't in a position to move forward. The firm is not actively marketing the condominiums for sale.
"We bought the building and had a plan and worked diligently to get that together," said Stenz. "But at this point, we're on hold."
Please enable JavaScript to view this content.