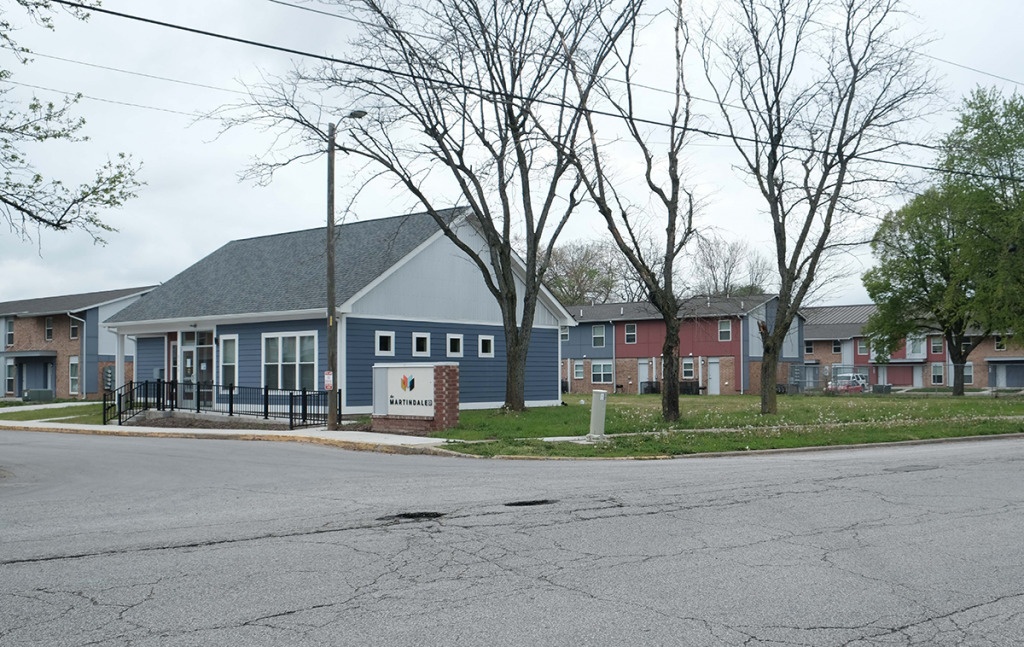 Indianapolis has a new plan to tackle its diminishing stock of quality affordable rental housing, which could also address the city's eviction crisis.
After months of meetings and successive drafts, the ambitious, almost 30-page policy agenda and a nearly 20-page action plan are out. They call on the city and its partners to inventory and protect existing affordable housing, ease the city's high eviction rate and possibly create a landlord licensing program.
City officials and community leaders announced a collaboration with a national housing organization in June 2019 to find solutions.
Now that the $200,000 study is complete, the project will come down to assessing the recommendations, determining which ones to implement, and pulling together the support needed to fulfill them.
Indianapolis has long had an eviction problem.
More than seven of every 100 Indy renters were evicted in 2016, according to the most recent data available from Princeton University's Eviction Lab. The 7.27% eviction rate was significantly higher than the national average of 2.34% that year. In a separate, 2020 analysis by think tank New America, renters were 46% of Marion County residents from 2014 to 2016, but were 85% of those who lost their homes.
"The first thing that Indianapolis told us when we pulled them together as a team is, 'We're facing an eviction crisis," said Matt Weber, state and local policy senior specialist at Grounded Solutions Network, the Oakland, California-based not-for-profit that coordinated the housing policy initiative with Indianapolis and two other cities.
"And this was before the pandemic," Weber said.
Add a global health crisis to the mix, and things get messier. Gov. Eric Holcomb launched a moratorium on evictions and foreclosures in March 2020, but let it expire in August.
Eviction filings were still lower in 2020 than in previous years, probably because of the moratorium, but "bounced back" when it ended, said Kelsie Stringham-Marquis, a research coordinator at IUPUI and a co-author on a Marion County-specific brief on evictions.
"Eviction filings bounced back to roughly 20% to 40% lower than the similar period in previous years," Stringham-Marquis said. "So it was lower, but the fact that it bounced back so quickly—to me, that indicates that those landlords were waiting for the eviction moratorium to be over."
Holcomb also used federal COVID-19 relief money to fund a state rental assistance program, which can help renters avoid evictions in the first place.
Marion County's own federally funded program gave out almost $34 million to help nearly 16,000 tenant households. But more than 9,200 applications weren't processed after landlords either didn't respond or declined, the Indianapolis Star first reported, and a spokesperson for the mayor confirmed.
"In theory, that type of program would probably be really beneficial," Stringham-Marquis said. "But then the trick is, how do you get landlords to participate?"
The city began processing applications for its 2021 round of the program in early April. Where the original 2020 program flier told potential applicants, "If you are approved, payment will be sent directly to the landlord," a new one online includes workarounds.
For tenants whose landlords don't respond, they'll have to provide some additional documentation. Then, "Payments could be made directly to the tenant in some cases," reads a 2021 FAQ.
But as the pandemic eases, what happens to those who struggled to pay rent even before?
Story continues below graphic.
Policy playbook
One recommendation is to make the rental-assistance program permanent.
It's one of 11 major proposals in the initial report, which range from opening a "landlord academy" and starting a specialized housing court to establishing a performance-based landlord-licensing program that would require a change in state law.
"The Grounded Solutions report really will inform our work for years going forward," said Deputy Mayor Jeff Bennett. "It becomes the playbook of policy and procedural recommendations that we can use as the city."
The plan is part of a larger strategy to continue developing Indianapolis without hurting the people who already live here.
"We don't want investments made, sometimes in partnership with the city, to put displacement pressures on existing residents," Bennett said.
The upside is that Indianapolis still has options, unlike coastal cities where even high-income residents might struggle to afford housing. Grounded Solutions did some work in these "hot market" areas, but by the time the organization was called in, it was "too late" for some, Weber said.
"The opportunity to acquire vacant properties was already gone because the housing market was so hot," he added. "The opportunity to keep units that had been affordable … instead of being able to keep them, those were going market-rate. There were just too few options on the table."
That's why Grounded Solutions launched its ForEveryoneHome initiative, aimed at cities whose housing crises could be managed and headed off by thoughtful policy. Indianapolis was one of three applicant cities chosen to participate in the pilot, which was backed by $150,000 grants underwritten by the Ford Foundation. Each city also ponied up $75,000 of its own to match.
"Indianapolis is pretty iconic in terms of the experiences of a Midwestern Rust Belt city," Weber said. "There's a lot of booming development happening downtown, leading to displacement pressure in the downtown-adjacent areas. And yet, there's other parts of town where your displacement threat is really from disinvestment. … Indianapolis itself presented a full range of the displacement challenges that we wanted to help them address."
Preserve and protect
Out of Grounded Solutions' initial Indianapolis report, which covered four areas, came an action plan zooming in on affordable housing.
More than 13% of Indianapolis' 7,500 regulated affordable-housing units will phase out of their federally mandated affordability periods by the end of 2026, according to the original report. Projects built with federal subsidies have to stay affordable for 10 to 30 years, depending on the program that supplied the funding.
First on the to-do list is organizing a stakeholder group to preserve the affordable housing that's left before it's gone.
The action plan tasks the stakeholder group with building a database of the affordable-housing supply, so that it's easier to tell which properties are at risk of going market-rate and which are in such bad conditions that they might be abandoned or redeveloped.
That network should include local government officials, Indiana Housing and Community Development Authority staff, low-income tenants and advocates, local development leaders and representatives from the organizations that help fund affordable housing.
Then, database in hand—or online—the stakeholder group is set to write up a strategy to preserve Indy's affordable-housing options, potentially with a matrix of risk factors and opportunities to split properties into different priority levels.
"Preservation comes from knowing what is out there, both regulated and naturally occurring affordable housing, understanding where it is and where it's most in danger of being lost," Bennett said. "That's work that can get underway … which then allows us to develop financial strategies and other strategies to not lose that housing."
The more granular the data, the better, said Tim Robustelli, policy analyst at New America, the think tank that mapped displacement across the country in its 2020 analysis. The project included Indianapolis as a case study.
Information that goes down to specific buildings or even to people could help identify at-risk renters before they're evicted. Indianapolis could step in when an eviction filing "has just been filed in court, or find some way to help when a tenant has just missed rent for a month," Robustelli said, instead of when the tenant is several months behind.
The city's action plan also suggests offering training and technical assistance for property owners, developers and contractors, prioritizing affordable-housing preservation in funding, requiring permanent affordability in exchange for financial incentives and making property owners who receive certain subsidies to give the city at least six months' notice of intent before they sell or redevelop.
'Everything' to families
That multi-step plan is the city's first priority because it could help prevent more evictions in the first place, said some involved.
"The ability to preserve housing just seems like the best approach," Bennett said. "It's impossible to develop new affordable housing fast enough to replace what we would lose. Preservation has to come first."
And affordable-housing preservation is what stakeholders on the report recommended the city start right away, according to Department of Metropolitan Development Director Scarlett Martin.
"When you could prevent somebody from becoming homeless, from an eviction standpoint, that's the best thing you can do—because they don't end up on the street," said Jennifer Green, one of the lead stakeholders on the initiative. Green is director of Partners in Housing, which houses mostly chronically homeless people.
Fully 49% of renting households in Marion County spent 30%-49.9% of their income on rent in 2017, according to a 2019 analysis of U.S. Census Bureau data that Stringham-Marquis co-wrote at IUPUI. Those renters are considered "rent-burdened" under the U.S. Department of Housing and Urban Development's definition. An additional 26% of renting households were "severely" rent-burdened in 2017, forking over more than 50% of their incomes to keep roofs over their heads.
Part of the reason is because income isn't keeping up with the rise in rent. From 2012-2017, rent in Marion County increased 11%, while income increased 5%, according to the IUPUI brief.
"If you have a family that's in a unit that's still housing-burdened, if you can find them a unit that's affordable, then that's everything," Green said. "They've got money for food, they've got money for transportation, they've got all of these other things that they could use [the money] for."
Otherwise, displacement carries the risk of permanence. It's harder to find another place to live with an eviction, or even an eviction filing, on your record.
"When someone gets kicked out of low-standard housing and they have that scarlet 'e' on their records … the only people who might want to rent to them are more negligent or predatory landlords," Robustelli said. Those renters get pushed into lower-quality housing in neighborhoods with less access to jobs and public institutions, in what Robustelli called a vicious cycle.
What will be implemented?
The Department of Metropolitan Development is already moving forward on some housing-related policies and working on the preservation action plan. Green, as a stakeholder, was "very happy" with the final version of the report.
But some pieces of the puzzle require more people.
As the city continues to round out the policy proposals and begins floating dollar signs, some elements might go to the City-County Council. Metropolitan and Economic Committee Chairwoman Maggie Lewis didn't immediately respond to a request for comment, but Council Vice President and committee member Zach Adamson called himself "a big fan of affordability."
Adamson represents District 17, which includes Martindale-Brightwood and parts of Fountain Square and the near-east side, among other neighborhoods. The Polis Center-run Indy Vitals divided the city into 99 neighborhoods and found that Martindale-Brightwood ranked 98th for household income and 93rd for cost-burdened residents.
"I think there's no shortage of market-rate housing in the city," Adamson said. "The shortage, obviously, is how we find quality housing" for low-income residents.
Other policy recommendations stretch beyond the council.
The proposed housing court, for instance, would need buy-in from not only councilors, but also Marion Superior Court, the nine township courts and, if the court hears code-related cases, the county health department, Bennett said.
Meanwhile, a recommendation to implement an inspection system, which would block landlords from renting until they comply with "significant" health and safety code violations, would entail state-level action.
That's because Indiana law doesn't allow municipalities to condition leasing a unit on a landlord's participation in a class or government program. Landlords also can't be required to pay for permits, which don't expire unless property ownership changes.
That proposal's "on the back burner," Bennett said.
The Legislature in March overrode a Holcomb veto of a bill that makes what the report terms a "landlord-friendly legal environment" that much friendlier. The new law prevents municipalities from regulating the landlord-tenant relationship without authorization from the General Assembly, and from enforcing local anti-retaliation rules.
The move invalidated an Indianapolis initiative meant to protect renters from landlord retaliation.
There isn't a timeline on the report's recommendations yet, but it will take years, according to Martin.
"We'll be measured on how well we implement [the plan]," Bennett said. "That implementation piece is not lost on us."
"The fact is, there's a lot of work to be done," Martin said.•
Please enable JavaScript to view this content.