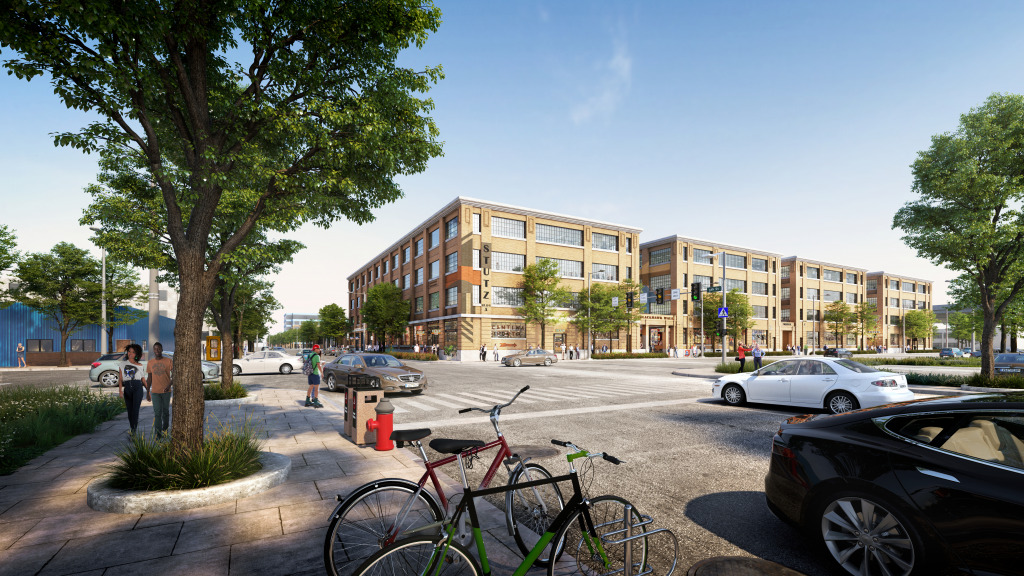 The development firm behind the ongoing overhaul of The Stutz on the northern edge of downtown Indianapolis plans to add as many as 500 apartments to the campus in coming years.
Officials with New York City-based SomeraRoad Inc. told IBJ the company is in the pre-development phase of at least two projects on land adjacent to the multi-building Stutz complex at 1060 Capitol Ave., which is in the midst of a $100 million renovation that will reconfigure much of its interior space and add new restaurants and shops, along with event and office space.
One of the sites on which SomeraRoad could build is the parking lot directly east of the Stutz buildings, across Capitol Avenue. The firm acquired the 1-acre parcel on Aug. 9 through a related holding company, MTP East Parking Propco LLC.
Through two other holding companies, the firm bought two parcels south of the Stutz, across 10th Street, on the same date. Those lots—including one that features a small office building—total about seven-tenths of an acre, but it's unclear whether that's another site where SomeraRoad plans to build. Many of the other parking lots surrounding the Stutz are owned by IU Health, according to city property records.
"We're working through all of it, and we've had numerous conversations with the city about the developments," said Ian Ross, founder and managing principal of SomeraRoad. "It's no secret that … markets are struggling, but when the time is right, we'll be ready to go ahead and add a bunch of housing to this neighborhood."
So far, there's no firm timeline on when SomeraRoad will submit plans to the city for those projects or begin construction. After an initial conversation with IBJ about plans for apartments adjacent to the Stutz, firm officials declined to go into more detail about specific sites.
The firm is also considering other projects across Indianapolis, but hasn't yet made any commitments beyond The Stutz.
"We're looking at a handful of other projects, and have been for the last few years," Ross said. "We'd like to plant a flag and really spread our tentacles from there, [but] we're focused on this right now. There will be more to come, for sure."
While most of the apartments as part of any Stutz housing projects are expected to be market-rate, Ross acknowledged things are "constantly changing," particularly given talks with the city. Ross and other SomeraRoad officials declined to share how much the apartment component of the project is expected to cost on its own.
The Indianapolis Department of Metropolitan Development typically has required apartment developers to set aside a certain portion of their units for families making significantly less than the area's median income—either 5% at 50% of the AMI or 10% at 30% AMI—in order to receive city incentives for multifamily projects. Those usually come in the form of tax-increment financing, which relies on taxes generated by the new investment to pay back bonds issued by the city to cover a portion of a project's cost.
Scarlett Andrews, deputy mayor for economic development, confirmed the city has had preliminary discussions with SomeraRoad about apartment development but said they hadn't yet discussed incentives.
"Overall, we have a supply issue right now, so any type of high quality housing at any price point is going to help with that [problem] and cool off the market's rents," she said.
"If they are seeking incentives, we do intend to have an affordable housing component to that, or some type of commitment," she said.
On Monday, the DMD introduced a city policy that would allow residential real estate developers seeking tax-increment financing to pay a fee to avoid the requirement that a certain percentage of a project's units be "affordable."
Instead, developers could pay between $750,000 and $1 million per project, based on a funding formula. The money will go into the city's Housing Trust Fund, which helps fill funding gaps for affordable housing and permanent supportive housing,
The city earlier this year approved $12.3 million in developer-backed bonds for the Stutz complex's redevelopment, based on a previously planned $65 million first-phase of improvements. The company also received $7 million in redevelopment tax credits from the Indiana Economic Development Corp.
The company at that time told city officials it plans to invest as much as $200 million into the property and the surrounding neighborhood over the next 10 years.
Construction on the first phase of the Stutz includes 12,000 square feet of retail and dining space; 27,000 square feet of co-working space; 17,000 square feet of event space; and 15,000 square feet of fitness and lifestyle space. Several tenants are expected to open in the property in the coming months, including a co-working space from Industrious and a new Cafe Patachou restaurant.
The Stutz, which dates to 1911, has 440,000 square feet of leasable space including 300,000 square feet of office space.
Ross said while the project is anchored by the office component, he expects the apartments will help recast the area as a distinctive district, much in the way that Hendricks Commercial Properties is approaching The Bottleworks District on the north end of Massachusetts Avenue. The Stutz project is also expected to play off the ongoing $2 billion investment in the IU Health campus just west of Senate Avenue.
"We want to fill in this area in a way similar to what's been done at Mass Ave and Fountain Square," Ross said. "We want to stitch it together with our partners at IU Health and ideally tie it into a revitalized canal, so it all can become an iconic asset for the city of Indianapolis."
Please enable JavaScript to view this content.