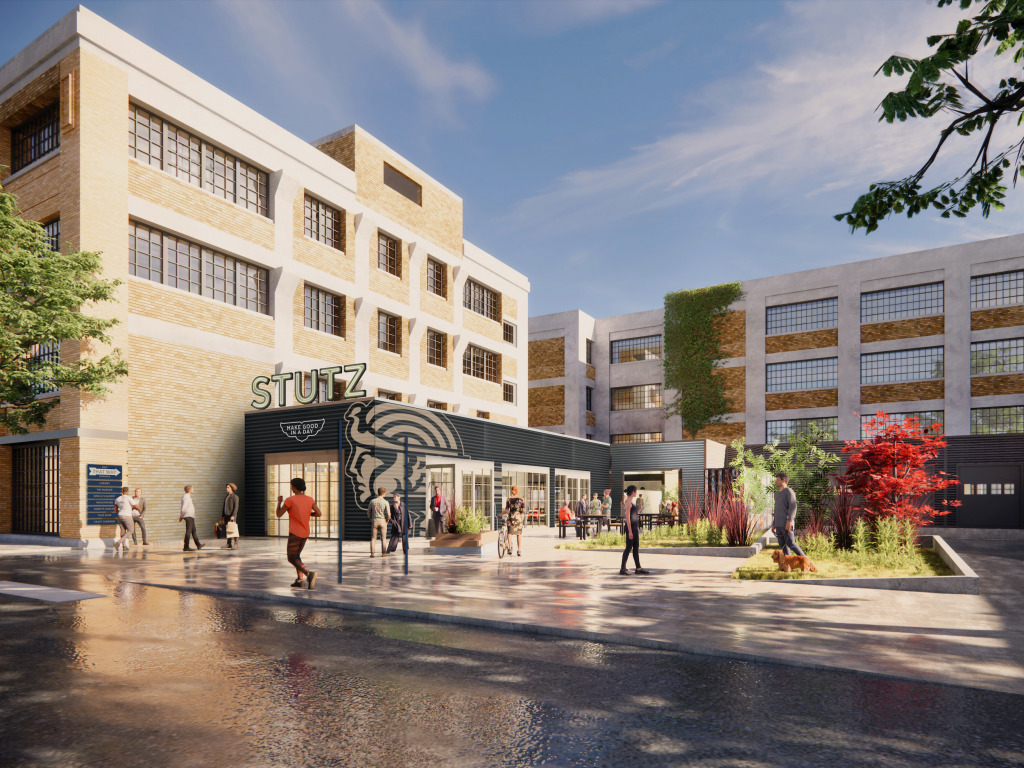 A taco shop, co-working space, fitness company and car museum will join previously announced locations of Cafe Patachou and Amelia's Bread on the ground floor of the renovated Stutz Motor Car Co. factory complex.
SomeraRoad Inc., a New York-based commercial real estate investment firm that acquired the property in 2021, unveiled on Friday a lineup of 12 tenants for seven Stutz buildings that occupy an entire city block.
Collectively rebranded as The Stutz, the complex will feature 290,000 square feet of office space bordered by Senate Avenue to the west, 11th Street to the north, Capitol Avenue to the east and 10th Street to the south.
Brock Kenyon, a senior associate at SomeraRoad, said his company wants to present a vibrant mix of businesses at street level to attract office tenants on upper floors.
"We're creating our own node of energy in this area of downtown," Kenyon said.
Taqueria de Julieta, a new taco shop founded by Milktooth chefs Esteban Rosas and Gabriel Sanudo, is planned for Building A of the Stutz at the northwest corner of 10th Street and Capitol Avenue.
A bar managed by Sahm Hospitality Group is planned for Building A, with a pass-through window to Taqueria de Julieta. Kenyon said a name for the bar has yet to be finalized, but the tap room will not be branded as a Sahm business.
In April, IBJ reported that a 3,000-square-foot Cafe Patachou and a 7,000-square-foot VisionLoft Events location will open in Building A.
Building B, immediately north of Building A, will be home to the 1,900-square-foot Amelia's and a previously announced 2,700-square-foot Barista Parlor, a coffee shop chain founded in Nashville, Tennessee.
Nearly 30,000 square feet of buildings B and C will be devoted to Industrious, a coworking company that has sites on Mass Ave and at Carmel City Center.
Building E, at the southwest corner of 11th Street and Capitol Avenue, will be home to indoor plant shop Grounded Plant & Floral Co.
Pattern magazine will move from an upper-floor office in the Stutz complex to street level of Building E. Next door to Pattern will be a handful of new Stutz Artist in Residence studios. Artists for the program will be selected by a jury of community leaders, with applications open from Sept. 1 through Nov. 30.
Nearly 15,000 square feet of buildings E and G will be devoted to Myriad fitness and yoga, which will relocate from 914 N. Capitol Ave. to the Stutz.
St'Artup317 will manage a new retail incubator concept in parts of buildings D and E. Each location will occupy 500 square feet and host Indianapolis designers, brands and startups.
The Stutz Car Museum will be found in Building F at the northeast corner of 10th Street and Senate Avenue. The museum will be the first new ground-floor tenant to open to the public, with more than a dozen cars from the collection of Turner Woodard expected to be on display by October.
Woodard is the local businessman who revived the Stutz factory complex as a business center in the early 1990s. Woodard sold the complex to SomeraRoad for $25.8 million.
His car collection includes a 1914 Stutz Bearcat and a 1984 Ferrari 512 BBi Boxer. The Stutz company built luxury cars at the complex until the Great Depression. From 1940 until 1982, Eli Lilly & Co. operated the location as a paper packaging facility.
The car museum will have public hours and will be available for private events through VisionLoft.
SomeraRoad is investing $65 million to renovate the Stutz. The initial phase of the project includes new windows, elevators, entrances and HVAC, and electrical and plumbing infrastructure.
The 12 new tenants are projected to be open by March 2023. Advertising agency Three Sixty Group was a tenant in Building F before renovations began and will continue to do business from that spot.
The first public event at the new-look Stutz will be the second edition of the Butter fine art fair, scheduled Sept. 1-4 in the car museum space, the VisionLoft space and on 10th Street between Senate and Capitol avenues.
Organized by cultural development firm GangGang, Butter will showcase the works of more than 50 Black visual artists.
The first Butter was presented in Building G, where GangGang commissioned Indianapolis artist Ashley Nora to paint the "Keepers of Culture" mural on the north side of the building.
Butter and the first-floor Artist in Residence studios are initiatives in the tradition of visual artists who established studios during Woodard's time as owner of the complex.
Although the Stutz Artist Association once included as many as 90 members, the present listing of artist studios at the Stutz website features 24 names—a reduction that can be attributed to day-to-day activity at the complex being disrupted by construction.
During an April interview, SomeraRoad principal Basel Bataineh said his firm makes financial contributions to Stutz Artist Association events that have been presented away from the building.
"Part of what attracted us to the project in the first place was its energy, its creative spirit, its history of craft and innovation and hard work," Bataineh said. "We want that element to be preserved and to live on at the Stutz."
Kenyon said artist studios will continue to be open on the upper floors of buildings A and B.
"We plan to keep those suites for the near future," Kenyon said.
Please enable JavaScript to view this content.