The new majority owner of the historic Stutz Motor Car Co. factory complex in downtown Indianapolis plans to spend at least $60 million to revitalize and reposition the property as a retail, office and event hub, it announced Monday.
Plans call for the updated Stutz, purchased earlier this year by New York-based SomeraRoad Inc., to feature event areas totaling about 21,500 square feet, co-working space, more retail and restaurant offerings, new outdoor spaces and an updated facade. The transformation is expected to take several years.
SomeraRoad also says it wants the complex to remain a hub for local artists and is working on programming to promote its role in the arts community.
The seven-building complex at the northwest corner of North Capitol Avenue and 10th Street dates to 1911 and occupies an entire city block. A majority stake in the property and the redevelopment plan was sold to SomeraRoad by local businessman Turner Woodard earlier this year for an undisclosed price.
Basel Bataineh, director of acquisitions for SomeraRoad, said the Stutz presents a unique opportunity to the firm.
"I think when we look around the country … historic, adaptive reuse really speaks to what people like today," he said. "And with the Stutz, we have an opportunity to execute an adaptive reuse of a historic factory. We're really excited about its potential."
The property's existing tenant space is about 70% occupied but SomeraRoad views the Stutz as "underutilized," largely because of the age of the structures, corridor design and old, inefficient mechanical systems. In reality, only about 25% of the actual footprint is in use.
The Stutz has about 440,000 square feet of leasable space. Of that, about 25,000 square feet is expected to be managed by a to-be-named national co-working company, Bataineh said.
Another 240,000 or so square feet of office space will be available for small to midsized companies, starting at 2,000 square feet for turnkey suites.
Bataineh said the company isn't concerned about a decline in office space demand brought on by the pandemic, because SomeraRoad views the Stutz as an outlier.
"If we were talking about suburban office buildings that are vanilla, commodity products, we wouldn't be as interested," he said. "The Stutz is the polar opposite of that: it's unique, it's historically significant, it's interesting."
The firm plans to add local food offerings to the Stutz. It's planning five concepts, according to its website: an all-day cafe, a coffee shop, a bakery, a local taco shop and a taproom. The renovations will also bring fitness amenities and a courtyard.
"Our plans include the types of amenities and attractions that are going to make people want to be here," Bataineh said. "So, for all those reasons, we feel really comfortable and confident in our ability to attract companies to the Stutz."
SomeraRoad is working with Rich Forslund, Matt Langfeldt and Christa Calderone from the local office of Colliers International on office leasing and with CBRE broker Scott Wise on the retail and restaurant side.
SomeraRoad has partnered with Indianapolis firm Delv Design and New York-based firm S9 Architecture, which served as design architect, for the redevelopment.
Jeremy Welu, a partner and co-founder of Delv, said the first phase of the project is expected to be completed by spring 2022, with a focus on "activating the first floor" with retail users, creating more defined entrances for the public and improving the site's infrastructure.
"The building has been a quiet character—it's been a great, eclectic building in the last 30 years that's had a lot of art studios and added personality to the downtown area," he said. "But I think now, what's exciting about it, as it begins to be more activated and we start to see new tenants and new life brought into it, it will keep the same historic character it's always had."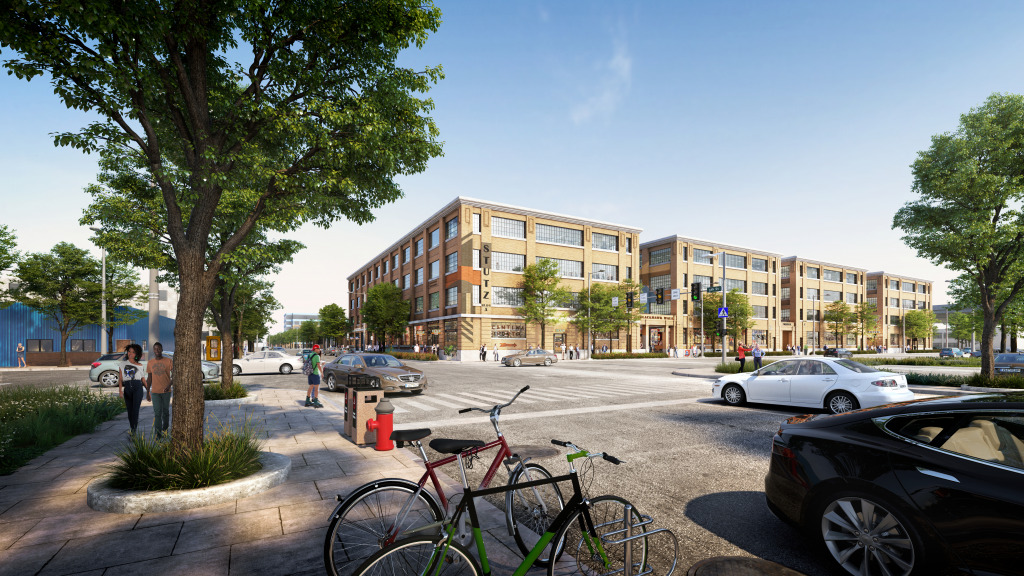 The Stutz is expected to have three separate event and meeting spaces, including a 9,000-square-foot, open-concept space for corporate meetings and conferences and a 10,000-square-foot car museum featuring a 1914 Stutz Bearcat and a 1984 Ferrari 512 BBi Boxer, among other vehicles. Plans for the third space—with a local partner—have not yet been finalized, Bataineh said.
There will also be landscaped pedestrian alleyways between the buildings.
Ian Ross, founder and principal for SomeraRoad, said he views the project as a "catalyst for development" in the downtown area. 
"The goal of this development is to create an activated ground plane that invites people to explore and enjoy this one-of-a-kind property," he said in written comments. "Our team has taken great care to learn the property's history and develop a thoughtful design that celebrates its most unique architectural features."
The company is also leaning heavily into maintaining the Stutz's presence as a hub for local artists, including with a new art fair in partnership with Indianapolis cultural development firm GangGang.
That showcase, called Butter, will run Sept. 3 -5 and feature work from more than 30 Black visual artists from across the United States. It will be held in a generally underused storage building on the Stutz complex.
SomeraRoad also is working with the Stutz Artists Association and Big Car Collaborative to back First Friday events, an annual open house for artists and additional programs.
SomeraRoad is "in early, and ongoing discussions" with the city and state about potential economic incentives for the project, Bataineh said.
It's also in the early stages of other projects around Indianapolis, including some that could be near the Stutz development.
"Our long-term vision is to be able to contribute to what we hope will become an exciting live-work-play neighborhood on the north side of downtown," Bataineh said. "We think Stutz can be a centerpiece of that."
Please enable JavaScript to view this content.