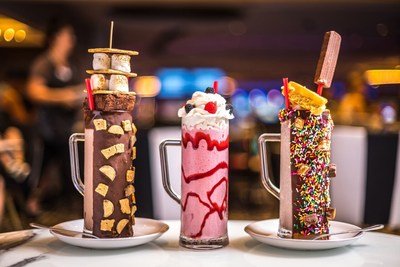 A New York City-based restaurant and candy store chain known for its extravagant desserts, colorful decor and celebrity following is planning to open at Circle Centre in downtown Indianapolis later this year.
Sugar Factory—a combination restaurant, bar and candy store—is slated to occupy the former Palomino space at 49 W. Maryland St., which has been vacant since the restaurant closed in July 2019 after 23 years at the location.
Sugar Factory has more than 15 locations across the United States and overseas. It features a varied menu of colorful American fare, as well as dozens of desserts, ice cream and sweet alcoholic and non-alcoholic beverages. The locations include retail stores offering hundreds of candies from which patrons can choose, including celebrity-endorsed Couture Pops.
Sugar Factory on Wednesday confirmed it plans to open its 11,000-square-foot, dual-use space in the third quarter, with seating for up to 250 people. A leasing plan on mall manager Simon Property Group's website for Circle Centre, last updated Jan. 6, shows Sugar Factory will occupy the space adjacent to Ruth's Chris Steak House.
Sugar Factory locations vary in size, but most are at least 4,000 square feet with some exceeding 10,000. The brand is a favorite among celebrities and young social media users. It has locations in New York, Florida, Atlanta, Las Vegas, Chicago, San Diego and the Mall of America in Minnesota, as well as overseas locations in Abu Dhabi, Dubai and the Philippines.
In an email, a Sugar Factory representative said the dining area will be "filled with Instagram moments," including large flower walls and a video wall. A separate, connected space will contain the retail candy area featuring a floor-to-ceiling candy wall and a cafe. Sugar Factory is frequently referred to as the "most Instagrammed restaurant in America."
Sugar Factory's Indianapolis location will offer indoor and outdoor seating along Illinois Street, a bar and a lounge, retractable storefront windows, a fire pit, neon wall art and a candy heart art installation.
The chain is a destination for larger groups and offers party packages. Many locations have a breakfast menu featuring rainbow pancakes and donut burgers. Its signature dessert is the $99 King Kong Sundae, which features 24 scoops of ice cream and two lit sparklers. It serves up to a dozen people.
Indianapolis-based Simon has struggled of late to keep tenants inside the property. Eddie Bauer and Express have both exited the downtown property in the past two months. On Wednesday, IBJ reported two more occupants—GameStop and Sunglass Hut—also closed their doors.
A source familiar with the deal said mall officials believe Sugar Factory will do well with visitors in Indianapolis, particularly crowds attending youth sports events and conventions. Where Palomino had an upscale vibe, Sugar Factory caters more to tourists and young people.
Simon deferred all questions about the plans to Sugar Factory.
Please enable JavaScript to view this content.