The Indianapolis location of Sugar Factory is set to open Friday, April 1, giving the month a sweet beginning at the former site of Palomino restaurant at Circle Centre mall.
Known for over-the-top dessert offerings and vibrant decor, Sugar Factory will occupy 9,657 square feet at 49 W. Maryland St. Guests will find burgers, sandwiches, pasta dishes and salads on the menu, but Sugar Factory built its name and celebrity following thanks to ice cream, candy and "smoking" goblet cocktails featuring names such as Lollipop Passion, the Watermelon Patch and White Gummi.
Nick Cannon, host of TV show "The Masked Singer," will help celebrate Sugar Factory's opening by performing a DJ set at the restaurant on April 23.
In May 2021, Cannon designed his own dry-ice goblet cocktail for the Sugar Factory menu. His Big Clouds concoction is made with Voli 305 Vodka by Pitbull, Selvarey Rum by Bruno Mars and pineapple, peach and melon flavors, topped with blue raspberry cotton candy. On June 12, Cannon will return to Indiana to host a performance of "Nick Cannon Presents: MTV Wild 'N Out Live" at Ruoff Music Center.
High-profile connections are a focus of marketing for Sugar Factory, which includes in-restaurant photos of celebrities ranging from Adam Sandler and Pharrell Williams to Nicki Minaj and Jennifer Lopez on its menu.
To celebrate the opening of a Sugar Factory in Aventura, Florida, the restaurant will host appearances by 50 Cent on April 2 and Pitbull on April 13.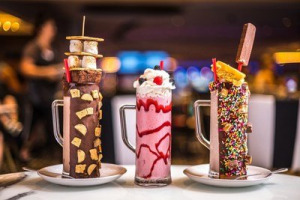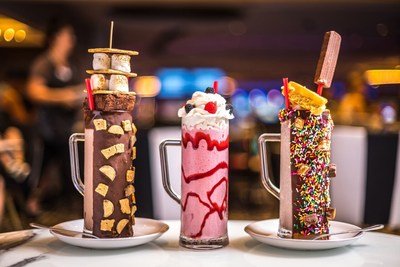 The Indianapolis location includes a 184-seat indoor dining area, a bar area with seating for 12 and an outdoor patio with seating for 32. Sugar Factory also will feature the Pretty in Pink Cafe and a candy retail store.
"With more than 12 years serving up decadent sweets and treats around the world, we are so excited to bring our fun, high energy brand to Indianapolis," Sugar Factory owner Charissa Davidovici said in a prepared statement. "Sugar Factory's food, drinks and atmosphere offers entertainment for guests of all ages, making the city's family-friendly community a perfect fit."
IBJ first reported on Sugar Factory's Indianapolis plans in January 2021. The restaurant originally hoped to open last year but ran into delays.
To reserve a spot at the party featuring "Drumline" actor Cannon, call 463-217-0383.
Sugar Factory operates at more than 20 U.S. locations, plus three locations in Dubai, one in Abu Dhabi and one in the Bahamas.
Palomino Restaurant & Bar, which closed in July 2019, opened at the corner of Maryland and Illinois streets in 1996.
Please enable JavaScript to view this content.