In his role as board president of the Kennedy-King Neighborhood Association, LaMar Holliday has grown accustomed to hearing the same questions about Kountry Kitchen Soul Food Place, which in January 2020 burned to the ground.
"Are they coming back?" "Do you know if they're going to rebuild?" "Do you know what's going on?"
Co-owners Isaac and Cynthia Wilson on June 7 answered those questions with an emphatic "yes," breaking ground on a new building for the restaurant—one that will have a bigger footprint and more amenities but will be located at its original site at 1831 N. College Avenue.
Getting to that celebratory moment wasn't easy, however, even though the Wilsons had spent decades nurturing Kountry Kitchen's reputation as unofficial headquarters for the neighborhood.
The pandemic, rising construction costs and the problems that come with getting any operation off the ground meant the Wilsons needed more than two years to launch the rebuilding effort.
It helped that the Wilsons own the land where Jessie Johnson White—the mother of Isaac's late first wife, Nell Wilson—opened a modest six-stool countertop cafe in the late 1980s.
But it took a cadre of supporters—including Old National Bank, a financial adviser, neighborhood leaders and the city of Indianapolis, among others—to ensure the Wilsons made it to the groundbreaking, where friends, civic leaders and financial executives joined the Wilsons at the southeast corner of College Avenue and 19th Street to shovel some dirt.
"Just seeing that empty lot left a hole in the center of our community," Holliday, said. "The groundbreaking was significant to Kennedy-King," Holliday said. "That signaled to us that they were coming back."
Mike Epps, the comedian and actor who grew up in Indianapolis, wore a construction hard hat and orange tracksuit when speaking to the June 7 audience about what Kountry Kitchen means to the Black community.
"We're celebrating something that's genuine to us," Epps said. "We just want to say, 'Thank you, Isaac and Cynthia,' for bringing us something that's ours in the neighborhood."
The brief remarks by Epps, who stars in set-in-Indianapolis Netflix sitcom "The Upshaws," gained momentum as he mentioned his practice of recommending a visit to Kountry Kitchen to people in the entertainment industry. Specifically, Epps raved about the restaurant's hot water cornbread, yams and greens.
And he exited with a catchphrase suggestive of an ad campaign: "I'm a Kountry Kitchen kid, and so are you."
City-County Council President Vop Osili talked about the noteworthy longevity of Kountry Kitchen, which originally opened in 1988. Osili cited a 2005 study that indicated 80% of new eateries fail within five years of opening.
"Every once in a while, the spirit of its place, the skill and generosity of its owners and the goodwill of its patrons intersect to form something more than the sum of those parts," he said. "The identity of the establishment and the community around it become indistinguishable. And that is Kountry Kitchen."
Since 2007, Kountry Kitchen has served free Christmas Day dinner for people in need of a warm meal. In 2019, Indianapolis Mayor Joe Hogsett worked a shift in the restaurant's kitchen during the Christmas Day program that distributed 3,000 meals. The Wilsons have also distributed free winter hats and gloves to members of the community.
"The new building may not come with the memories that we made in the old building," Hogsett said. "But I know this new building will be a place worthy of the name 'Kountry Kitchen.'"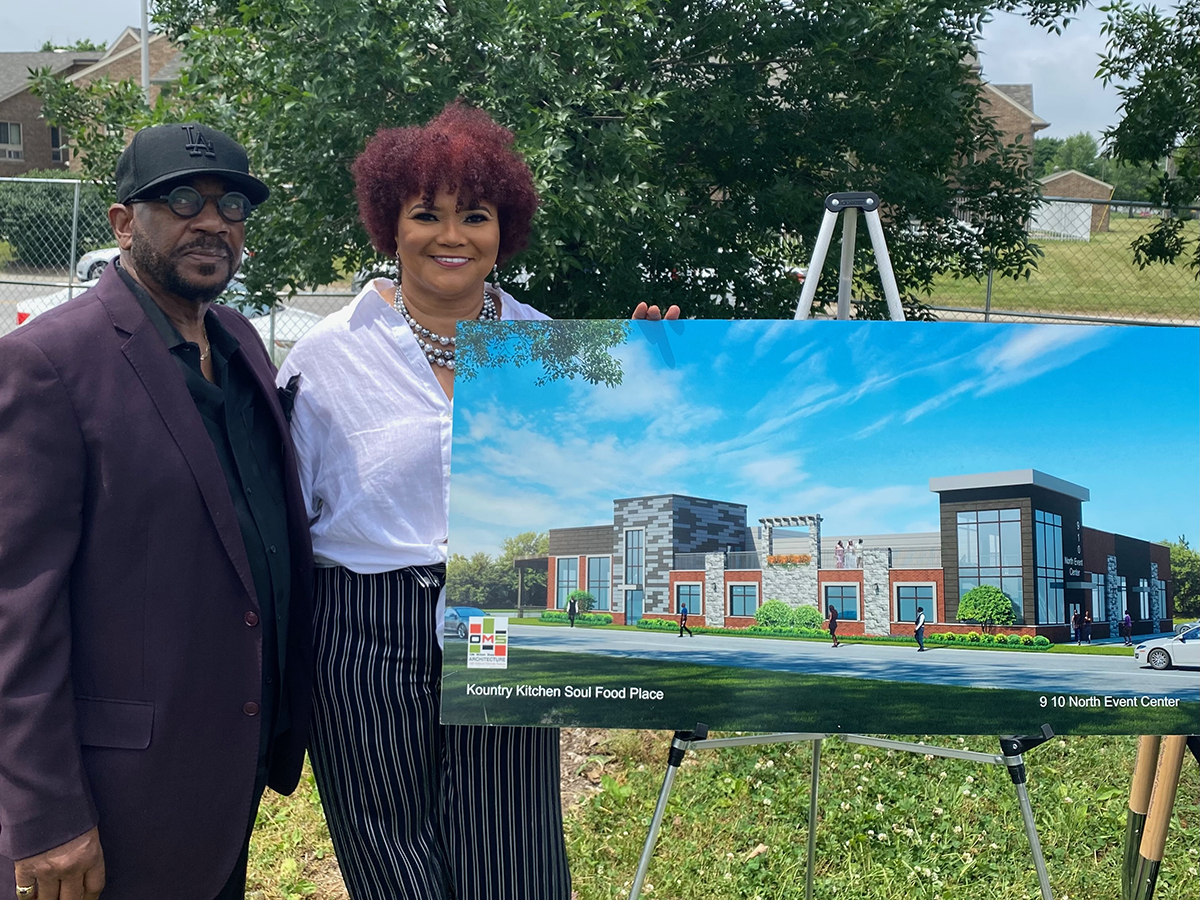 Finding the funds
Investigators determined the January 2020 fire began in the restaurant's office, and no foul play was suspected. Later that year, Kountry Kitchen opened a temporary carry-out location in the Ruckus Makerspace.
Cynthia Wilson said she and Isaac have been able to stay afloat financially during the carry-out era of Kountry Kitchen, but it hasn't been easy.
"Profit-wise, it's been marginal, because people want to dine in," she said. "That's why it's very important for us to get back to a dine-in facility."
The Wilsons did not say how much they plan to spend to build the new 12,000-square-foot Kountry Kitchen space, but they said the multimillion-dollar agreements needed to start construction required help from several allies.
One early financial adviser was Oscar Gutierrez, founder of Bondry Management Consulting.
"We had never tried to secure a loan of this magnitude, so we needed help putting our financials and portfolio together," Wilson said of Gutierrez's role.
The biggest portion of the loan came from Old National Bank, where Wilson said Kountry Kitchen has done business for years.
"This is more than a loan," said Harold Johnson, a commercial relationship manager at Old National Bank, at the groundbreaking event. "This is a relationship."
Johnson said it was an easy call for Old National to approve the loan.
"It's rare to hear only one question from the underwriter," he said. "And it was, 'When are we going to close?'"
Meanwhile, the Indianapolis Department of Metropolitan Development loaned Kountry Kitchen $1.2 million through the Grow Indianapolis Fund, which is designed to provide capital to distressed-qualified census tracts.
Wilson said she's been battling a public perception that the Grow Indianapolis Fund money was a gift. "It is a loan," she said. "It must be paid back."
The restaurant's role in what has traditionally been a Black neighborhood has become no less important even as the mix of residents nearby has diversified.
The boundaries of the Kennedy-King neighborhood are 16th Street to the south, 22nd Street to the north, the Monon Trail to the east and Central Avenue to the west. The neighborhood's name originates with Robert F. Kennedy's speech at 17th and Broadway on April 4, 1968, when the presidential candidate told his audience that Martin Luther King Jr. had been shot and killed in Memphis, Tennessee.
Kennedy's speech, which called for peace and referenced the 1963 assassination of John F. Kennedy, has been credited for preserving calm in Indianapolis on a night when more than 100 U.S. cities erupted in riots.
Neighborhood association leader Holliday said Martin Luther King Jr. Park and its Landmark for Peace Memorial influenced his decision to move to Kennedy-King in 2015. "What really solidified my decision to put roots down was the history of the neighborhood," Holliday said.
Isaac Wilson, who was a teenager when he attended Kennedy's speech, said he's pleased with the racial harmony that's been a trademark of Kountry Kitchen.
"In the restaurant, we have all walks of life: Black, white, Hispanic," he said. "Everybody comes, and everybody gets along."
Democrats Hogsett and Osili are far from the only politicians to dine at Kountry Kitchen.
"At election time, you have Republicans on one side of the room and Democrats on the other," Wilson said. "And we're all together."
In 2016, the Food Network selected Kountry Kitchen as one of the best soul food restaurants in the United States during an episode of the "Top 5 Restaurants" series. In addition to Kountry Kitchen, the list featured restaurants in Jackson, Mississippi, New York, Phoenix and Oakland.
The roster of celebrities who have visited the restaurant include former President Barack Obama, Jimmy Fallon, Kenny "Babyface" Edmonds, Taraji P. Henson and Idris Elba.
"It's a humbling feeling to know that people all over the United States think we're the go-to place when they come to Indianapolis," Cynthia Wilson said.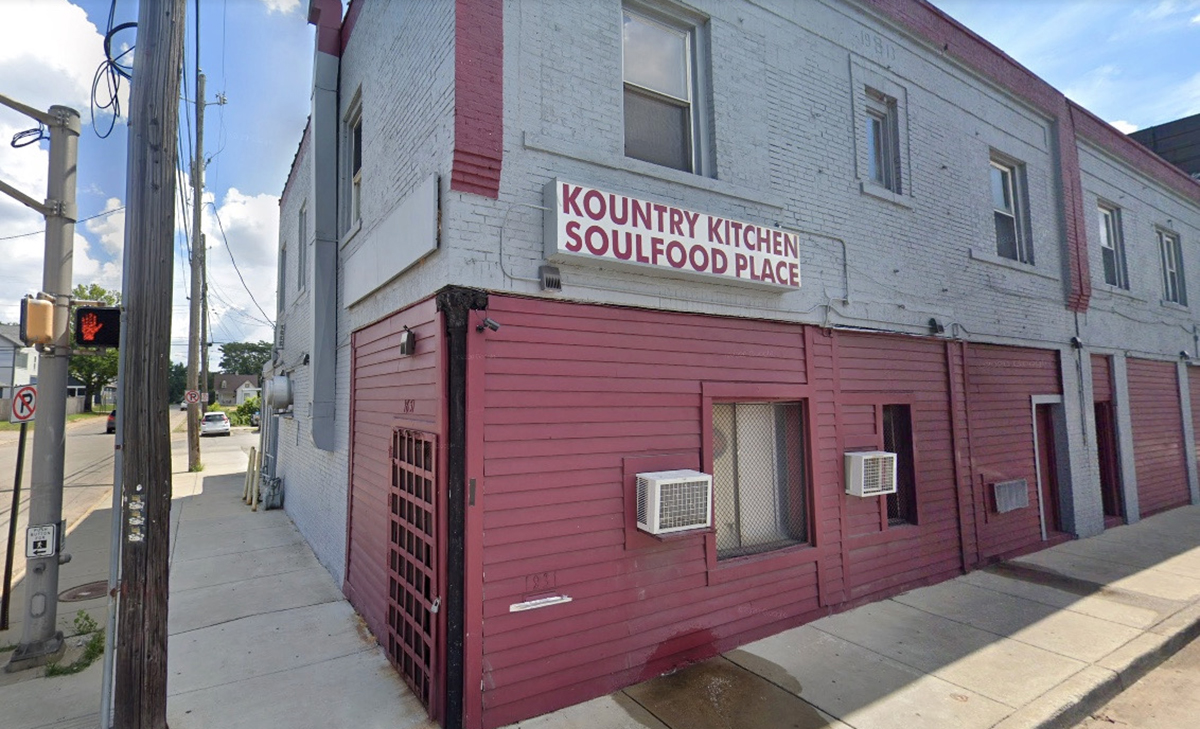 The new Kountry Kitchen
After what's expected to be eight months of construction, the Wilsons are anticipating an opening date for the new Kountry Kitchen in early 2023.
The new building will have rooftop seating and fulfill a goal of adding an event hall to the business.
"We would always get calls for catering, and we would go to other venues, event centers and people's houses for private parties," Cynthia Wilson said. "We would go out to cater. I told my husband, 'I think we should try to have an event center.'"
By having an in-house event hall, Kountry Kitchen will save money in transportation and off-site fees.
"Venues are pretty big right now," Wilson said. "I don't think it's saturated to where it's not going to let us be successful."
The Wilsons plan to name the space 910 North Event Center. Cynthia said the "9" represents her birth month of September, the "10" represents Isaac's birth month of October and "North" is a reference to their faith in God.
"People ask me, 'Aren't you afraid of such a big project?' Really, I have no fear," Cynthia Wilson said. "We believe in God. God said it was going to be OK, so that's what I'm believing in."•
Please enable JavaScript to view this content.