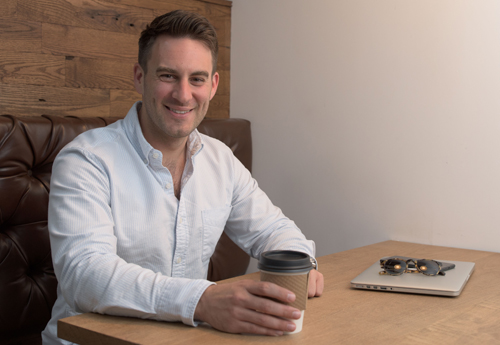 SupplyKick CEO Josh Owens is dropping out of the gubernatorial race.
Owens, a Democrat, announced his decision Wednesday—one day after submitting the necessary signatures to qualify to be on the ballot and two days before the deadline to file a candidacy.
In a statement, Owens said he talked to Democratic candidate Woody Myers and decided the party does not need a divisive primary.
"Our state needs a champion for public school teachers and students in every community," Owens said in the statement.
"Our state needs a leader who will act on universal background checks and climate change innovation. And our state needs an executive who will protect all Hoosiers, and one who represents the diversity of our great state and will bring new inclusive voices to the table. Dr. Myers has the experience, the background, and the vision for success that Indiana deserves. I am proud to be supporting him as he takes our fight into the November election."
Myers has also submitted enough signatures to be on the ballot, and he will be running unopposed in the Democratic primary now that Owens has dropped out. State Sen. Eddie Melton, D-Gary, was also initially running but has also dropped out.
The winner will face incumbent Gov. Eric Holcomb, a Republican who is likely to be unopposed in the GOP primary.
I don't make this decision lightly, but I do make it confidently. After plenty of conversations and analysis, I'm confident a united Democratic Party is the best path to win in November. That's why I'm choosing today to support @DrWoodyMyers for #INgov and withdraw from the race. pic.twitter.com/0yOkMhPwTk

— Josh Owens (@joshuadowens) February 5, 2020
Myers issued a statement that said he was "humbled and honored" by Owens' decision to drop out of the race and endorse him.
"Over the past several months, like thousands of Hoosiers, I have been impressed by Josh Owens and his campaign for governor. His vision and passion for Indiana has been seen around this great state," Myers said.
Indiana Democratic Party Chairman John Zody thanked Owens "for the invaluable perspective he brought to this race."
"Owens has a bright future and we look forward to the role he'll play in our party going forward," Zody said in a statement. "The party is ready to work alongside Dr. Myers to move our state forward and hold Eric Holcomb accountable."
Owens, who has never held public office, announced his bid for governor in September. His only campaign experience was an unsuccessful run for an at-large seat on the Indianapolis Public Schools board in 2014.
But he said at the time that his experiences in teaching and managing one of the state's fastest-growing companies makes him qualified for the position.
"Our leaders should come from a diverse background, from a diverse set of experiences, and I think I help bring that to our state," Owens said.
Before joining SupplyKick about four years ago, Owens spent time working in marketing and finance for Angie's List and as director of business development for One Click Ventures. He has also taught economics and statistics courses at Butler University, worked on economic policy for the U.S. House of Representatives in 2013 and served on the Indiana Charter School Board from 2015 until August 2019.
Owens, an IBJ Forty Under 40 honoree in 2019, had planned to make education his top issue and rallied with teachers for higher wages.
At SupplyKick, Owens is known for implementing a policy several years ago that set the minimum annual pay for any employee at $50,000.
Please enable JavaScript to view this content.