Local livestreaming startup Mandolin Software Inc. plans to invest $2.2 million in its continued growth and hire as many as 100 people by the end of 2025, according to a tax-incentives deal it recently signed with the state.
Mandolin, which makes and markets a platform for livestreaming concerts and other live performances, told state economic development officials it would make the investment at its headquarters at 830 Massachusetts Ave. "to accommodate demand and facilitate growth."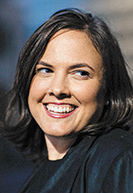 Mandolin, a High Alpha portfolio company led by Mary Kay Huse, the former chief operating officer at Salesforce Marketing Cloud and ExactTarget, launched last June. In October it announced it had raised $5 million in seed round capital to fund growth.
Mandolin works with artists, management teams and venues across all genres. Last year the startup was the exclusive livestream provider for the #iVoted Election Day 2020 festival, the largest single-day digital concert on record, all in support of voter turnout.
In August, Mandolin inked a partnership with Nashville's historic Ryman Auditorium for the first-ever Live at The Ryman livestream experience. Last September, Mandolin signed a two-year partnership deal with the iconic City Winery network of venues.
Mandolin officials could not immediately be reached for comment.
Based on the firm's job creation plans, the Indiana Economic Development Corp. has offered $2.5 million in tax credits to Mandolin. The tax credits are conditional, which means they can only be claimed when employees are hired.
Mandolin, which is headquartered in downtown's Bottleworks District, reported having 19 employees when it began negotiating with the IEDC. The 100 hires that Mandolin projected in the IEDC deal would be on top of that base number.
Mandolin had 30 full-time employees as of last October, High Alpha officials told IBJ last year. They added that the company was hiring and would likely double its staff size in the next year.
Please enable JavaScript to view this content.