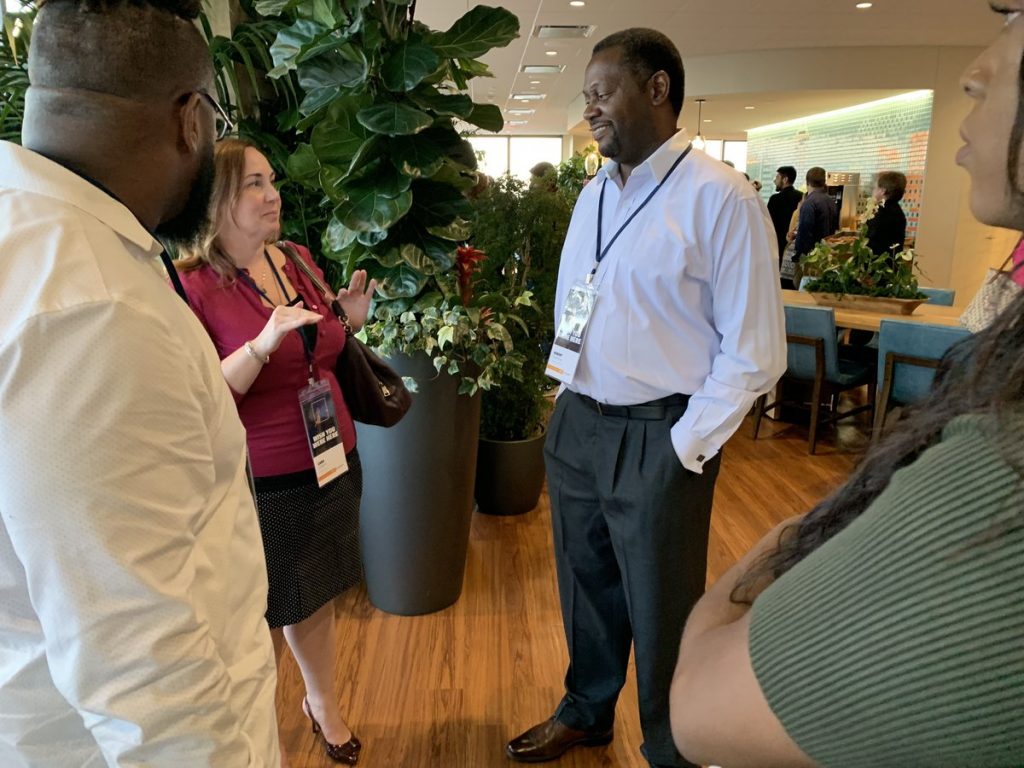 Twenty-eight potential Hoosiers—some with Indiana connections and others with none—are scouting Indianapolis on Friday as part of a TechPoint "red carpet experience" to see if the city is a place they'd like to call home.
The prospects—as TechPoint calls them—are here from across the world, 14 states plus China and Vietnam. They were chosen from among nearly 400 applicants who expressed an interest in moving to central Indiana if they could find the right job.
Mike Langellier, president and CEO of TechPoint, said the organization worked with about two dozen large and small companies to determine the types of candidates the firms desired most and then narrowed the list "based on fit and real genuine interest in wanting to be here."
The event—which kicked off Thursday night with a reception at Salesforce Tower—is part of TechPoint's larger "Wish You Were Here" campaign. The organization is partnering with TMap, a startup using big data to try to reverse Indiana's brain drain, to identify people who have connections to or interest in Indiana and persuade them to move to the state.
Hubert Goodman made the trip from Ho Chi Minh City, Vietnam, where he has lived and worked as a trade consultant since 2013. He was already planning to repatriate. "The U.S. job market is so much more dynamic and exciting," Goodman said during the reception, which offered views from the top floor of Salesforce Tower.
Goodman lived in Brown County and Indianapolis during the 2000s when he worked for Cummins Inc. and he views the city as one place he could land again as he returns to the United States. He's looking for an opportunity to help a company turn its data into action.
"I have a knack for knowing how to profit from the effective use of information," he said.
Goodman found the TechPoint event intriguing. "When I found out about this event, I really got excited," he said. "It definitely increases the probability I will move back to Indianapolis."
On Friday morning, Goodman and other prospects were scheduled for 30-minute interviews with companies that were matched to by TMap.
Five companies—Salesforce, Raytheon, Cummins, Eli Lilly and Co. and Geico—paid $10,000 each to help underwrite the red carpet event. But many other companies are participating and interviewing prospects.
Those companies will pay a fee if they hire one of the 28 prospects, but Langellier said it's less costly than if they had used a traditional recruiting service to make the connection.
After the interviews, prospects were scheduled to head off for tours of the city, including a bike ride along the Indianapolis Cultural Trail.
TechPoint planned tours and other events for the guests the prospects brought along as well, and Langellier said some of those "plus-ones" are being matched with job opportunities as well.
The prospects come from a wide range of industries but most are tech-related and have an average of 10 years of career experience.
"They're at a stage in life where they want this kind of lifestyle," Langellier said. "The traditional tech hubs are becoming unsustainable and many cases difficult to live in. The state where we had the most applicants from is California."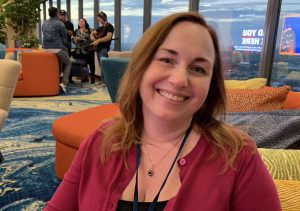 Cara Corwin came from Michigan. She works in automotive consulting for a direct-mail company in the Detroit area (think about the coupons you receive encouraging you to get an oil change) and came to the TechPoint event because she's ready for a change.
"In the position I'm in now, I'm kind of hamstrung," she said. "I'm not really able to innovate or be entrepreneurial."
Corwin has never lived in Indiana, but a former colleague now works for Cummins. He posted about the TechPoint red carpet opportunity on LinkedIn and Corwin applied. She's looking for a product management role that provides a challenge.
She said she's been impressed with the visit. "I think it's an absolutely fantastic idea," Corwin said. "And they've done a phenomenal job so far."
TechPoint has been sending postcards, emails and even a virtual reality headset—the kind you slip your phone into to watch 3-D videos—to the prospects to help them get acquainted with the city.
Corwin was looking forward to her interviews and the neighborhood tours. "I would like to experience more of the downtown area," she said. "I would love to live downtown if I were to come work here."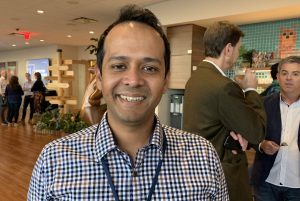 Tanzil Rahman, a software developer who works in Iowa City, Iowa, came to the event with his wife. He also has no connection to Indiana and has lived in Iowa since moving to the United States from his native Bangladesh. But he wants to find a new challenge in a moderately sized Midwest city.
"I am looking for a position where I can grow professionally," he said. "And also, I would like to live in a city where I can get the flavor of a big city but not the hectic part of a big city. I don't want crime like Detroit or the traffic jams of Atlanta."
Rahman and his wife are looking for a neighborhood where they can raise a family and send children to good schools.
On Friday night, Rahman and other prospects were welcomed with music from Another Round, an all-male a cappella group from Indiana University, and a greeting from Mayor Joe Hogsett.
He encouraged the prospects to choose Indianapolis for what he called the "usual" reasons—a low cost of living, growing tech sector, and great sports and cultural amenities.
But, he said, as mayor, he had another argument.
"You have arrived in our city at an extraordinarily special time," Hogsett said. "We are growing, we are building, we are developing like never before. Renewing our infrastructure, redesigning everything from transit to criminal justice with a focus on being more sustainable, more equitable."
And he said prospects are just in time to take part in a civic collaboration that will define the city.
"I want you to know that as we seem to be living in a time of great change everywhere, the sudden evolution we are experiencing here in Indianapolis, well, it would seem to be right on time."
Please enable JavaScript to view this content.