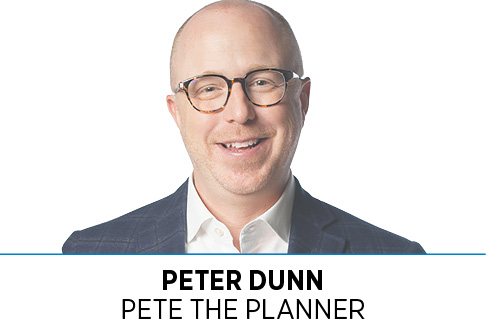 Dear Pete,
My son is graduating from college next month and doesn't have a job yet. Our goal was for him to move out of our family home upon graduation and right into an apartment. This plan is less and less likely to happen, as it seems he's running out of time. My concern is there won't be an ideal time for him to make the transition into his own household. This already is starting to feel a bit like a failed effort. Any advice?
—Mark, Fishers
I must admit, I think about situations like this a lot. And while I've only been on one side of this moment in the past, I anticipate the other side being equally as difficult—once my children reach the appropriate age. When you think about all the lessons you've taught your son, and you think about all the moments you've prepared him for, it's wild to think how nerve-wracking the launch moment can be.
The launch is incredibly high stakes, because it's as figurative as it is literal, if not more so. And it's the conflation of these two concepts which often creates the turmoil.
I've always likened financially weaning adult children to the moment you taught the same children to ride their bikes without training wheels. Eventually you must take your hand off the back of the seat, but context still matters. A steep hill is still dangerous, and a fast-moving vehicle just off the curb is still a reason for pause. Also worth noting, all kids learn to ride without training wheels at different times, generally when it makes contextual sense.
Mark, your goal is to successfully launch your son, not successfully launch him the moment he is no longer a student.
Your son needs support until he has the means to create lasting stability for himself.
Launching him
There are three major points to consider when attempting to launch an adult child. The first is their financial obligations to their past. In other words, do they have student loans to consider? If so, that monthly obligation should be considered sooner rather than later (don't wait for the grace period to end in six months), and it should be accounted for before any other living expenses. Making a rent decision prior to making a single student loan payment can often lead to the dreaded boomerang launch.
The next tactic covers his future. If your son cannot accumulate savings, his situation can become nearly untenable, instantly. This means his very first paycheck should also dedicate funds to both long- and short-term savings.
Finally, his remaining income must be enough to support his new lifestyle. As if the other two considerations aren't hard enough, settling into the right lifestyle is crucial to making this entire plan work. In many ways, choosing the right level of lifestyle is the toughest challenge to overcome. He can automate his debt repayment and he can automate his short- and long-term savings. And while he can eventually automate his lifestyle, it's the selection of the initial lifestyle which is so tricky.
The reality is his lifestyle has always been subsidized in some way, shape or form. His natural inclination, as is anyone's in that situation, is to continue living at the level he's been living at for the last 22 years or so. Combine that understandable urge with his obligations to his past and his future, and you've got one incredibly complicated situation.
Setting a launch deadline is arguably helpful in situations like this, but the deadline selected should be informed by his progress on his past and future.
Ignoring his past (student loans) will result in a failed launch and ignoring his future (savings and investing) will lead to an excruciatingly slow failed launch, with major long-term implications. If you get too anxious to have him move out and create a lifestyle expeditiously, you will contribute to the failed launch.
If you're focusing too much on the job being the primary lever for launching him, stop doing that. Begin talking to him about creating stability. It would be ludicrous to boot him out of the house without stability, and if you're focusing on him getting a job too much, then he'll start to feel overwhelmed with the stakes.
One last note, if you find yourself comparing your launch to his launch, I'd stop doing that too. The world is different now, especially as it relates to the cost of an education and the cost of living. Acknowledging those differences will also help you help him find a solution.•
__________
Dunn is CEO of Your Money Line powered by Pete the Planner, an employee-benefit organization focused on solving employees' financial challenges. Email your financial questions to askpete@petetheplanner.com.
Please enable JavaScript to view this content.