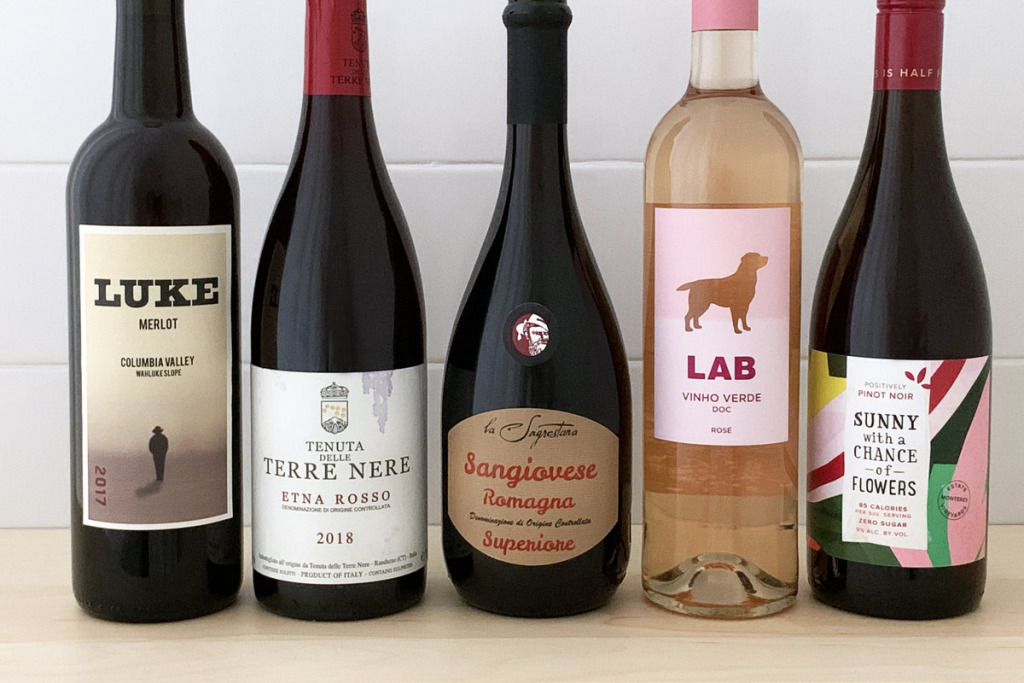 As summer's heat continues, we seek refreshment. This week's selections include a spritzy rosé of vinho verde from a Portuguese label that has consistently proven its value. And, if wine seems heavy in the heat, we also have a low-alcohol line from California. Still, we know you'll be grilling in the weeks ahead, so here's a delicious merlot from Washington state and two delightful reds from Italy – a savory sangiovese from Emilia Romagna that evokes casual dinners in a mom-and-pop trattoria and an elegant wine from Mount Etna in Sicily that at first might make you think of Burgundy.
Luke Merlot 2017
Three stars
Wahluke Slope, Columbia Valley, Wash., $22
It may seem strange to say a wine has "confidence," but the word is appropriate here. This merlot does not scream for attention with powerful tannins or in-your-face fruit. Rather, it weaves sweet, ripe plums, black cherries and a savory hint of dark roast coffee into a compelling discussion that unfolds slowly. There is also a delicious cabernet sauvignon by the same label. Alcohol by volume: 14.1%.
Tenuta delle Terre Nere Etna Rosso 2018
Three stars
Sicily, Italy, $22
This lovely wine is produced from nerello mascalese grapes, with a sploosh of nerello cappuccio, both native Sicilian varieties grown on the northern slopes of Mount Etna in eastern Sicily. The body and texture resemble a fine Chambolle Musigny from Burgundy, while the flavors are more Mediterranean herbs than Burgundian flowers. The wine opens up over several hours after uncorking and should improve over several years in your cellar. ABV: 13.5%.
La Sagrestana Sangiovese Romagna Superiore 2018
Two and a half stars
Romagna, Italy, $14
Savory and smoky, with notes of cherries and a hint of cocoa, this sangiovese is the kind of delightfully rustic wine you may have encountered in a family trattoria on your explorations of Italy. Since it may be a while before we can repeat those trips, here's a way to indulge our memories. ABV: 13%.
Lab Vinho Verde Rosé
Two stars
Portugal, $10
Lab is a label from Portugal that offers excellent value in affordable wines. The rosé was No. 8 in my list of 12 best bargains in 2019. This non-vintage vinho verde rosé is just as delicious, with a slight spritz and bright fruit flavors of strawberry and melon. ABV: 11%.
Sunny with a Chance of Flowers Pinot Noir 2018
One and a half stars
Monterey, Calif., $17
The Sunny with a Chance of Flowers line includes a pinot noir, a chardonnay and a sauvignon blanc, each at 9% alcohol and about 85 calories for a 5-ounce serving. That compares to about 110-120 calories for a glass of wine at the more common 13-14% alcohol. The Sunny wines are also labeled as "zero sugar," as they have less than 0.5 grams per serving. The wines taste "correct" – meaning, they taste like pinot noir, chardonnay and sauvignon blanc. Their distinguishing characteristic is the combination of lower alcohol and lower calories. ABV: 9%.
– – –
3 stars exceptional, 2 stars excellent, 1 star very good
– – –
McIntyre writes about wine weekly. He also blogs at dmwineline.com.
Please enable JavaScript to view this content.