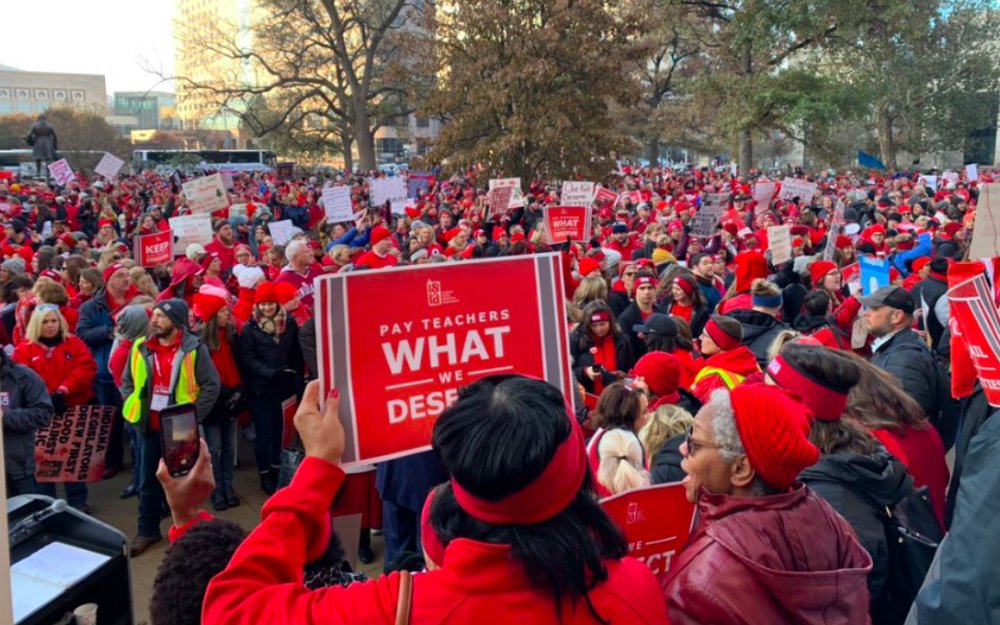 Several thousand teachers wearing red surrounded the Indiana Statehouse on Tuesday calling for better pay and more respect from the Republican-dominated state government in a protest that closed more than half of the state's school districts for the day.
The union-organized rally represented Indiana's biggest such teacher protest amid a wave of educator activism across the country over the past two years.
Teachers chanted "Fund our schools" and "Put kids first" as hundreds of them lined entrances to the Statehouse, many holding hand-made signs with sayings such as "Less Money on Testing, More Money on Students." Teachers with marching band instruments played "We're Not Gonna Take It" from the Statehouse steps.
High school math teacher Angela Cooper said she and more than 40 fellow teachers from the Gibson Southern schools near Evansville left about 4:30 a.m. for the rally. She said a top worry is low pay causing many new teachers to leave for other jobs.
"We need to make sure we keep teachers in the classroom," Cooper said. "They start in the classroom but then they leave because they aren't paid enough."
Indiana State Teachers Association President Keith Gambill told a few thousand teachers who covered the Statehouse lawn that the Legislature should direct money from the state's $2 billion in cash reserves toward helping schools.
"The crisis is now and we need action now," Gambill said to cheers from the crowd. "The issue is funding, and the state has the money."
Teacher unions counted about half of Indiana's nearly 300 school districts as closed while their teachers attend Tuesday's rally as legislators gather for organizational meetings ahead of their 2020 session that starts in early January.
Republican Gov. Eric Holcomb and leaders of the GOP-dominated Legislature have avoided direct criticism of teachers or school district for the closings, but said they don't expect to take action on further boosting school funding until at least 2021.
Lawmakers boosted school funds by 2.5% in each of the next two years in the latest state budget, but Statehouse leaders say districts don't always direct additional funding to the teachers.
Teachers say they are rallying for better working conditions, higher pay, increased funding for public school classrooms, less emphasis on standardized testing and more respect.
"This is the first thing I have seen teachers do to fight for themselves in the 16 years I have taught," said Joshua Holden, a high school physical education teacher in Greenfield Schools.
Last week, Chalkbeat sent out a survey about the rally. By Monday morning more than 550 people responded, 95% of whom identified themselves as educators. The vast majority said they would be at the Statehouse on Tuesday. For the 12% of respondents who said they aren't planning to go, most cited a medical reason or said their school isn't closing and they couldn't take the day off.
The state's largest union, Indiana State Teachers Association, is calling for lawmakers to take three actions: give schools $75 million of the estimated $400 million the state will bring in this year above its expected revenue, pass a hold-harmless provision to protect schools from any negative consequences related to low 2019 ILEARN standardized test scores, and repeal new licensing requirements mandating 15 hours of unpaid professional development related to their community's workforce needs.
But teachers have other issues on their minds — including pay, staffing, and basic respect.
"Our legislators need to know that educators are fed up and tired of being ignored, disrespected, and told how to do our jobs," said Debbie Stansell, a music teacher in Indianapolis Public Schools who plans to go to the rally.
Indiana ranked last in teacher salary raises over a 15-year period, according to a Forbes study, and discontent has grown among public educators as education reforms, such as charter schools and private school vouchers, have taken place over the past decade.
It remains to be seen what actions the rally could spur from the legislature's Republican supermajority in a year when the state budget has already been set. State leaders, meanwhile, have emphasized local responsibility, saying school districts negotiate contracts and set pay. But experts told Chalkbeat this could be the first step in a larger strategy for state unions, calling Tuesday's rally a "warning shot" to lawmakers.
Chalkbeat asked Indiana teachers why they are rallying. Here's what some of the more than 550 respondents (identified here by name and district) had to say…
On working conditions:
Ready to quit, but that's a last resort. I am hoping for change first! Hoping class size limits and better compensation to attract more teachers.
— Victoria Hartman, Lawrence Township
We really need the state legislators and the general public to see and acknowledge the state of education in Indiana. Teachers are being slammed with class sizes over 30 in elementary school, endless meetings, and mandatory professional development requirements, and are working 10+ hour days in addition to nights, weekends, and second jobs just to pay the bills.
— Katy Aiello, Warren Township
There are teachers in my school that are still using 1960s technology and supplies to make their classes go. Our HVAC system is on life support. We do not have enough aides and counselors to help the students that need it most. Our special education department has to also teach the general education students because we cannot afford to have a dedicated [special education] teacher. We cannot afford to bring on more janitors and maintenance personnel so we have unfixed bathrooms and facilities (no doors on stalls, urinals that don't function).
— Zachary Funk, Maconaquah
On pay:
My husband with 10 years teaching experience brings home less money than I do, and I am only in my fourth year. I'm a young educator, recently married, and have always wanted to have children, but I know if things continue the way they are I will have to either give up teaching to afford it or choose not to have children.
— Jessy Hurley, Warrick County
I will rally for my cadet teachers. Their optimism is inspiring, but we need to do better for them — starting with raising entry-level pay.
— Laurie Holcomb, Kankakee Valley
I cannot make ends meet on my pay despite 15 years experience and a master's. I am tired of watching the schools in the poorest communities having their funding cut yearly. I am tired of the insane school grade system and the endless testing. And I will leave teaching before I submit to giving 15 hours of unpaid time to a business to renew my license.
— Tina Carter, Shenandoah
I got a 2% raise last year for the first time in eight and a half years. This year I was also offered 2%, yet every year [the cost of] my insurance goes up 5, 6, or 7%
— Gina Dupps, East Gibson
On mental health:
We have more and more students in need of counseling, but not enough counselors.
— Michelle Buckingham, Randolph Eastern
My biggest concern is the focus on standardized testing. Our students go through so much trauma in their home lives that many of them come to school to feel safe and loved. We are creating such an intense education experience that many of them carry this anxiety with them through the day at school. One test is not a fair assessment of whether or not I am a good teacher or teach in a good school.
— Jaami Bailey, Anderson Community
On testing:
No. More. Standardized. Tests.
— Kathryn Smith, School City of Mishawaka
Less testing and more time for a well-rounded education. Full-time art and music with proper lunch/recess time.
— Beth Brown, Franklin County Community
As a teacher, I am tired of my school not having funding. As a parent, I am enraged with the amount of money spent on testing and the amount of time it takes away from my children's education.
— Jessica Lykens, Charles A. Beard Memorial
Test scores should not be tied to evaluations. Pay teachers a fair wage. Do away with internship hours as part of the license renewal process. Stop stealing money from public schools with vouchers. Hold private and charter schools to the same expectations as public schools if they are taking public dollars.
— Matt Vawter, Jennings County
On funding:
The "historic" [the General Assembly] budget passed still has my school losing money each year.
— Antimony Fox, Whitko Community
I'm … tired of the unfunded mandates while we are simultaneously losing more and more funding each year.
— Marci Cochran, Anderson Community
Too much of public education funding is spent on state testing. I am purchasing supplies and supplemental materials because our district won't spend more on curriculum. Referendum has been passed, yet we have closed three elementary schools and vote to close two high schools on Wednesday. Enrollment is dwindling.
— Crystal Nelson, School City of Hammond
Students don't get their needs met unless teachers buy it. Class sizes are too large because of lack of funding.
— Amy Price, Pike Township
I am tired of legislators disrespecting and not fully funding public education. … I have a second job and I spend a lot of my own money on my classroom. My students have an unmet need for mental health professionals.
— Amber Seibert, Washington Township
On respect:
I'm tired of being disrespected as a teacher. My career builds all other careers, and our General Assembly doesn't think that we should be treated as such.
— Lauren Christy, Richland-Bean Blossom Community
It's time to unite and show solidarity as there is strength in numbers! Soooo tired of being pushed around and told what to do.
— Kay Orzechowicz, Griffith Public
Because our profession has lost so much…salary, bargaining power, respect, and teachers and students deserve better from this statehouse.
— Chris Bennett, East Allen County
I feel that our legislators are trying to end traditional public education in Indiana.
— Melissa Grose, Elkhart Community
It finally feels like someone is listening.
— Tonda Cranor, Fort Wayne Community
(Some answers were edited for length, spelling and style.)
Chalkbeat is a not-for-profit news site covering educational change in public schools.
Please enable JavaScript to view this content.