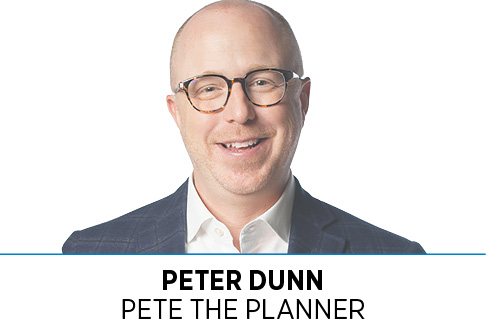 When you look at the picture of my wife and me on the night we got engaged, two things jump out.
First, you instantly feel bad for the lovely young woman who, just hours before, was duped into accepting my marriage proposal. The second thing is my haircut.
Look, it made sense at the time. If the "Caesar" was good enough for George Clooney and, well, Julius Caesar, it was certainly good enough for a 21-year-old college junior who was just beginning to experience male pattern baldness. Anyone seeing that picture gives me the same look, and I always answer with, "It made sense at the time."
In the last six months, I've noticed an "it made sense at the time" trend. People, when asked to identify the source of their financial stress, select an expenditure or voluntary obligation that makes close to zero sense in our current climate. Then, right on schedule, they lob out my answer when I'm given grief for my haircut in 1999. If a person is willing, this realization makes for an excellent and insightful conversation.
We all have stuff we'd do differently, had we known we'd be facing a global pandemic and the worst economy in nearly a century. It's incredibly easy to dismiss all those financial blemishes with the old, "It made sense at the time." But here's the thing; a lot of times, those decisions didn't actually make sense at the time. Yet we did them, anyway.
I'm talking about wisdom.
You see, that haircut didn't actually make sense for me in 1999. I told myself in 1999 it did, and I have even since then claimed that it made sense. But it didn't.
This isn't about assigning blame or nitpicking. This is about growing as a financial decision-maker. Sometimes, we get away with objectively bad financial decisions. Then we convince ourselves the decision was justifiable because nothing bad happened. When you do that, you develop bad financial habits, and you also reinforce poor decision-making skills.
For instance, if, before the pandemic, you could "easily" afford household transportation costs (car payment, fuel, maintenance, insurance) equal to 20% of your income, but now you can't because of a decrease in income, it's easy to retort, "It made sense at the time." But it didn't. It really didn't.
You and I have gotten away with a ton of stuff that's made zero sense in the moment, and especially now with the luxury of hindsight. And no, I'm not going to wedge in a "hindsight is 2020" joke here.
If you drive around without a seatbelt on, yet you never get into an accident, it doesn't justify your decision to not a wear a seatbelt.
I don't want this period of time to be any more stressful for you than it needs to be, but I also believe this is an ideal time for introspection.
I'm not asking you to stoke regret and resentment; I'm asking you to extend yourself some grace and fix the decision-making muscles that might be misfiring.
The best way to do this is to start by examining your major expenditures, like your house or car payment. Did those decisions make sense when you made them? Or were you able to make those purchases in spite of their inappropriateness?
You can then go through smaller decisions you make on a regular basis, such as vacations and dining habits. Once you find a decision that no longer makes sense, given your current reality or the decision's prudence all along, make a change. When you do, you've just gained wisdom. When you don't, you're reinforcing a bad habit that will never fix itself.
I've made more financial mistakes than I care to admit, but I pride myself on correcting bad habits and learning from the mistakes. Life is unfairly hard right now, but if you can muster the wherewithal to objectively examine your financial standing and make corrections where necessary, your diligence will be rewarded tenfold.
How have I learned from the haircut that now taints one of the best moments of my life? I shaved all my hair off. I fired it before it quit. My look is now prudent, low-maintenance and financially sound—just like me. Just like me.•
__________
Dunn is CEO of Your Money Line powered by Pete the Planner, an employee-benefit organization focused on solving employees' financial challenges. Email your financial questions to askpete@petetheplanner.com.
Please enable JavaScript to view this content.