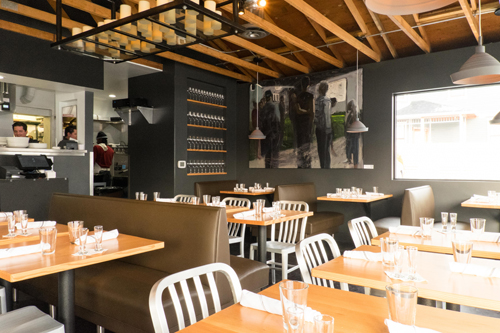 After a lengthy hiatus due to the pandemic, the fine-dining restaurant Tinker Street is working to reopen within the next several weeks.
The restaurant, 402 E. 16th St. in Herron-Morton Place, has been closed for dine-in service since March 14, 2020. It experimented with carryout service in June but discontinued that after a few weeks.
Owner Tom Main said he's hired back 13 former Tinker Street employees and is aiming for a reopening sometime in April. He's waiting to announce an opening date until he can hire a few more people to round out his staff.
Main was able to rehire executive chef Tyler Shortt and sommelier Ashlee Nemeth. He said Tinker Street will reopen with the same culinary concept as before: a changing menu of selections built with locally sourced ingredients.
"I'm excited for the group to get back together," Main told IBJ on Friday. "Besides two weeks of carryout in June, Tinker Street hasn't even been open in over a year."
Main said he and his staff are working through the details of retraining employees and figuring how many customers they can seat and what the hours of operation will be. "I don't want to stretch my people too thin," he said.
Dining will likely be by reservation-only to start with, he said.
Late last year, Main had decided to sell the business, with a $1.2 million asking price that would have included both the business and its 900-square-foot building.
Main said he did get some queries from potential buyers, but acknowledged that the small size of the building probably dampened interest.
"It's really small," he said. "To be able to execute in that space is not the easiest thing. So I think that put off some people."
One of the most serious inquiries, Main said, came from a potential buyer who wanted the building for a non-restaurant use that Main said he didn't think would be good for the neighborhood. At the same time, he continued to field queries from Tinker Street fans who asked when the restaurant might reopen.
So, over time, Main reconsidered his ideas about selling and determined to reopen Tinker Street.
"There are a lot of people who really love it," he said. "We're lucky."
Please enable JavaScript to view this content.