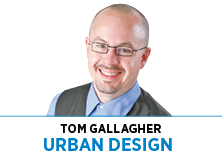 It's hard to believe 10 years have passed since we were prepping the city to host Super Bowl XLVI. With our experience hosting major events, engaged corporate citizens, our compact and walkable downtown and a volunteer ethos like no other, organizers were confident Indy could deliver a fan experience unseen in perennial host cities like Miami and New Orleans. What remained in question was whether a winter city pull it off?
Organizers chose to unrelentingly embrace the cold—celebrate it, in fact—and the results were clear. In the week leading up to the big game, more than 100,000 people per day filled the three-block long Super Bowl Village, an outdoor public event space on Georgia Street filled with light, music, libations and a festival atmosphere.
It was such a success that the NFL now requires host cities to provide similar "villages" in their offerings. It brought our community together, the vast majority of whom would not attend the game in person, through shared experience and accomplishment. Importantly, it brought light, literally and figuratively, to the grayest time of winter.
Indy is often criticized for its weather—particularly the gray winters. The weather is often cited as a deterrent to attracting new residents and companies. It has limited our investment in quality outdoor spaces and seems to have pushed us toward a culture of hunkering down until spring arrives.
It is striking, though, how often cities that are far north of us outrank us in quality of life and livability metrics—indices that typically include weather as a factor. It is common in many of these cities to see winter weather not as something to be avoided but as an integral part of their identities. This is particularly true for a number of Canadian cities, some of which are also considered among the best places to live in North America.
For more than 50 years, Ottawa has taken advantage of the season to create an opportunity. It turns the five-mile-long, historic Rideau Canal that winds through the downtown into a free, 24-7 skateway. Offered primarily as a recreational amenity, the frozen canal has become the winter commuting route of choice for some.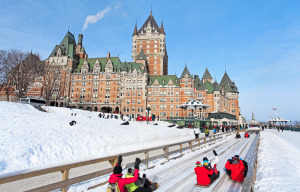 Quebec City, for more than a century, has held the Quebec Winter Carnival for about 20 days every February. There is a winter market, an ice palace, and a Ferris wheel. Imagine all the activity and amenities of our Super Bowl Village offered every year.
A far younger event, Montreal en Lumiere, or the Montreal High Lights Festival, started in 2000. For about 11 days in February, the city hosts outdoor events, including gourmet dining events, live performances, all-night activities, art installations and of course, innovative displays of light, throughout its downtown.
In Vancouver, a city that is full of winter offerings and diverse culture, celebrates the weeklong Chinese New Year Festival with outdoor festivities and an annual parade.
It is certainly no accident that these events occur during the hardest parts of winter. They infuse the long, cold nights with color, light, warmth and uplifted spirits.
Perhaps there is something in the attitude of a city that embraces the cold that seeds a more livable city overall? Maybe it's a shared sense of triumph in transforming something formidable into something enjoyable. There also seems to be something else at play with these events—a thread of appreciation for diverse voices, whether through artistic expression or cultural tradition.
Our city is on the doorstep of hosting its next major sporting event. With the outdoors providing the safest setting for physically distanced group activities, organizers of the NCAA men's basketball tournament are still finding ways to bring light, art, music and positivity to the community for this late winter-early spring event.
We have reason to be confident. Indy is good at the unprecedented. Our past has proven that we can rise to an occasion, even one as challenging as creating a Super Bowl village in the dead of winter.
Through the pandemic and social unrest, we've learned that cities, Indianapolis included, have work to do to be as livable, vital and equitable as they can be. As daunting as that sounds, it might be a collection of little things that move us in the right direction.
Maybe we could start with a new annual event. How difficult would it be to make it possible to skate our canal or Monument Circle? Could a wintertime celebration of light— "driving out the darkness" to paraphrase Dr. Martin Luther King Jr.—help us commemorate Black History Month? Whatever the case, perhaps we can make an event that embraces the cold by bringing together diverse voices, a shared sense of community, and the opportunity to share color, light, warmth and uplifted human spirits in the coldest, darkest time of the year.•
__________
Gallagher is a principal and urban designer with Ratio and a professor-in-practice of urban design at Ball State University. Send correspondence to TGallagher@ratiodesign.com.
Please enable JavaScript to view this content.