A major political analyst has changed the outlook for Indiana's 5th Congressional District from toss-up to "tilt Democrat."
Inside Elections made the rating change this week for the tight race between Republican state Sen. Victoria Spartz and former Democratic state lawmaker Christina Hale. It was one of 24 U.S. House race rating changes announced.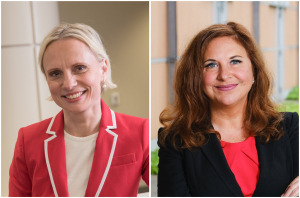 Sabato's Crystal Ball at the University of Virginia's Center for Politics and Cook Political Report—two other major rating analysts—both still considered the race a toss-up as of Friday morning.
The winner in the 5th District will replace retiring Republican Congresswoman Susan Brooks, who has held the seat since 2013. The district includes the northern portion of Marion County, eastern portion of Boone County and all of Hamilton County, along with all of Tipton, Madison and Grant counties and part of Howard and Blackford counties.
The race, which is among the most closely watched in the country, has steadily shifted in favor of Democrats during the months of the campaign. In July, only Sabato's Crystal Ball considered the race a toss-up, while Inside Elections and Cook Political Report still considered it to slightly favor Republicans. Inside Elections and Cook Political Report later shifted the race to toss-up.
Money has been pouring into the race, with nearly $12 million spent on TV advertising alone.
Spartz and Hale have collectively raised nearly $6.2 million and spent $5.4 million.
Health care insurance has been one of the biggest issues in the race, with Hale pushing the message that she would fight for affordable coverage for individuals, including a public option, and Spartz arguing that government-run health insurance is a bad idea but individuals with preexisting conditions should be covered.
Please enable JavaScript to view this content.