Outside organizations, political groups and the 5th District campaigns have spent nearly $12 million on a flurry of TV advertising in in the congressional race, with a larger portion of the investment going toward supporting Democratic candidate Christina Hale.
According to a report of media buys obtained by IBJ, nearly $7 million has been spent collectively by Hale's campaign and organizations trying to get her elected over Republican candidate Victoria Spartz since August.
About $4.9 million has collectively been spent by Spartz's campaign and organizations hoping to elect her to the seat.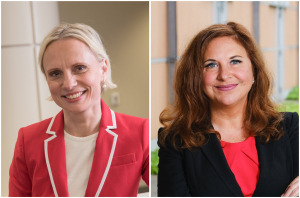 The race is among the most watched in the country and is considered a toss-up by nearly every major rating agency. Republican Rep. Susan Brooks has represented the district, which includes portions of Indianapolis and its northern suburbs, since 2013 but opted not to seek reelection.
TV advertising spending alone has added up to $11.89 million in the hotly contested race.
The House Majority Political Action Committee, which supports Democrats running for U.S. House seats and is aligned with House Speaker Nancy Pelosi, has spent the most money on ads, dropping nearly $2.6 million since Oct. 13. During this last week before the election, the House Majority PAC has booked nearly $1.1 million in air time.
Its two latest ads both attack Spartz, with one focusing on health care and another focusing on a controversial wetlands bill Spartz helped pass at the Indiana Statehouse earlier this year.
The second highest spender has been the Hale campaign, which has more than doubled Spartz's campaign in spending on TV ads, with $1.9 million in air time reserved since August compared to Spartz spending $875,750.
Hale was the first to launch TV ads in the race—during the week of Aug. 11—and has been on broadcast and cable since then. Club For Growth Action, a conservative super PAC supporting Spartz, started airing ads the following week, but then went off TV for several weeks in September. The organization, which has spent nearly $1.4 million on TV ads in the race, resumed ads the week of Sept. 22.
The Spartz campaign was on TV by the end of August and has remained on air since then.
Both congressional leadership organizations have also been heavily involved in the race, with the Democratic Congressional Campaign Committee spending $1.4 million on ads and the National Republican Congressional Committee spending $1.6 million on ads.
The Congressional Leadership Fund, a super PAC that supports Republicans running for House seats and is aligned with House Minority Leader Kevin McCarthy, has also spent $866,000. Women Vote!, the independent expenditure arm of left-leaning EMILY's List, has spent $712,000.
This week, Spartz's campaign launched two final TV ads, both featuring family members. In one of the 30-second spots, she features her two daughters talking about her background as an immigrant, certified public accountant and state senator.
Spartz joins them at the end of the commercial to say "it's the best endorsement a mom could ask for."
In the other ad, Spartz's father-in-law Charles Spartz says he is fighting cancer and needs "to set the record straight while I can" on what's being said about his daughter-in-law.
"Victoria Spartz is a good person," Charles Spartz says in the ad.
In the latest ad from Hale's campaign, the Democrat talks about access to affordable health care insurance—a major talking point for most of the campaign—and coverage for individuals with preexisting conditions.
Please enable JavaScript to view this content.