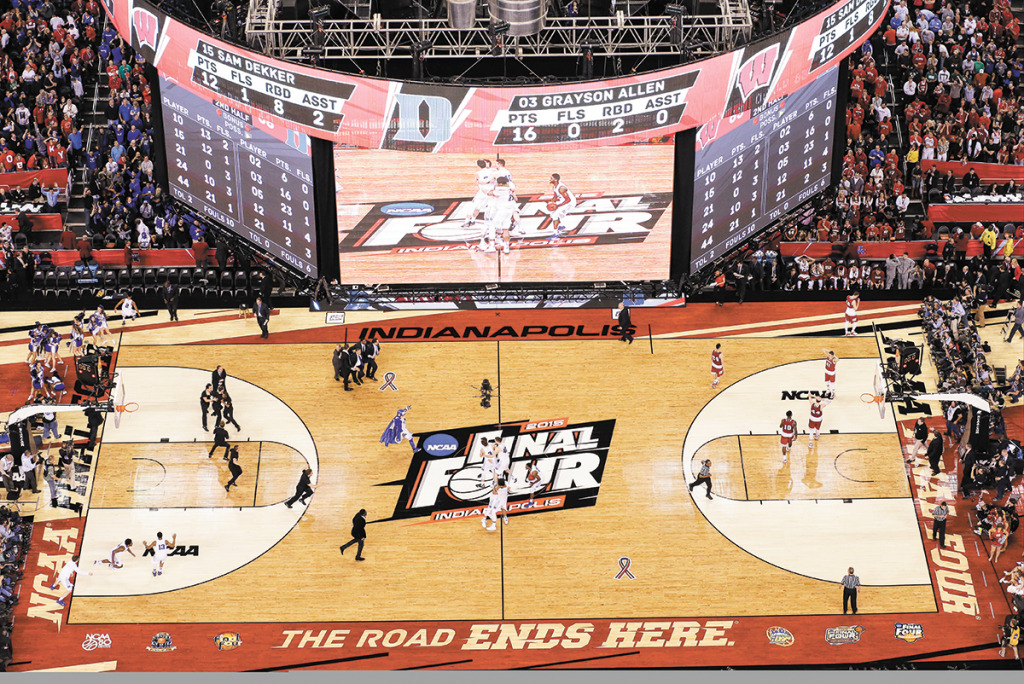 Hosting the entire NCAA men's basketball tournament in the midst of a pandemic "is the biggest challenge that the Indianapolis sports community has ever faced."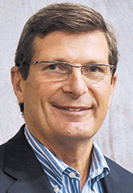 So says Dale Neuburger, who's in a position to know. He led the Indiana Sports Corp. from 1993 to 2005.
"There is no blueprint for this—it's never been done before. So, it will take the experience and the creativity and the ingenuity of Indianapolis [sports leaders], the hospitality industry and health care providers to accomplish successfully," Neuburger said. "And I'm absolutely confident that will take place."
The herculean effort over the next 2-1/2 months will involve city and state officials, tourism and civic leaders, and likely hundreds to thousands of volunteers. The Indianapolis-based NCAA on Jan. 4 formally announced Indianapolis as host of its grand tournament plan, marking the first time the 68-team March Madness will be staged in a single area.
Insiders say securing the event wasn't an easy feat—even though the NCAA's home was its first choice.
Planning began in June, with the NCAA looking to recover from the unprecedented step of canceling its 2020 tournament because of COVID-19.
For several months, the organization mulled ideas for staging the event safely, with a focus on whether multiple host sites were feasible, given continued uncertainty about the virus's spread.
The NCAA took notes from the so-called "bubbles" the NBA used in Orlando and the NHL used in Edmonton, Alberta, to finish their 2019-2020 seasons—and ultimately used those as guides for creating a bubble here.
Dan Gavitt, senior vice president of basketball for the NCAA, said this week that hosting the tournament in a single location wasn't ideal but was the most logical—and perhaps only—way to make it happen. He said Indianapolis was a natural choice for several reasons, not the least of which were that it's the NCAA's home, and Indianapolis was already on the calendar for the 2021 Final Four.
"From a safety and health perspective, where [the tournament would end] seemed to be the best place to consider where it should start," he said.
Getting everyone on board
But that didn't make the decision a slam dunk.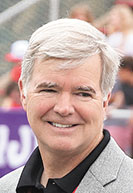 Initial discussions with local officials to bring the full tournament here began in early November with a phone call, and eventual meeting, between Indiana Gov. Eric Holcomb and NCAA President Mark Emmert. During that meeting, the pair discussed the opportunity, and what the event would look like.
Early talks included a general conversation about health and safety precautions, as well as brainstorming potential venues.
"Initially, the discussion was, 'Could we do this? Would we have an interest in doing it?'" Holcomb said. "And it didn't take a nanosecond to say, 'Yes, we want to—now let's see if it can be done safely.'"
Shortly after, Emmert spoke by phone with Mayor Joe Hogsett and his top lieutenants. City officials quickly jumped on board, excited the tournament could provide a much-needed boost to the city's hospitality and convention industry.
The city also helped coordinate early talks with the Marion County Health Department, which has set rules for gatherings and events during the pandemic.
The Indiana Sports Corp.—an entity created to orchestrate momentous sporting events for the city—was also at the table early.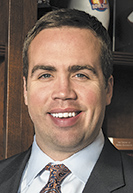 Officials there were keen on the idea of using controlled environments to host the games. By August, the Sports Corp. had already distributed a proposal to host games at the collegiate and other amateur levels. And it executed a handful of those games early in the college basketball season.
But Sports Corp. President Ryan Vaughn said the group hadn't considered hosting the entire NCAA tournament until the NCAA came to it with the idea.
The Sports Corp. had already developed three scenarios for the Final Four.
"We'd been building the one that we all hoped and wished we were having," he said, which would have included a full stadium of fans. "We had [another] that was kind of scaled back, with limited fans. And then we built one that was just really kind of a skeleton execution of the games—all of this in partnership, of course, with the NCAA."
Collaboration among the city, Capital Improvement Board (which owns and operates the Indiana Convention Center and Lucas Oil Stadium), Visit Indy and Indiana Sports Corp. isn't unusual. In fact, it's why the city has excelled at staging big events for decades.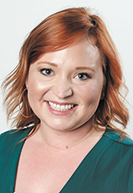 "While this is a pretty once-in-a-lifetime event, in many ways, we are doing this exact same thing operationally, just about every day," said Taylor Schaffer, Hogsett's chief of staff. "This is a group that was convening and working together and planning for the wide variety of logistics that go into any of [the city's] major events. And we've been doing that really thoughtfully for quite a while."
Quinn Buckner, co-chairman of the 2021 Final Four organizing committee, said city officials are "working on an opportunity that Indy was made for."
The finer details
Saying yes to the NCAA wasn't a given. City tourism officials first had to clear the event calendars of major venues, including negotiating with several groups scheduled to use the convention center in March and April, moving those events to later dates. The NCAA is renting out the entire facility for team meetings and practices.
"There's a delicacy in working with each and every one of those events," said Chris Gahl, Visit Indy vice president. "But we didn't lose any business. In fact, we gained business by being able to accommodate and make room for March Madness in its entirety."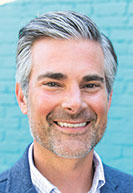 Visit Indy didn't want to tarnish relationships—in some cases, long-standing ones—by outright canceling contracts. And it didn't want to damage the city's reputation as a hospitable place for large gatherings. The tourism group declined to identify which organizations had to move to make way for the tournament, because revised contracts have not been finalized.
The NCAA landed on six venues for tournament games: In Indianapolis, Bankers Life Fieldhouse, Indiana Farmers Coliseum at the Indiana State Fairgrounds, Butler University's Hinkle Fieldhouse and Lucas Oil Stadium; in Bloomington, Simon Skjodt Assembly Hall; and in West Lafayette, Mackey Arena.
CIB Executive Director Andy Mallon said his agency is working with the NCAA to determine the best way to use its spaces.
The NCAA is "sort of building this plane on the runway" in many ways, Mallon said, because there's little time to plan and execute the necessary changes.
But the convention center had some experience in 2020 that should help. In July, it became one of the first tourism venues in the United States to reopen amid the pandemic, holding 20 events—including five large youth basketball tournaments that included testing and strict adherence to health guidelines, with limited fans in attendance.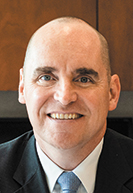 Mallon said those tournaments illustrated that the facility can be used effectively for major events—and that the city as a whole can handle the tournament.
"To have those basketball events early on, and to prove that we can do those … certainly gave us proof of concept," he said. "If you have discipline, if you stick to the science and the health recommendations, you can still do these sorts of events safely and without" excessive risk to participants and the community.
Nailing down the sites
Butler Athletic Director Barry Collier said he was approached early on about the possibility of parts of the tournament taking place at Hinkle Fieldhouse. The venue has not hosted an NCAA tournament game since 1940.
While he was receptive to the idea, snags had to be sorted out, such as making sure students on Butler's sports teams had access to their locker rooms when they needed them.
"The other thing is that, if we were going to be having an NCAA basketball game here … it would be [potentially] problematic for us to also have a football game or a soccer match right next door in the Sellick Bowl," he said. "So, we had to coordinate quite a bit to clear the space for this possibility that's come to fruition."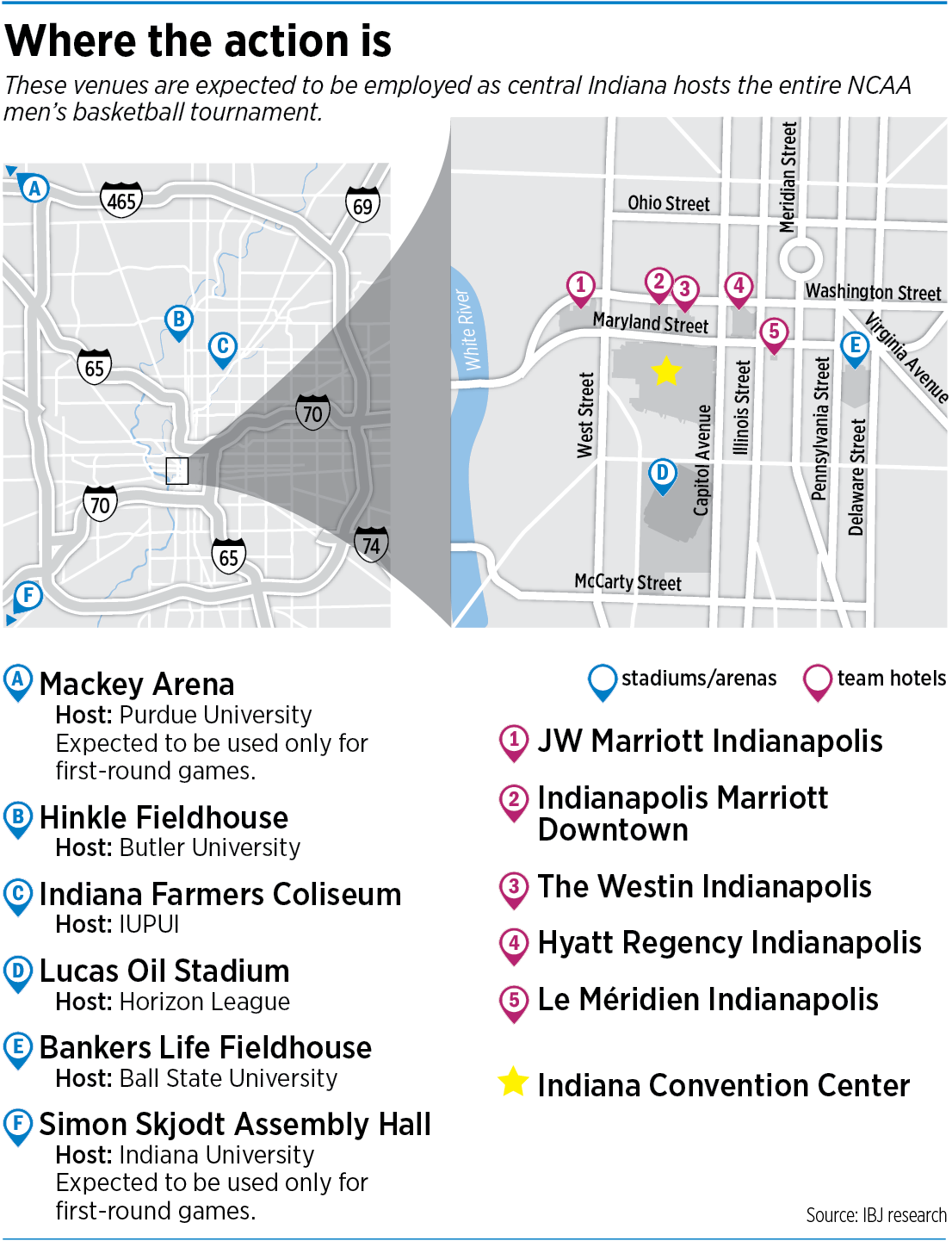 Likewise, the schedule for the second half of the NBA season has not been released, so it's unclear what implications tournament games at Bankers Life Fieldhouse could have on the Indiana Pacers' schedule during the three-week span. However, it's not unusual for professional sports teams to be on road trips to accommodate other events in their venues, such as hockey games or concerts.
Top Pacers executive Rick Fuson was directly involved in talks about the Fieldhouse as tournament host, as were the other venue managers.
In addition, Visit Indy—led by President Leonard Hoops and Gahl—helped NCAA officials draw up agreements with a handful of hotels that will house teams throughout the tournament.
The JW Marriott, Indianapolis Marriott Downtown, Westin, Hyatt Regency and Le Meridien are all expected to host teams and referees. The hotels will provide breakfast, lunch and dinner throughout the tournament and will not be open to other guests.
Combined, the five hotels account for 2,829 rooms—or 37% of downtown's entire inventory.
Other hotels are being blocked out for thousands of journalists, broadcast production crews, support staff and family members, although those arrangements have not been finalized.
An industry source told IBJ the tournament will likely use at least 6,000 rooms—and might, in fact, fill virtually all 7,600 downtown hotel rooms. Some hotels outside of downtown might also be needed, the source said.
The NCAA generally doesn't share how much it spends to operate its tournament. But it's expected that the organization itself will bear the brunt of the bills—which are likely to be higher than in a normal year.
"That will eat into their bottom line," said Marc Ganis, a sports business expert who works at Chicago-based Sportscorp Ltd. But he said the NCAA will still make money, given the size of its TV contracts.
The NCAA is expected to receive nearly $900 million as part of its lengthy TV-rights deal with Turner Broadcasting Systems Inc.
The city plans to provide financial and other support for the tournament through permitting, street closures and public-safety efforts—all standard practices for major events, Schaffer said.
"Whether that includes street closures, or motorcades or any of those types of things, we will be able to be adaptive based on the needs of the teams and the needs of the organizations involved," she said.
And the Indiana Sports Corp. and its Final Four organizing committee will foot the costs associated with community and legacy initiatives, using money raised through the Indy Championships Fund announced in 2020. Among those initiatives is the Mask Madness program, which will deploy tens of thousands of custom NCAA masks across Indiana.
City officials predict the tournament will bring a "healthy nine figures" in economic impact, along with millions of dollars in earned media from the standard wall-to-wall TV coverage. Officials said that, with all the events centralized in Indianapolis, that earned media figure could balloon much, much higher than what's expected as part of a typical Final Four year.
But getting there will take some heavy lifting.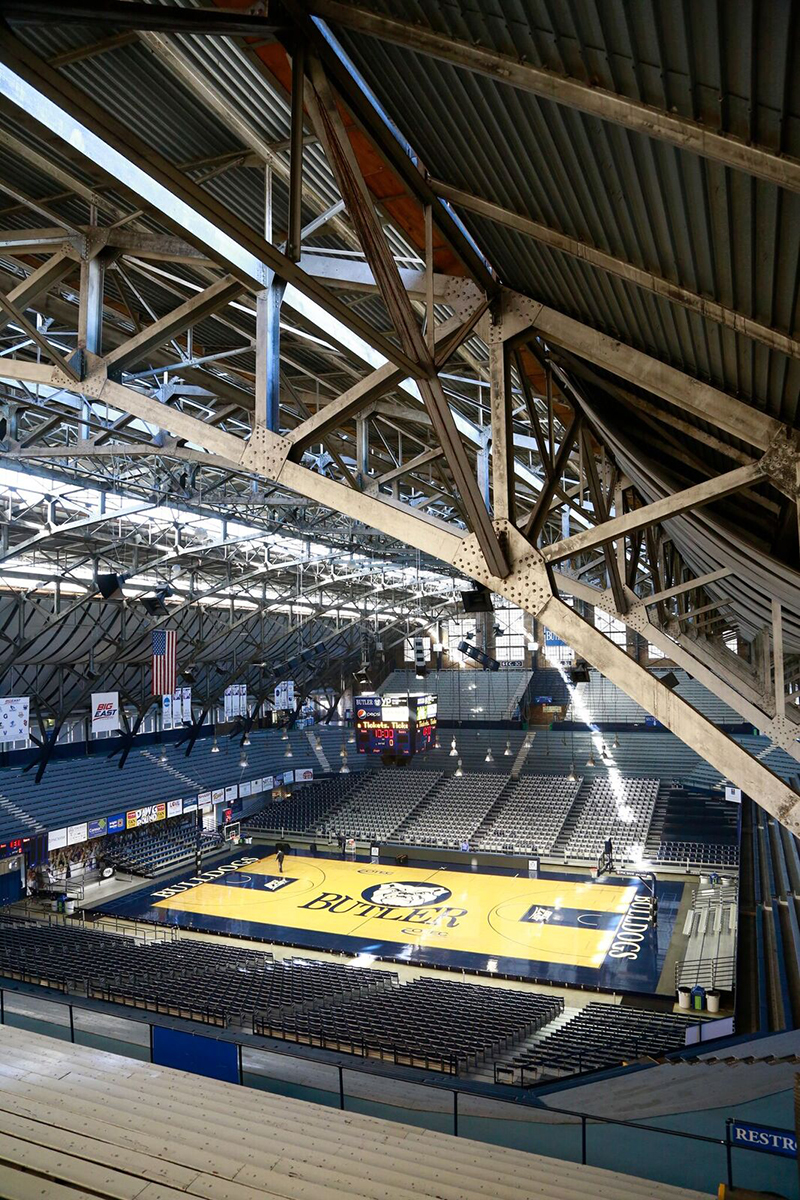 Miles to go
"You ask, 'What needs to be done?' My flippant answer would be, 'Everything, really,'" said the Indiana Sports Corp.'s Vaughn.
That includes standard items that would always need to be ticked off the to-do list at this point in tournament planning: finalizing plans for team transportation and schedules, advertising and media accommodations, and the NCAA's squaring away arrangements with its partner hotels.
Add to that the challenges that come with the event's expanded scope and the pandemic, such as finalizing testing protocols and cleaning standards that will be used at venues and hotels throughout the tournament.
The NCAA said this week that it is working with IU Health to provide testing standards and other services. On Wednesday, county health officials said they are still working through specifics, but confirmed testing will be instituted throughout the tournament and all participants will be quarantined when they are not playing or practicing.
Preliminarily, the NCAA has said only immediate family will be permitted to attend games, but officials hope that can change if the pandemic lets up. Health officials said current rules will allow for up to 420 family members—six per each participant—at each game. They will be required to sit in clusters and wear masks during games.
"There's some things that we don't know—we won't know—until maybe as late as mid-February, as it relates to ancillary events for potential fans or fan capacities and, 'What can we do to interact with fans and make a special experience for them?'" Vaughn said.
A source familiar with the NCAA's thinking told IBJ, however, that the organization's desire to include in-person fans is mostly focused on the Final Four games, rather than early-round contests.
Whether or not fans are permitted will affect several aspects of planning, including how many volunteers will be needed throughout the tournament.
Generally, Final Fours require about 4,000 volunteers to direct vehicles, provide wayfinding help and serve as greeters, among a litany of other tasks. But this year, Vaughn said, there's no way to know yet how many volunteers will be enlisted.
Regardless, Indiana Sports Corp. expects to have no problem securing community helpers—it has a mailing list in the thousands and already has received an exuberant response from area residents.
Potential payoff
Overall, the rapid influx of guests and the need for a highly controlled, safe environment will be a new kind of stress test for a local hospitality industry that is otherwise accustomed to handling big events.
It will also be the first major test of the city's hotels during their slow recovery from a horrific 2020, which saw tens of thousands of workers lose their jobs and properties lose hundreds of millions of dollars in revenue.
While the risks are high, so, too, could be the rewards, said Neuburger, the former Sports Corp. president, if the city's efforts are a success.
In fact, Visit Indy's Gahl said meeting planners have already started reaching out to tourism officials to inquire about hosting their events in Indianapolis as well as inquiring about the NCAA's plans.
"While we probably won't host meeting planners as we would traditionally during one of these major sporting events, we will inevitably share with them how the NCAA pulled off this event, with the goal of attracting future convention business," he said.•
Please enable JavaScript to view this content.