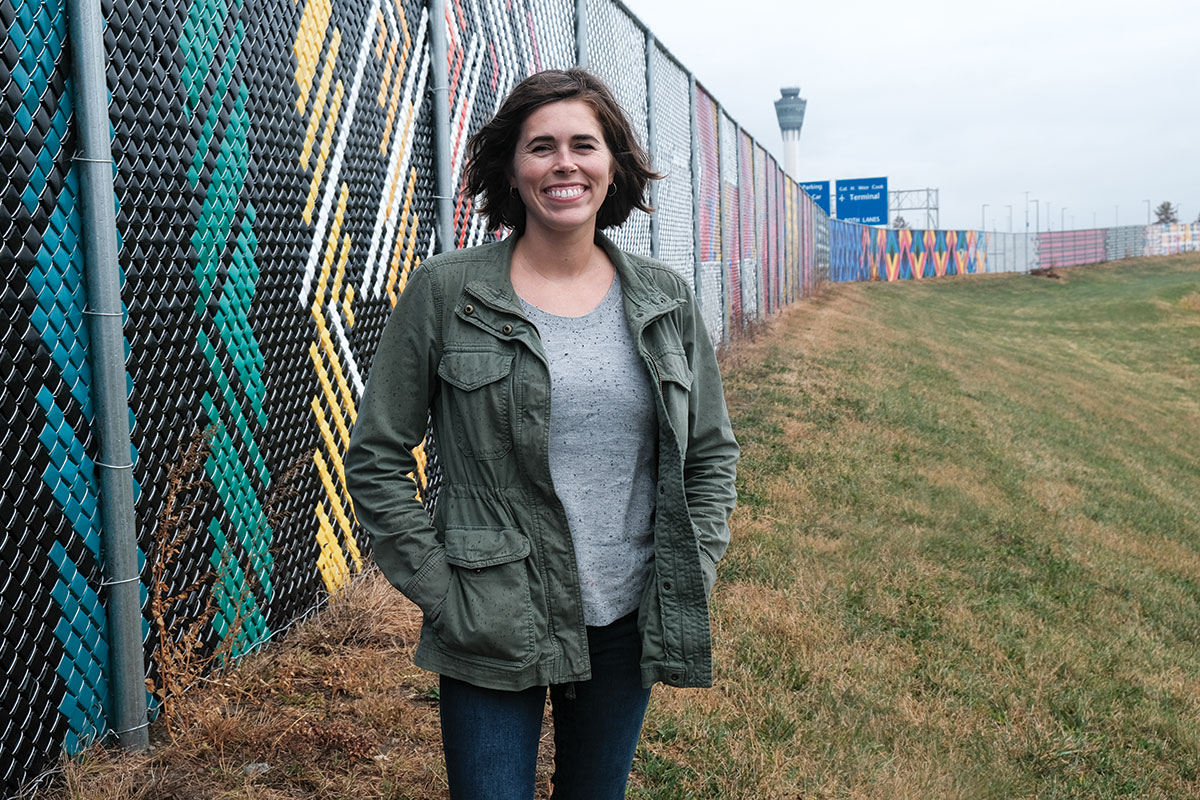 Artist Jackie Head wasn't quite sure what she was getting into when she was chosen to design and install a 14,000-square-foot mural on a chain-link fence near the entrance of Indianapolis International Airport.
The three-dimensional mural, called "Transitions," was commissioned by the Indianapolis Airport Authority with help from the Indianapolis Arts Council and is designed to mask an ongoing $190 million runway construction project. It will be on display for at least three years.
Airport officials call it "the largest outdoor art exhibit of its kind in the United States."
Head, a 31-year-old artist who works primarily with ceramics, hadn't tackled such a large-scale project before, but a member of the arts council thought her talent for pattern-making with bright colors and shapes made her a good candidate and recommended she throw her name in the hat. Her proposal was chosen from nearly 30 applications. She began designing the mural in mid-April and started installation work in June.
The mural uses about 350,000 Put-In-Cups—recyclable plastic cups made by a Corpus Christi, Texas-based company that are designed to snap into the links of most chain link fences for art projects.
Head had two assistants that helped her with the whole project and a third that joined her team near the conclusion. She also received a great deal of volunteer help from employees at the airport.
The team put in long days, often in the summer heat, and dealt with several complications, including supply delays, sore fingers and some design adjustments before wrapping up the project in late October.
This was a very ambitious project. What was the most difficult part?
The weather in June and July was very hot, and there were a lot of hurdles that were out of our control, like delays in getting products. Just the longevity of the project was a challenge and so was balancing it with other commitments.
It took longer than we anticipated because I had never done a project like this—and nobody had ever done a project like this. It might have been more effective to have a larger team because the project was so big, but the design was so detailed that it wasn't really possible to manage a team larger than two to four people at a time. So, it was just an experience of extreme patience. It was definitely a learning experience.
Where did the idea for the design come from?
The main source of inspiration was this rainbow carpet that was installed in the airport terminal in 1987 for the Pan Am Games that Indianapolis hosted. I grew up on the west side of Indianapolis about 10 minutes from the airport, and I have really vivid memories of that rainbow carpet and what a magical experience it was to visit the airport and see it. I just wanted to make something like it that was very vibrant and exciting and something that would captivate both children and adults alike.
And then another inspiration, obviously with the Indianapolis Motor Speedway being nearby and such a local cultural influence, was the black and white of the checkered flag. I thought that provided a really nice respite in between the colorful rainbow stripes.
"Transitions" is the name of the mural. Where did you come up with the name?
I felt like the name tied in well to being at the airport, and people were logistically transitioning from one location to another. And then also it connected heavily to the visual experience of transitioning from one pattern to another.•
Please enable JavaScript to view this content.