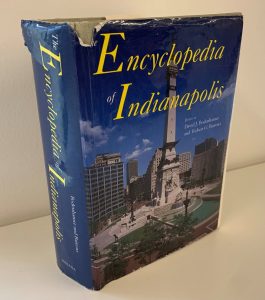 An essential resource for anyone seeking information about Indianapolis is getting an update.
A new digital version of the "Encyclopedia of Indianapolis," first published as a print edition in 1994, is under development and expected to be available in December, the Indianapolis Public Library announced Tuesday.
"This dynamic, highly visual and interactive platform also will provide researchers with information on how Indianapolis and central Indiana have changed in the past 25 years since the encyclopedia's 1994 print edition," the library said.
Designated as a legacy project of the Indianapolis Bicentennial Commission, the new "Encyclopedia of Indianapolis" is being developed by the Polis Center at IUPUI in collaboration with several major cultural and heritage institutions.
Partners are the Indiana Historical Society, Center for Civic Leadership and Indianapolis Mayoral Archives at the University of Indianapolis, Indiana Landmarks, IUPUI University Library, Butler University Archives, Indiana State Library and Historical Bureau, Indiana Archives and Records Administration and Indiana Humanities.
Financial support for the project has been provided by the Allen Whitehill Clowes Charitable Foundation and Lilly Endowment.
Developers say encyclopedia users will be able to find information by event, name, date, place, keywords, or topic. The platform will include text, audio, video, images and story maps, with the ability to access content from other digital collections housed elsewhere.
"This new platform will be of interest to every person who wants to know about Indianapolis and central Indiana," said David Bodenhamer, executive director of The Polis Center at IUPUI and the encyclopedia's editor-in-chief, in written comments. "This dynamic resource will allow us also to add new material continuously, so all of us will have access to timely and comprehensive information about where we have been and where we are headed as a city and region."
The original "Encyclopedia of Indianapolis," also a project of the Polis Center,was edited by Bodenhamer and Robert Barrows with assistance of David Vanderstel. The book, which contains more than 2,200 articles, was under development for almost a decade and involved a staff of 18, hundreds of donors and nearly 500 freelance writers.
Please enable JavaScript to view this content.