More than 800 business and government leaders from 30-some countries are in Indianapolis this week for the inaugural Indiana Global Economic Summit, an event that was supposed to take place two years ago but was waylaid by the pandemic. Gov. Eric Holcomb and the Indiana Economic Development Corp. are using the event to showcase the state as a place for development and innovation. Check back here for updates.
—–
5:44 p.m., Friday
Former Google CEO: Losing to China 'is not an option'
The programming portion of the summit closed out Friday evening with a speech from Eric Schmidt, chairman of the Special Competitive Studies Project and former CEO of Google Inc.
He discussed the need for the United States to compete with China on a global scale and continue investing in on-shore infrastructure, material science and manufacturing efforts. He said governments, businesses and universities should each have a strategy when it comes to working with—and competing against—China.
"We have to recognize it's a competition and get our act together," he said of China. "We've got to act. We've got to act now. We've got to take this seriously. This is a fact, that we have to win—losing is not an option."
Schmidt also answered questions from the audience, touching on topics ranging from evolving governmental institutions, limits on technology in weaponry, the modernization of treaties and automated intelligence.
3:36 p.m., Friday
WNBA head: League, feds working to bring home Brittney Griner
WNBA Commissioner Cathy Engelbert said Friday the league is continuing to work with federal officials to try to secure the release of basketball player Brittney Griner, who has been detained in Russia since February.
Speaking during a panel on the geopolitics of sports at the Indiana Global Economic Summit, Engelbert said the league's position is the same as that of the U.S. State Department: Griner was wrongfully arrested and imprisoned for allegedly smuggling a small amount of cannabis into a Moscow airport. Her arrest came in the wake of Russia's invasion of Ukraine.
There are four available options, she said, but matters have been complicated by the United States severing diplomatic ties with Russia. Removing the diplomatic route, the options include going through the Russian courts—likely to result in a long prison sentence for Griner. The U.S. could also seek help negotiating a release through a neutral global party, or by conducting a prisoner exchange.
"Obviously we're following … the advice of experts around how to talk about it as to not jeopardize her safety, but it's clear that she's being used a bit as a political pawn right now," Engelbert said. "It's unimaginable, but it's where we find ourselves, and there's not a day that goes by that we're not working to figure out not only how to get her home as soon as possible, but most importantly safely."
—–
3:15 p.m., Friday
Todd Young hopeful for federal technology investment legislation
U.S. Sen. Todd Young said Friday he's hopeful legislation focused on new investments in technology and advanced manufacturing will make it out of Congress before summer recess begins in August.
The U.S. Innovation and Competition Act bill, which Young, a Republican, introduced last year with Sen. Chuck Schumer, D-N.Y., has bipartisan support in the Senate and was sent to conference committee last week for the bill to be reconciled with similar language passed by the House earlier this year.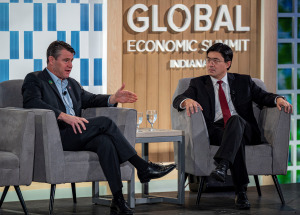 The bill would allocate about $250 billion for developments centered on tech-driven projects, including manufacturing facilities and new innovation hubs.
Speaking at a panel on semiconductors during the Indiana Global Economic Summit, Young said the reconciliation process—which is generally used to fine-tune legislative language and meld similar bills—is "in its early stages." But he expects that work to conclude by the end of July.
"In the next six to eight weeks, we will have all of this signed into law and do everything to make it work," he said. "We're trying to identify ways in which Hoosiers can lead the way in all of those technologies and get our people to work in this critical area of national security."
Young said the Senate-passed legislation is critical, particularly as semiconductor shortages are taking a toll on a variety of industries ranging from computers to automobiles to logistics. It could also create new innovation hubs across the country—including, potentially, one in Indiana.
"Shame on us if we don't act," the senator said. "Our governor gets it … our elected officials get this. But we need to make sure all of our [national] elected officials get it."
Young was joined on the panel by Keyvan Esfarjani, executive vice president and chief global operations officer for Intel Corp., and Thomas Sondermann, president and CEO of semiconductor foundry SkyWater Technology. The panel was moderated by Mung Chiang, executive vice president and dean of the College of Engineering at Purdue University.
Panelists said solving the semiconductor shortage should be a top priority both on the state and federal levels, particularly when it comes to diversifying sources for key components to chips, such as silicon and copper. Each said they believe Indiana could play a significant role in the U.S. manufacturing sector for microchips and semiconductors. But they added that education, infrastructure and additional resources—such as incentives—will play a key role in the state's success.
—–
2:09 p.m., Friday
New task force takes aim at boosting state's semiconductor industry
The Indiana Economic Development Corp. on Friday announced the formation of a task force  that will try to boost the semiconductor industry in the state.
The launch of the Accelerating Microelectronics Production & Development, or AMPD, task force, was announced at the inaugural Indiana Global Economic Summit in Indianapolis.
The task force will be made up of industry experts and university research officials. The IEDC said it has "seeded the initiative with $2.7 million of state funding for the task force to design and execute a strategic outreach and marketing plan to secure commitments from established sector leaders and disruptive companies over the next two years to create a vibrant cluster in Indiana."
Indiana Secretary of Commerce Brad Chambers and Jimmy Costa, senior vice president of innovation and semiconductor strategy for the IEDC, will lead the 15-member task force. Costa is a former executive with Analog Devices Inc. and design engineer for Delphi Automotive Systems who was heavily involved in the microelectronics industry.
12:45 p.m.,  Friday
Slovak Republic markets community-networking app to city, state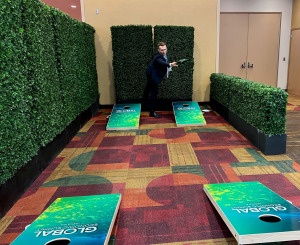 A delegation from the Slovak Republic is in Indianapolis for this week's global summit to pitch its community-networking product, Simplicity.
Jakub Janega, a board member for the platform, told IBJ the small delegation from Slovakia's Ministry of Economy hoped to meet with Indianapolis Mayor Joe Hogsett to discuss the possibility of integrating it into the city's communication platforms. He also said they hope to present the Simplicity app to Gov. Eric Holcomb or his staff. He said the summit presents an opportunity for the company to market its product to not only Indiana but cities and states who have a presence at the event.
Simplicity, which is used by 120 cities across the world—including several dozen in California alone—is designed to connect municipalities with their residents through direct updates from police departments, hospitals, libraries, utilities and others. The startup secured $8.5 million in seed funding last August.
"I think [making] the case of expanding in the United States and Indiana is important for our startup," he said. "We are looking for partners with the cities where we would like to spend some time and money."
Janega—who during some downtime had a go at playing cornnhole, tossing a few bags in the summit's entertainment and arcade area—said this is his first trip to Indiana and has so far enjoyed the trip. He'll be in here through Monday, with plans to attend the Indianapolis 500 over the weekend.
10:45 a.m.,  Friday
United Kingdom's trade minister predicts more air travel demand
United Kingdom International Trade Minister Ranil Jayawardena said he believes continued shared investment between Indiana and his country will increase air travel demand to the point that it could warrant a direct route between Indianapolis and London.
Indianapolis International Airport was considered for a direct route connecting to London's Heathrow Airport last year, but it was ultimately delayed due to lack of demand and a desire to restart existing routes to places like Portland, Oregon and Pittsburgh.
"In the U.K., all [airlines] are privately owned, so it's a matter for the airlines," Jayawardena said. "But what is absolutely crucial to airlines, and indeed to our nation's demand across the United States, is that we get businesses to interact more with one another, to trade more with one another and to invest in each other's markets."
Indianapolis International has sought to secure a London flight for several years now, along with other international routes. It's possible, he said, that the memorandum signed between Indiana and the U.K. on Friday will go a long way in establishing a need for direct service. Jayawardena said he flew in to Chicago for this week's Indiana Global Economic Summit.
"There are plenty of people going back and forth," he said. "I'm sure we're … going to get one" eventually.
10 a.m.,  Friday
Holcomb signs memorandum of understanding with United Kingdom
Gov. Eric Holcomb on Friday signed a memorandum of understanding with the United Kingdom that aims to create new trade and economic development opportunities.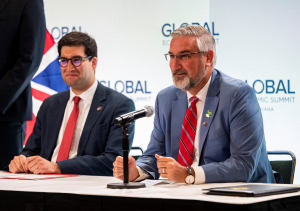 "Envision the impact this will have on what we're focused on" as a state, Holcomb said during his opening remarks during a signing event at the Indiana Convention Center. "Having a framework that's put into place will give us that focus, whether it's with academia, workforce development, economic development or our shared areas of interest and expertise."
The memorandum focuses on improving low-emissions technologies, growing research ties and removing barriers to trade and investment. The governor pointed to sectors like aviation and aerospace, life sciences and advanced manufacturing as likely beneficiaries of the agreement. Likewise, agriculture, automobiles and the energy markets are areas of focus.
United Kingdom International Trade Minister Ranil Jayawardena joined Holcomb and Indiana Secretary of Commerce Brad Chambers in signing the document during the Indiana Global Economic Summit.
The memorandum is the first the U.K. has signed with an individual state since it formally withdrew from the European Union in January 2020. The country is working on similar agreements with about 20 other states and has yet to reach a trade agreement with the United States federal government.
8:30 p.m.,  Thursday
Day 1 wraps up with food, music at Indiana State Museum
Attendees to the inaugural Indiana Global Economic Summit were treated to complimentary food and drink—and even some music—at the Indiana State Museum on Thursday evening.
About 300 people attended the opening reception, which featured welcome messages from Gov. Eric Holcomb and Secretary of Commerce Brad Chambers, as well as live music from Indiana native and country artist Clayton Anderson.
The event, which concluded the summit's first day, allowed attendees the opportunity to take in some of the museum's exhibits while also mingling and networking with one another. A few in attendance even hooted, hollered and danced to the music.
The summit resumes Friday at 8:30 a.m., with opening remarks on building up the state, national and global economies from Chambers, as well as Indianapolis Mayor Joe Hogsett, Lt. Gov. Suzanne Crouch and Albert Chen, executive chairman of Carmel-based Telamon.
6 p.m.,  Thursday
Those aren't really pinstripes on the governor's suit
Gov. Eric Holcomb showed up at the Indiana Global Economic Summit on Thursday ready to sell Indiana—and he was wearing a suit to do it.
Over a button-down shirt with an Indiana Next Level logo, the Republican governor wore what looked like a traditional pinstriped suit. But the "stripes" were actually tiny words that also read INDIANA NEXT LEVEL.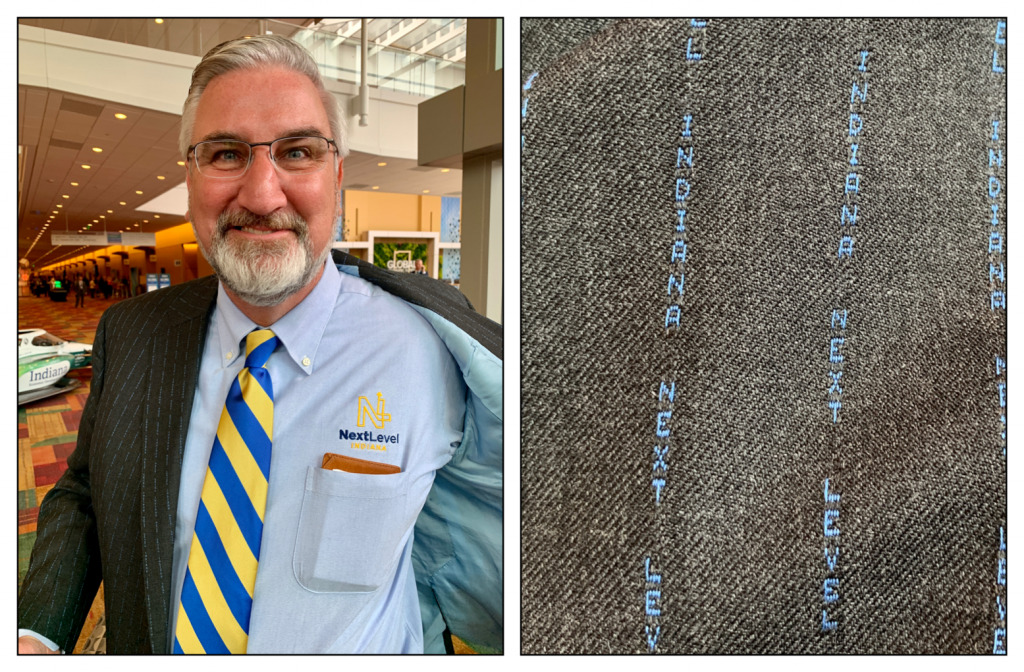 —
5:55 p.m., Thursday
McLaren to spend $25M to build IndyCar facility in Whitestown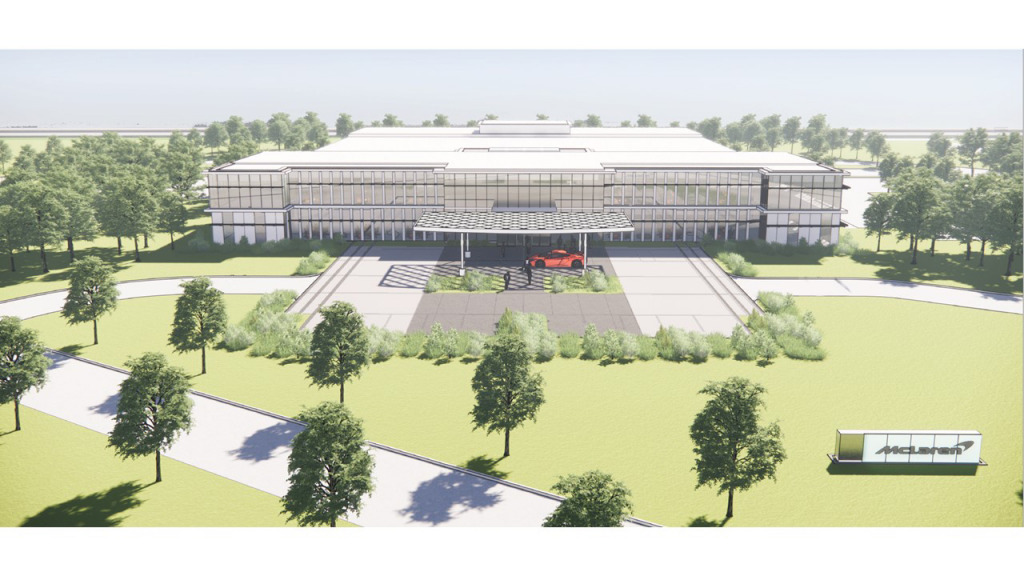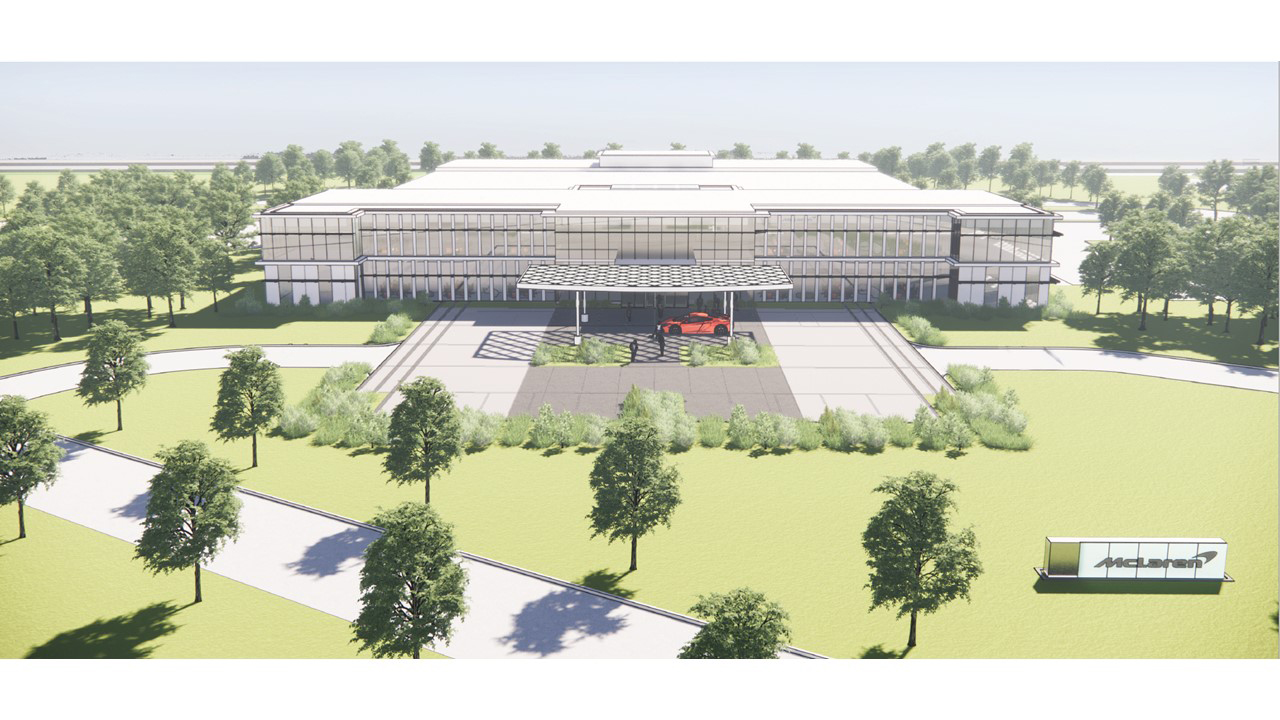 McLaren Racing announced Thursday that the company will spend $25 million to build an IndyCar team office, workshop and training center in Whitestown, creating up to 175 new jobs by the end of 2025.
Zak Brown, CEO of the Woking, England-based racing company, said at the inaugural Indiana Global Economic Summit that the facility will be more than 97,000 square feet and will allow Arrow McLaren SP—the company's IndyCar operation—to run three full-time entries in the IndyCar series in 2023, with plans to expand in the future.
Construction on the building expected to begin this fall with an early 2024 opening. The company did not provide a specific location for the building but said it will be located on Indianapolis Road, just west of Interstate 65.
—
4:50 p.m., Thursday
Holcomb plans to ask Legislature for 'more tools' for economic development
Just days after announcing two huge economic development projects, Gov. Eric Holcomb said he expects to ask the General Assembly to give his administration even more tools to support future incentives deals.
Earlier this year, the Legislature retooled the Indiana Economic Development Corp.'s incentives toolkit. Among other things, lawmakers established an annual $300 million cap on the tax credits state can provide in tax incentives and allocated the IEDC $300 million in cash to use for deals, which is money that can be used for infrastructure improvements and other special incentives.
The bill approved in March sought to give the IEDC additional wiggle room in awarding incentives for larger projects. It also set up a structure for creating innovation development districts—in partnership with local communities—that can capture tax revenue generated by projects to for spending on infrastructure or other development needs.
But speaking to reporters between sessions at the Indiana Global Economic Summit on Thursday, Holcomb said the IEDC will likely need more options to continue landing commitments from major companies in emerging sectors like hypersonic technology, aviation and microelectronics.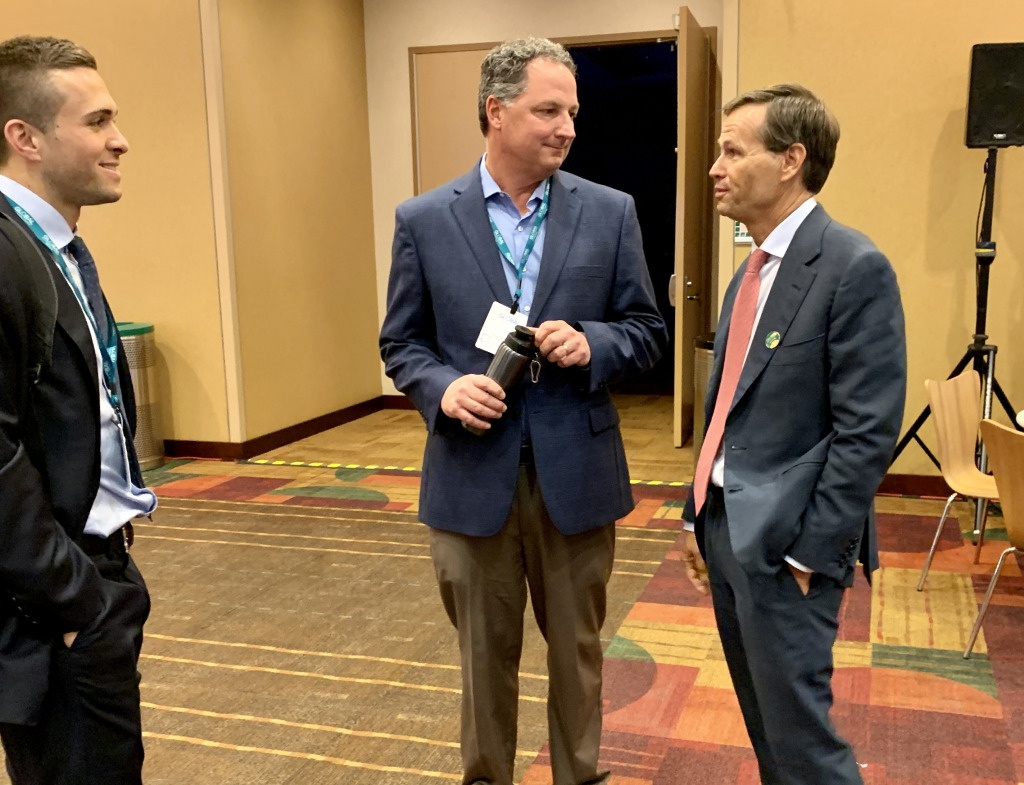 The state wants "every tool, and we'll go back in January and ask for more tools," Holcomb said. "We're never going to stop—just like an IndyCar tweaking before every lap—learning and looking at the data, [then] letting that drive our decisions on how we can compete for the jobs we want, careers that we want, the industries of the future that we want."
The bill approved in March sought to give the IEDC additional wiggle room in awarding incentives for larger projects. It also set up a structure for creating the innovation development districts—in partnership with local communities—that can capture tax revenue generated by projects to for spending on infrastructure or other development needs.
The innovation districts are expected to target emerging sectors, such as electric vehicle batteries, semiconductors and other areas with a bent toward advanced manufacturing.
Holcomb's comments come just a day after Eli Lilly and Co. announced it would invest $2.1 billion to anchor a new innovation district in northern Boone County—a measure local officials believe will have a long-lasting impact on the area. The project is expected to be the first to utilize the newly deployed incentive toolkit, which will officially take effect July 1.
State officials said they are still negotiating the amount of incentives they will offer Lilly for the project, which is expected to create 500 jobs.
The day before that, the state announced its largest-ever incentive package—totaling about $186 million—for a $2.5 billion electric vehicle batter plant to be located in Kokomo. That project by carmaker Stellantis NV and renewable battery company Samsung SDI is expected to create 1,400 jobs.
Holcomb said he's certain the state managed to secure the projects because of the enhanced incentive offering, but he said more can be done.
"I think we're more competitive because we're leaning into it and we're offering it," he said. "We're more competitive than we would have been without, and I say that armed with the knowledge that other states are going this route as well."
—
3 p.m.,  Thursday
A look at the goodies
Speakers and panelists at the Indiana Global Economic Summit left with a gift box of goodies that included a bag from Indianapolis-based People for Urban Progress, snacks including Bee Free Warrior Mix and a leather-wrapped jar from Indianapolis retailer Howl & Hide.
AgriNovus CEO Mitch Frasier and Communications Manager Cayla Chiddister show off what's in the box.
—
2 p.m., Thursday
Missing the summit? Watch Inside INdiana Business on Sunday
If you weren't able to attend the summit, you can catch up on the news on this week's "Inside Indiana Business with Gerry Dick," which will air in Indianapolis at 10 a.m. Sunday on WISH-TV and the Inside INdiana Business YouTube channel.
Gerry and crew set up on right in the middle of the action to conduct on-site interviews with Gov. Eric Holcomb and Cummins CEO Tom Linebarger and a Zoom interview with Indianapolis Motor Speedway President Doug Boles.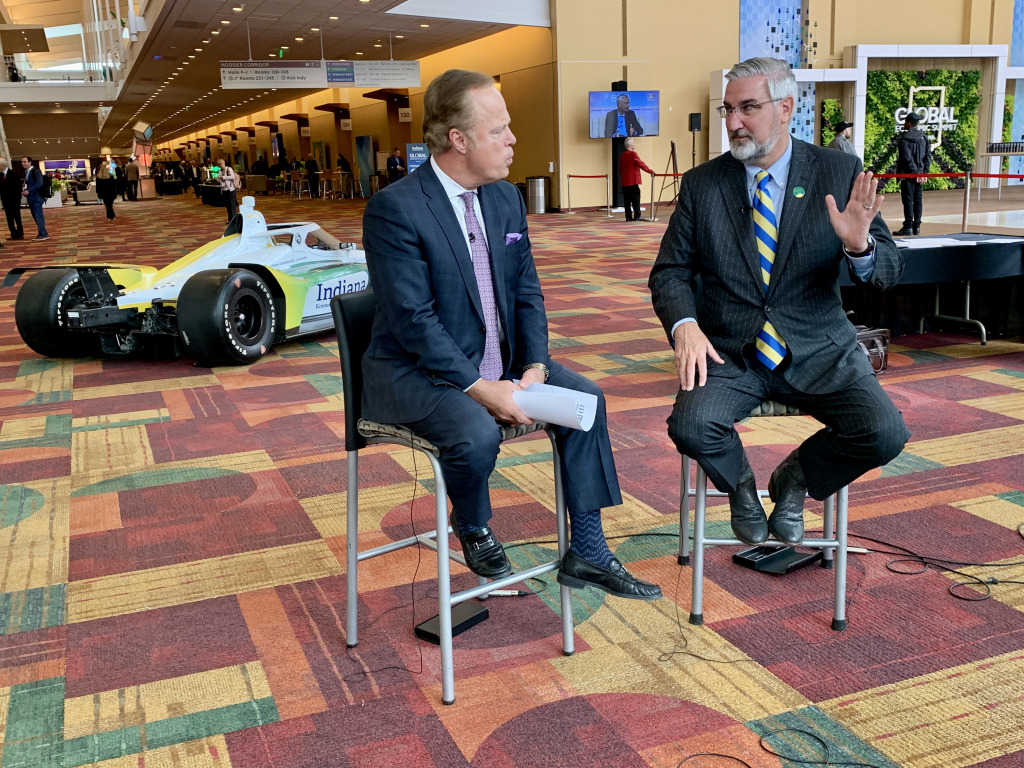 —
8 a.m., Thursday
Stage set for Indiana's global summit on economic issues
Indianapolis is host visitors from 30 countries as part of a summit meant to discuss economic issues from across the globe and drive new business to the state.
About 800 people are expected to attend the Indiana Global Economic Summit that starts Thursday, including business executives, government officials, foreign dignitaries and leaders from a variety of industries that have a presence—or are considering one—in Indiana. 
The summit, believed to be the first time people from so many countries have converged on the state for a single event since the 1987 Pan American Games, is also expected to attract not-for-profit leaders, and university and research facility executives. 
Please enable JavaScript to view this content.