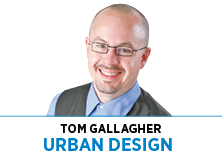 As we look back on the onslaught of events in 2020, we will begin to assess the many changes it leaves behind. One clear shift is an intensified focus on housing, a trend that could bring meaningful adjustments to urban living.
The pandemic has pushed us to spend more time in our homes, while expecting them to also function as workplaces and schools. More time at home, combined with less spending on travel and leisure activities, has led to more than a 10% increase in spending on home improvements.
What might be a bit more surprising is the continued strength of the residential real estate market in these otherwise conservative times. U.S. home sales are at a 14-year high; in Marion County, single-family home sales hit a four-year high in July, according to the MIBOR Realtor Association. Sales in October were about 14% higher than the same month the previous two years. Houses are spending less time on the market and garnering 98% of asking prices.
According to a report by Cushman & Wakefield, more than 1,200 apartment units were added downtown this year, with more under construction. All the while, they are seeing the same, decade-long average annual rent growth of about 3% and maintaining a healthy vacancy rate near 10%.
Clearly, it is good news that Indy is maintaining its attractiveness, even in these uncertain times. There is more to the story, however.
Many have presumed that the so-called "urban generation" of millennials, once they have families, will abandon urban living for the suburbs. The past decade has seen an increasing move to suburban communities in the metro areas of larger cities, but the desire for an urban lifestyle remains.
A study from the Brookings Institute, released earlier this year, finds that growth in central downtowns still outpaces that of suburban counties. It is important to note, too, that many suburbs that are growing have made themselves more attractive by concentrating on becoming more like walkable urban villages and small towns. The pandemic will likely further strengthen the desirability of having a mix of uses close to home.
The largest determinant of housing choice, however, is cost. Research from FreddieMac tells us "that housing costs have been the most significant factor preventing young adults from forming their own households as well as buying a house." So, among the data that MIBOR reports are two related stats that should give us pause: the significant decrease in for-sale inventory and an escalating average sales price.
Strong economies need a variety of housing types at various price points, and the lack of such is becoming a national crisis.
FreddieMac research points to an inadequate supply of housing, noting that "the U.S. economy is about 2.5 million housing units below what is needed for long-term demand."
A study prepared locally for MIBOR and BAGI by a team from Greenstreet anticipates that the 12-county Indianapolis region is underbuilding housing by nearly 2,000 units per year if we are to meet employment-driven demand over the next 20 years. Of the more than 180,000 net new units needed in the metro area, Indianapolis will need to have the highest contribution, at 73,000 units. Ideally, those would be in compact, walkable, mixed-use developments. Moreover, in order to match the cost of housing with new job salaries, a more robust mix of housing types, many not largely present in the region, will be necessary.
Indianapolis is not among the fastest-growing cities in the country, and this may very well be to our advantage in accomplishing the monumental task at hand. Consider, for example, Nashville, Tennessee. It was booming for at least some portion of the last decade, adding about 100 people a day to its population. Challenged by rapidly escalating housing prices, it now has a growth rate lower than our steady 1%.
The 2021 Emerging Trends in Real Estate report from ULI and PwC aptly includes Indianapolis among the large cities categorized as "Backbone Markets," described as cities that might not rank high in national surveys but are, nonetheless, interesting and enjoyable places to work, are typically slower-growth markets and among the most affordable in the United States.
Embracing this as an advantage, we can focus less on perpetual growth and more on creating greater vitality within the community. Paired with real estate opportunities brought about by the national retail reset, we can turn our view toward enhancing existing neighborhoods, including downtown, by increasing family-friendliness and adding mixed-use walkability.
Most important, we can focus on a new supply of diverse housing types that are affordable to a more diverse population.•
__________
Gallagher is a principal and urban designer with Ratio and a professor-in-practice of urban design at Ball State University. Send correspondence to TGallagher@ratiodesign.com.
Please enable JavaScript to view this content.