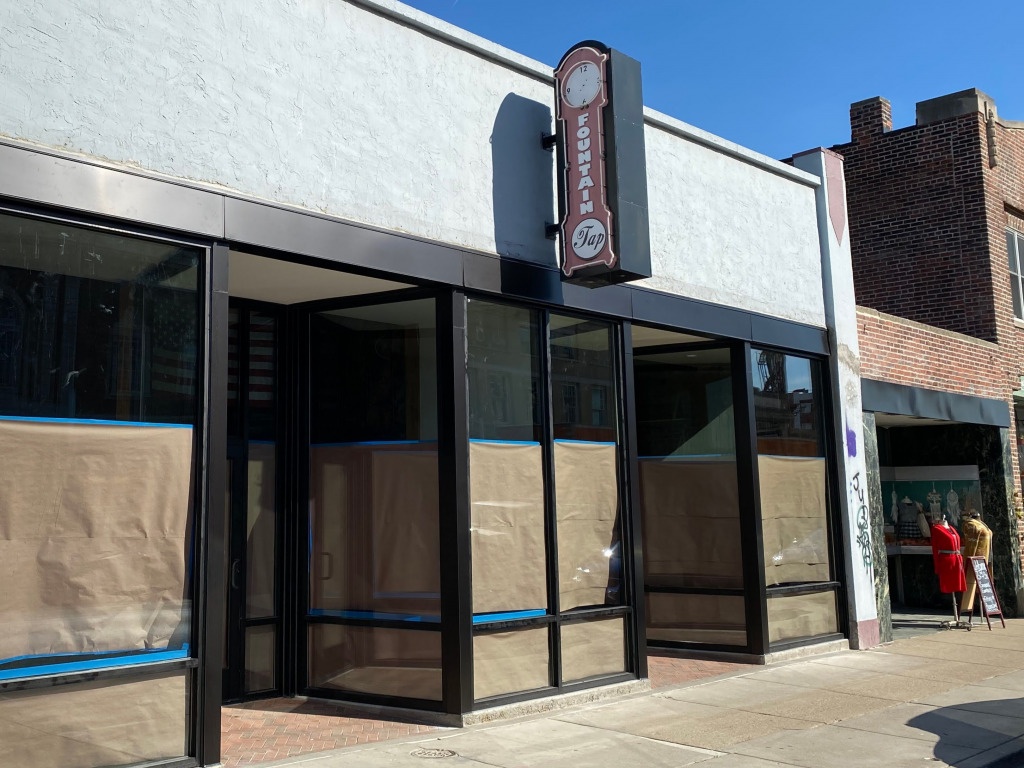 Leather goods manufacturer Howl & Hide Supply Co. is set to open Friday at a once-controversial Fountain Square retail space that's been vacant since 2015.
Previously located at the northeast edge of the Fountain Square neighborhood, Howl & Hide is setting up shop at 1046 Virginia Ave.—across the street from the Murphy Art Center in the heart of the cultural district.
The new Howl & Hide site made headlines in 2016, when Fountain Square residents and merchants pushed back against plans for a restaurant and bar in the space. The proposed Fountain Tap, the focus of an online petition that collected more than 1,500 signatures supporting an opinion the business would negatively alter the neighborhood's atmosphere and character, never materialized.
Howl & Hide specializes in messenger bags, luggage, wallets and other leather items, crafting products within view of shoppers who browse what's available for purchase. Company founder Christian Resiak said he's happy to bring a new retail option, where gender-neutral clothing and hats will be highlighted offerings, to the neighborhood.
"I think tangible goods are a necessity," said Resiak, who grew up in Noblesville. "It's been a huge goal of mine to bring back cut-and-sew manufacturing to a public level. There's not anything else like this anywhere, really."
Technically, Howl & Hide occupies half of the space where Indianapolis Downtown Antique Mall did business for more than a decade until closing in 2015. North Hill Realty, which purchased the building for $650,000 in 2019, added a wall to divide the property in two.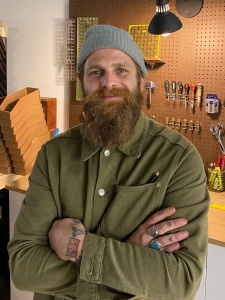 Howl & Hide establishes a new address, 1046 Virginia Ave., while the spot to the north retains the 1044 address used by the antiques store and nearly used by Fountain Tap and then a special event center proposed by former building owner John Tuttle.
North Hill Realty's plans for 1044 Virginia Ave. are undisclosed.
Howl & Hide won't be the only business at 1046. Wild's Barber Shop will join Howl & Hide in its migration from 1651 English Ave. Wild's, which operated a single barber chair at the former site, will have four chairs available for appointments. Cody Potter, who co-founded Warfleigh Barber & Supply Co. six years ago in Broad Ripple, owns Wild's.
Resiak said Howl & Hide's workshop was confined to 800 square feet at the English Avenue site. The business now has nearly 4,000 square feet to work with, as retail operations up front give way to a workshop for sewing and detail tasks that segues into heavy machinery near the back of the building. All 11 Howl & Hide employees will devote at least some of their time to making leather goods.
Resiak credits a three-month stint of operating a Howl & Hide temporary store at Carmel's Clay Terrace last fall for shaping the company's future.
"Right off the bat, we knew we could withstand expanding," Resiak said of the business that sells wallets priced from $39 to $129 and messenger bags priced from $249 to $419.
The Virginia Avenue store will take down paper from its street-facing windows, a visual fixture in Fountain Square for six years, and open for business at 9 a.m. Friday. Howl & Hide will host First Friday festivities from 6 to 10 p.m.
Please enable JavaScript to view this content.