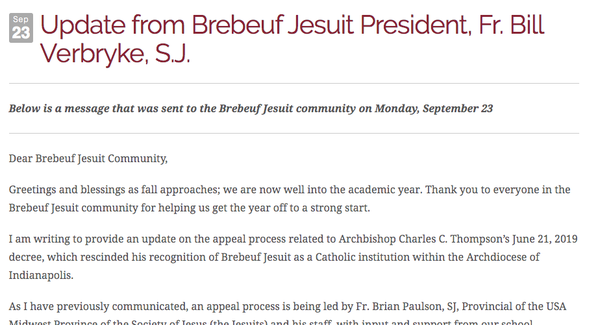 The Vatican has temporarily suspended a decree that revoked Brebeuf Jesuit Preparatory School's status as a Catholic school.
In a message sent to the Brebeuf community Monday and posted to the school's website, Father Bill Verbryke, the school's principal, said he had just learned the Vatican's Congregation for Catholic Education in Rome had suspended the decree on an interim basis, pending a final resolution of the school's appeal.
The decision means the school can resume holding mass and will be able to celebrate the Mass for the Feast Day of St. Jean de Brebeuf in October, Verbryke said.
In June, Indianapolis Archbishop Charles Thompson published a decree stating the Archdiocese of Indianapolis would no longer recognize Brebeuf as a Catholic institution after school leaders refused to fire a gay teacher.
Brebeuf and the Midwest Jesuits, an order of priests that sponsors the school, in August appealed the archbishop's decree to the Congregation for Catholic Education, asking it to rescind and permanently set aside the archbishop's decree.
In his message to the Brebeuf community, Verbryke cautioned that the temporary suspension does not mean the saga is over.
"It also does not mean that anyone should infer that the Congregation for Catholic Education is leaning one way or the other on any of the issues at hand," he wrote.
"We still do not have a specific timeline for how long the appeal process will take, but please be assured that we are sincere in our desire to resolve our disagreement with the Archbishop and resume the strong relationship we had always enjoyed with the Archdiocese since our founding in 1962.
The archbishop and archdiocese were not immediately available for comment.
Please enable JavaScript to view this content.