IBJ Media has hired veteran business and political journalist Greg Weaver as managing editor of the Indianapolis Business Journal, the locally owned news media company announced Thursday.
Weaver's responsibilities in the IBJ newsroom's No. 2 leadership position will include coordinating its daily news coverage and e-newsletters, handling social media accounts, editing stories for the weekly print edition, and working with reporters on investigative stories and enterprise packages.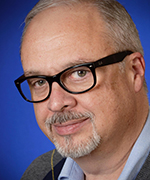 Weaver, 59, takes the position vacated by Lesley Weidenbener, who was promoted to IBJ's top editor in January.
"Greg Weaver is a top-notch journalist and editor whom I have admired for a long time," Weidenbener said Thursday. "His interest and focus on the interplay between business and politics is especially appropriate for IBJ, and his experience with big breaking stories as well as investigative work will help make IBJ an even stronger news organization.
"Plus, the reporters who have worked for him in the past sing his praises—and that was a big part of our decision. I can't wait for him to get started."
Weaver worked for The Indianapolis Star for 26 years in a variety of roles including business editor and government and politics editor. In the latter job, he led the Star's coverage of groping allegations against Indiana Attorney General Curtis Hill, Gov. Mike Pence's surprise rise to vice president, and an ethics scandal involving Duke Energy's Edwardsport power plant.
The lead reporter for the Star's investigative coverage of Duke Energy was John Russell, who currently is IBJ's health care and utilities reporter.
Weaver took a buyout at the Star in early 2019 to pursue a second career in public relations and communications. He subsequently worked for the not-for-profit cultural organization Indiana Humanities and is currently director of operations and communications for Indiana Forest Alliance.
But he missed journalism, he said.
"I'm very excited to join an excellent, locally owned media company that helps set the agenda for central Indiana," Weaver said Thursday. "I look forward to working with a team of editors and reporters that sets a high standard for news and is always looking to up its game in print, digitally and on social media.
"A strong and authoritative local news report is more important than ever in our fragmented media landscape and that need has only fueled my desire to re-enter daily journalism after a couple of years in non-profit communications."
IBJ Media is owned by a trio of local businessmen: Nathan Feltman, who also serves as CEO; Mickey Maurer; and Bob Schloss.
Weaver earned a bachelor's of science degree in journalism and political science from Ball State University in 1983. Prior to joining the Star in 1992, he was the Indiana Statehouse bureau chief for The Evansville Courier.
Please enable JavaScript to view this content.