Indianapolis Business Journal co-owner and CEO Nate Feltman announced Monday that Managing Editor Lesley Weidenbener has been promoted as the publication's top editor effective immediately.
Former IBJ Editor Greg Andrews, who also has penned the award-winning "Behind the News" column for many years, is transitioning to a role focusing on investigative reporting for IBJ while continuing to write his column.
Feltman also announced that Laurinda Swank has been promoted to chief operating officer/chief financial officer. Swank, who previously worked for Feltman as CFO of Home Health Depot, was hired as IBJ Media's CFO in 2017 when Feltman became part-owner of the company along with Mickey Maurer and Bob Schloss.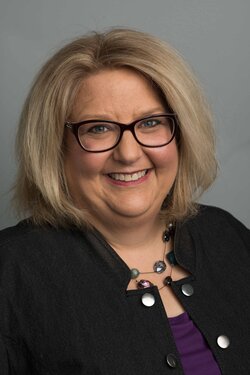 Weidenbener, who has an undergraduate degree in journalism and a master's degree in executive development for public service from Ball State University, joined IBJ as managing editor in 2015.
She spent 18 years as a Statehouse reporter for The Journal Gazette in Fort Wayne and The Courier-Journal in Louisville.
In 2011, she became executive director of TheStatehouseFile.com, a news website produced by Franklin College journalism students that focuses on state politics. Weidenbener oversaw the daily operation of the Statehouse Bureau and the publication of TheStatehouseFile.com. She also was an instructor at Franklin College during her four years overseeing TheStatehouseFile.com.
"I couldn't be more excited about Lesley's new role as leader of our editorial department," Feltman said. "Her journalism credentials are second to none. I'm confident under her leadership that IBJ will only grow in its importance to our city and state."
Weidenbener, 51, said that for many years she didn't envision becoming an editor.
"I never expected to do something like this in my career," she said. "I thought I would be a reporter forever. But when I got laid off from the Louisville paper, I got a chance to jump into editing and I really liked it. Coming to IBJ opened so many opportunities for me, and I'm over the moon about the chance to lead this talented team."
Weidenbener said she's excited to work with Andrews in his new role.
"I'm excited that IBJ is going to put a greater emphasis on investigative reporting and there's no better person than Greg Andrews, who is an experienced and dogged reporter, to lead this effort," she said. "And Greg's Behind the News column has always been one of my favorite things about IBJ, and I am thrilled he will continue to write it."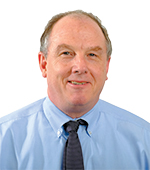 Feltman said Andrews' editorial leadership has elevated IBJ's journalistic excellence.
"Greg successfully led IBJ's editorial efforts the past eight years, a period during which IBJ redesigned the paper, greatly expanded its online coverage and added newsletters and new features," Feltman said. "In addition to continuing his Behind the News column, we look forward to the stories that Greg will uncover in his new investigative reporter role."
Andrews, who has an undergraduate degree in telecommunications from Indiana University, has had a long and distinguished journalism career. He has spent a total of 26 years at IBJ over three stints, with the business publication winning dozens of state and national awards during his tenure as editor.
As a reporter, Andrews has broken a number of high-profile stories. Perhaps his biggest scoop was exposing a Ponzi scheme involving Indianapolis financier Tim Durham that cost investors more than $200 million. Andrews also was the first to report on the downtown development that would become the JW Marriott, the state's largest hotel.
Andrews initially worked for IBJ as a reporter covering banking and finance from 1991 to 1995. He left in early 1995 to take a job covering the Indiana Statehouse for the Evansville Courier, but came back to IBJ as managing editor later that same year.
Andrews, 55, joined The Indianapolis Star as a reporter in 1997 and became business editor in 1998.
Andrews returned to IBJ in 2000 as special projects editor, and began writing his Behind the News column. He became the managing editor in 2005 and continued to write high-profile investigative pieces. He was promoted to editor in 2013.
"Throughout my career I've always enjoyed investigative reporting but I've had less and less time to spend on that as my editing duties have increased," Andrews said. "I'm looking forward to making that kind of high-impact journalism my primary focus."
Andrews said he's also looking forward to working with Weidenbener in her new role.
"One of the best hires of my entire career was when Lesley joined IBJ in 2015," Andrews said. "She's done a fantastic job and will be a great editor."
Also part of the staff reorganization, Tom Harton—who has been with the IBJ for 37 years in roles including reporter, managing editor and editor, and most recently served as contributing editor—will now serve as custom content editor. In that new role, Harton will work with the IBJ sales team on custom content opportunities.
IBJ reporter Samm Quinn, who joined the staff in early 2018, has been promoted to assistant print editor. Coming to IBJ from the Greenfield Daily Reporter, Quinn first served as North of 96th reporter and then city government and education reporter.
Quinn is moving into a role coordinating weekly print features and IBJ's special publications, such as Women of Influence, Forefront and Indiana 100.
Please enable JavaScript to view this content.